Printable Greeting Cards
Below we offer step-by step instructions for printing your own cards at home, but if you decide you aren't up for it after all, we offer card printing services too! Just choose a card, send us your file, and we'll do the rest!
Order Printed Cards & Envelopes
Because our Half Fold cards are 8 1/2 x 11 before they are folded, they are perfect for printable greeting cards. And since they are pre-scored, they easily fold by hand to 5 1/2 x 8 1/2. Use these Half Folds for wedding invitations, programs, handmade greeting cards, or anything you can think of. Print on the front, the back, the inside left and/or right, or on any combination of the card's panels. It's all up to you!
We'll Print One Together, Step By Step
You'll learn to make a personalized birthday card for a child using your computer with Microsoft Word and your printer. You can use what we show you for printing any type of Half Fold card you want to print in the future, whether you're printing just on the front or any combination of its panels.
If You Have Microsoft Word, You Can Create a Printing Template
You can certainly download one of our free, pre-made printing templates to help in printing your card, but in this video you're going to learn to create your own template using Microsoft Word.
The screenshots may vary from what you see in Word or in your print driver, but poke around the interface and you'll find the common settings that we're using.
Step 1: Create New Document, Set Margins & Orientation
In Word, create a new document.
In the Page Setup area, set the Orientation to Landscape as opposed to Portrait.
Set top, bottom, left, and right margins to .5
Verify that Paper Size is now 11" wide by 8 1/2" high. If it is not, set Paper Size to these dimensions (the same size as an 8 ½ x 11 paper turned on its side)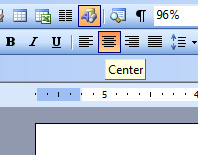 Step 2: Center Align the Text
Click the Center icon. You should find it with the other paragraph formatting buttons.
This way any text that you type into your template will be centered on each side of the Half Fold and ultimately, centered on each of your card's printed panels.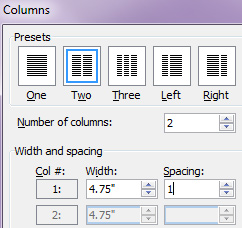 Step 3: Make 2 Columns for Left & Right Sides
Since the paper is scored down the middle to fold into two equal halves, we'll create two columns for our wording. These columns will match up to each panel of the Half Fold paper. The left column will print on the left side of the paper and the right column will print on the right side.
Format > Columns
In the Presets section, click Two
In the Width and spacing section, enter 1 in Spacing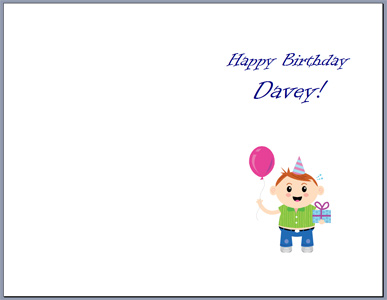 Step 4: Create Your Card's Cover
In the template, you'll use the right side/column to print the cover.
Use the Enter key to drop the cursor down the left column, one line at a time, until the cursor reaches the top of the right column.
Enter your text and get creative with your wording, font, font size, and even font color if you have a color printer.
When you're pleased with the look of your cover, save your Word document so that you can go back to it if you ever want to make any changes.
In addition to text, you may want to bring in a photo, a drawing that you've scanned, or any other picture. In the video, we use an image from Microsoft's Clip Art collection.
Step 5: Print the Card's Cover
You will need to understand the way scored paper folds to know which side is up and which side is down. We address this in a separate video, How Do I Fold Pre-Scored Cards, definitely worth watching before dealing with scored paper.
Load Half Fold paper small edge first into your printer like you would with any other 8 ½ x 11 paper
If you're working at a Windows PC, enter your printer driver and change the orientation from Portrait to Landscape.
Click OK and print the page
On a Mac computer, the orientation is normally set to whatever the document is set to, and since the Word template is set to Landscape mode, you shouldn't have to make any changes.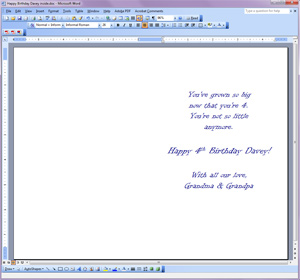 Step 6: Create the Card's Inside Greeting
Rather than create a new template for the inside of the card, use the same template you just printed, overwriting the content with what you'd like to print on the inside right half.
Save the document and rename it to differentiate it from the cover.
Step 7: Print the Card's Inside Greeting
When you're ready to print, load the printed Half Fold into the printer in such a way that the printing will appear on the inside right panel of the card.
Follow the format you used in Step 5
Until you're confident about what side of the paper and direction that your printer prints, you can test print with ordinary copy paper. In no time, it will become second nature.
Take This Knowledge & Create!
You've just learned how to create a greeting card template using Microsoft Word from scratch. Now you have the confidence to create any kind of card and print on our Half Folds in the convenience of your own home, using just your computer and printer.