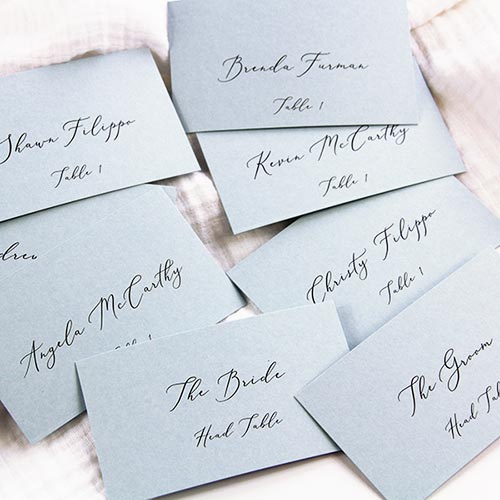 Feeling crafty? Looking for stylish flat wedding place cards on a budget? You've come to the right place!
In this tutorial, you'll find all you need to design and print your own flat wedding place cards. We offer the free place card template, step by step instructions, and paper in every color of the rainbow to complement your wedding reception. Let's get started!
Materials You'll Need
Mac or PC with Microsoft Word
Printer (Or use our print services!)
Paper trimmer or preferred cutting tool
Shop Printable Wedding Place Cards
---
This is a zip file with two 8 1/2 x 11 Microsoft Word documents inside.
Document 1 (flat-pc-template.doc): For names and table numbers
Document 2 (flat-pc-cutting-guides.doc): Cutting guidelines (to print on reverse side)
Template will yield (8) 2 1/2 x 4 1/4 place cards to (1) 8 1/2 x 11 sheet.
---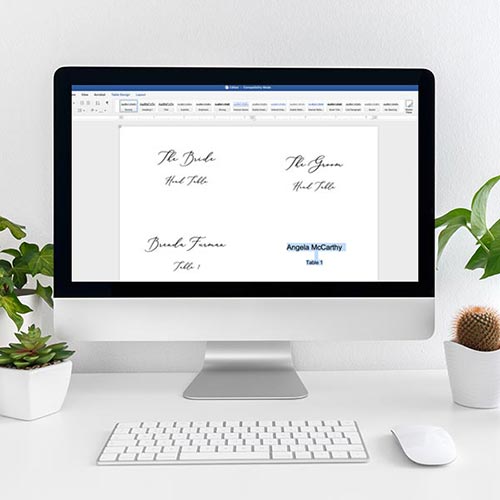 Enter Guests' Names & Table Numbers
Open flat-pc-template.doc and enter your guests' info into each cell.
Change sample names, fonts, and colors until you get the look you desire. (Here, we use White Garden font for a handwritten calligraphy look.)
When one page is complete, save it an move onto the next.
Tip: Appearance on screen vs. appearance in print may differ. We recommend printing one finished page on copy paper before moving onto the next to be sure you are on the right track.
---
Print Place Cards (Front)
Once you have finished entering and saving all your names and table numbers, print place cards on your preferred 8 1/2 x 11 paper or card stock.
Need assistance? Check out our cardstock printing tips.
---
Print Place Card Cutting Guidelines (Reverse)
Now it's time to print cutting guidelines on the reverse side of the sheet.
Simply load your paper into the printer in the opposite direction and click print.
(Again, we recommend printing one test sheet to ensure the guidelines on the back align with the names on the front.)
How to Change Appearance of Guidelines
The guidelines in the template are set to print very lightly and subtly. If you have trouble seeing them and prefer them darker, follow these instructions:
Tip: You can also follow these instructions to turn the table outlines on while typing in guest info in the previous step. Just be sure to shut them off before printing!
Right click the table to reveal the Table Properties menu
Click Borders and Shading
An interface will open to edit the appearance of the guidelines
Please note instructions may slightly differ depending on the version of Word you are using.
---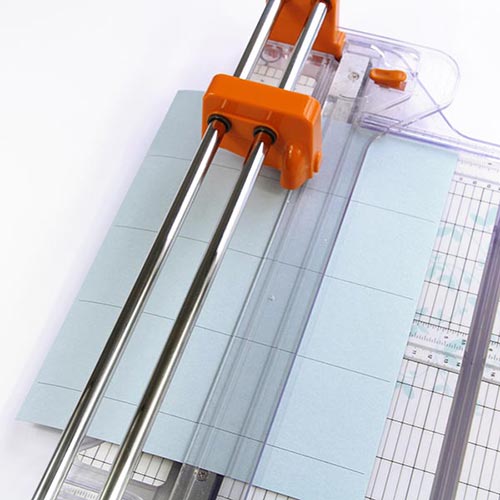 Cut Along Guidelines
Once you are finished printing, cut along the guidelines and your stylish flat wedding place cards are complete!
Here we use a paper trimmer for accurate, straight cuts, but you may prefer a guillotine cutter or exacto blade and straight edge.
---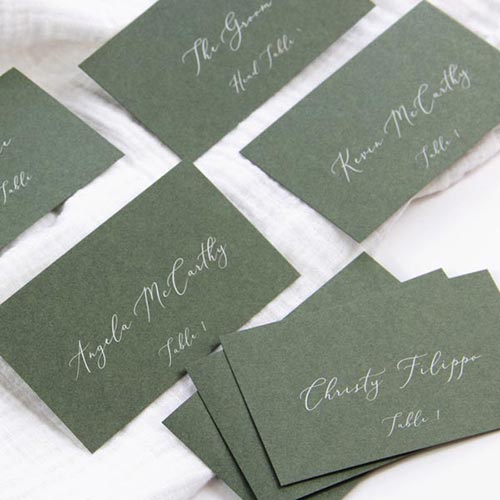 Rather Not Print Your Own Place Cards?
Let us Print for You!
If you would prefer not to print and cut your place cards at home, we offer print services and paper cutting services.
We can print your flat place cards on any paper and in any color (we even offer white ink printing on dark paper!)
Please contact us for more info and a price quote for printing your flat place cards.
(Shown Here: Sage Green Colors MATT card stock printed in white.)
---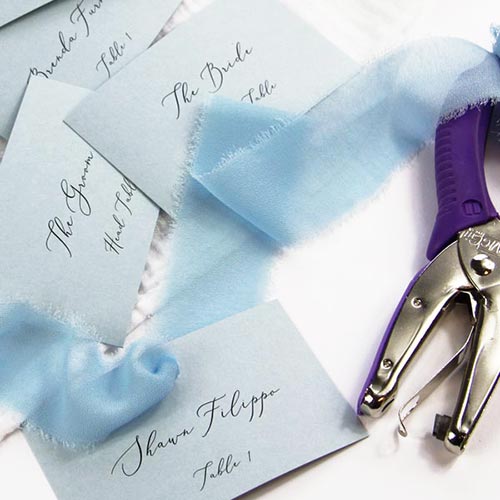 Get Creative!
Embellish Place Cards with Ribbon
Feeling extra crafty? Grab a craft punch and some ribbon!
Punch a hole in each, string some ribbon through, and hang your flat place cards from a display. Another fun idea is to tie place cards to wedding favors.
Tip: Be sure to place your text low on the place card to leave room for the hole punch.
(Shown Here: Placid Blue Colors MATT card stock printed in black.)
---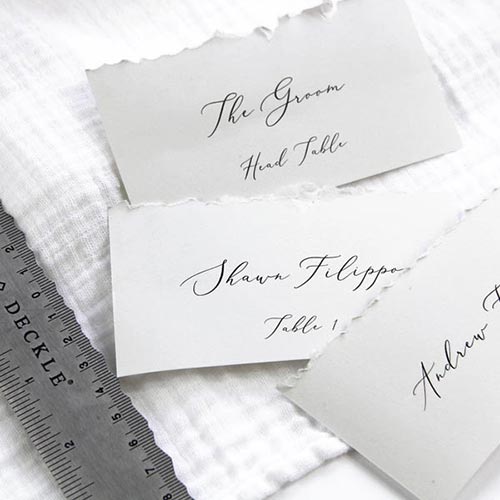 Create Hand Deckled Flat Place Cards
Torn edge, or deckled edge flat place cards are another popular look. This gives cards a soft, elegant, antique look.
Here, we used a deckling ruler to tear each edge by hand.
Tip: It is easier to tear light text weight paper than it is to tear thick, heavy cardstock.
(Shown Here: New Grey 100% Cotton Paper (text weight) printed in black.
---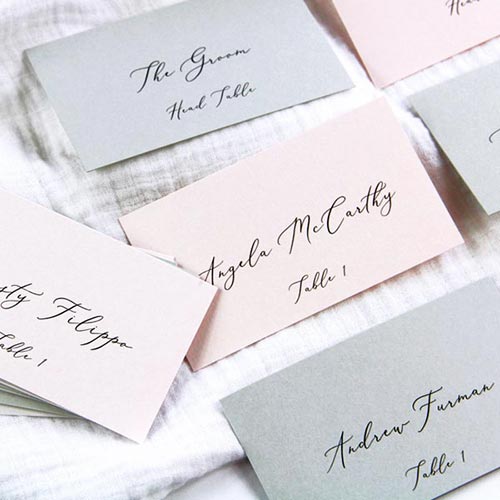 Create a Multi-Color Flat Place Card Display
Multi-color place card displays are great for incorporating a variety of colors into your reception or to indicate meal choice (pink = poultry, gray = vegetarian, for example).
Here we printed our place cards on blush pink and light gray cardstock – pink for women, gray for men – just for fun!
(Shown Here: Rain and Powder Pink Colors MATT card stocks printed in black.)