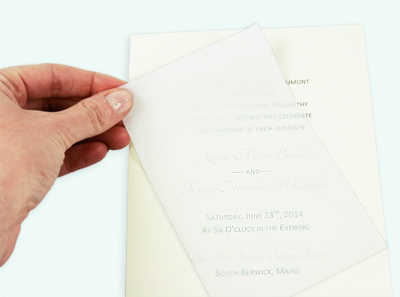 Wedding Tissue Paper in the Sizes, Colors, & Styles You Need
Traditional Wedding Tissue is used to cover just the wording of an invitation card, not the entire surface of the card. For this reason, traditional wedding tissue is fairly small. LCI offers traditional white wedding tissue in one square and one rectangular size to fit most popular wedding card sizes.
Traditional tissue is a thin, single ply, slightly transparent paper that feels similar to gift wrapping tissue. Due to its basic nature, traditional tissue is extremely affordable!
Specialty Wedding Tissue For both practical and decorative purposes, LCI also offers specialty wedding tissue. Specialty tissue a two-ply tissue paper with a soft, cloth like feel. It is available in multiple colors and patterns, and in a greater selection of sizes than traditional tissue.
Ideas On How To Use Wedding Tissue
Tissue Placed Between Cards Will Keep Your Invitation Ensemble Tidy
For an organized look, place a single piece of tissue over the wording of your invitation, reception, and/or direction cards. Some people also place a piece between the response card and envelope. By keeping each card separate, your ensemble will arrive at your guests' homes neat, clean, and looking great.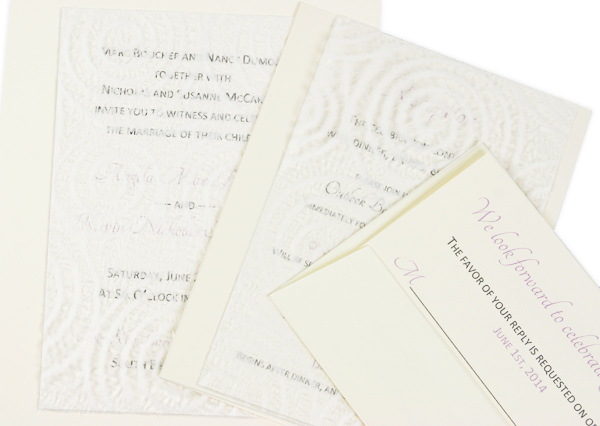 Note: Shown here, Specialty Invitation Tissue - 3 x 5 -Uzumaki White
Add Tissue to Your Folder Invitation - Its Keeps The Sides Separate & Smudge Free
Place a single piece of tissue inside of an invitation folder as both a decorative and practical insert. With a tissue in place, the two sides of the folder are prevented from rubbing up against one another during mailing.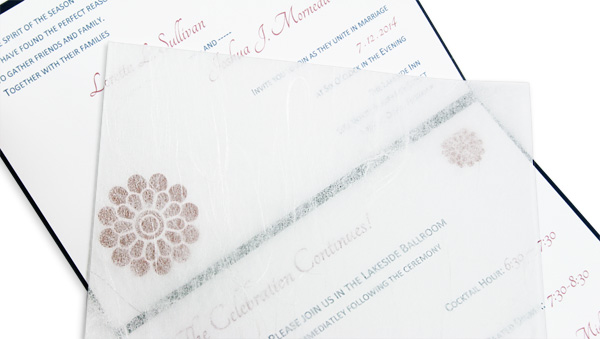 Note: Shown here, Specialty Invitation Tissue - 4 ? x 6 ? - Unryu White.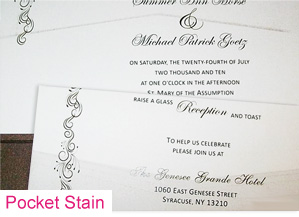 Use Tissues With Pocket Fold Invitations - It Prevents "Pocket Stain"
Occasionally during the rigors of mailing, the printing on the invitation card smudges in the shape of the pocket that sits up against it. The result is "pocket stain", an unsightly smudge easily prevented by invitation tissue. See right.
Place a single piece of tissue on top of the invitation card, then fold. This way, your invitation card and pocket components have no contact, and no chance of smudging.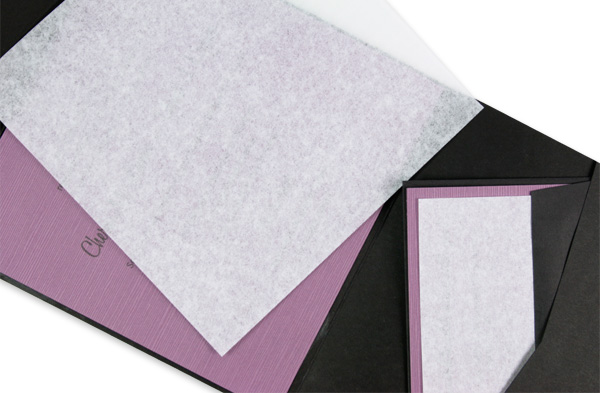 Note: Shown here, traditional 6 x 6 white wedding tissue over invitation, trimmed 3 1/2 x 5 1/2 tissue over response card.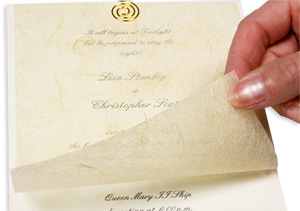 Additional Steps to Take to Preventing Smudging During Mailing- Request Invitations Be Hand Cancelled
Tissue does a great job from preventing ink smudge in invitations, but it can only do so much. It is recommended you request invitations be hand cancelled at the post office. It is your best defense against the rigors of mailing.