A One Stop Wedding Envelope Shop
LCI Paper is a one stop shop for wedding envelopes and addressing. Whether you're a DIY bride looking to replace the basic white envelopes that your invites came with or a stationer looking to create a one-of-a-kind design, we have envelopes for your wedding invitations. Shop a vast and colorful collection of envelopes in top trend shades and sizes, all made with premium paper, all ready to be ordered blank or printed with your full guest list.
Wedding Envelope Styles:
Euro Flap: Modern envelopes with a rounded v-shaped flap.
Straight Flap: Cool and classic envelopes with a straight across flap
Double Wedding Envelopes: Traditional double wedding envelope sets consist of an outer mailing envelope and a slightly smaller inner envelope that houses the invitation ensemble.
Inner Wedding Envelopes: Just the inners with no gum seal. Pair them with your own outer, or grab some adhesive to mail them.
RSVP Envelopes: Little envelopes made for wedding reply cards
Recycled: Pretty, colorful envelopes made with eco-friendly recycled content
Policy: Long and lean envelopes great for unique save the dates and invites
Hundreds of Popular Wedding Colors
From soft and neutral to bright and bold, matte to metallic, smooth to textured, we cover it all!
In all the Common Invite Sizes
From little A1 response envelopes, to popular A7 5x7 invite envelopes, to large A9s, we have all the card sizes covered and then some.
Shop Envelopes by Size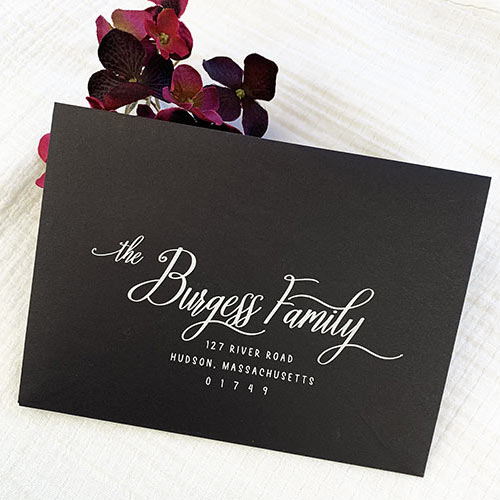 Order Blank for Hand Writing
Made with premium paper, our envelopes are made to stand up to ink nibs and pens and are great for calligraphy and hand writing addresses. If you're the DIY type, you may also choose to print them at home.
Or Printed with Your Addresses
If you're not the DIY type or are worried your hand writing just won't cut it, order envelopes printed with your return address or full guest address list. Choose from our selection of fonts or send us your own fonts and graphics to use. We print in color, black, or white ink (on dark envelopes).
Order Addressed Wedding Envelopes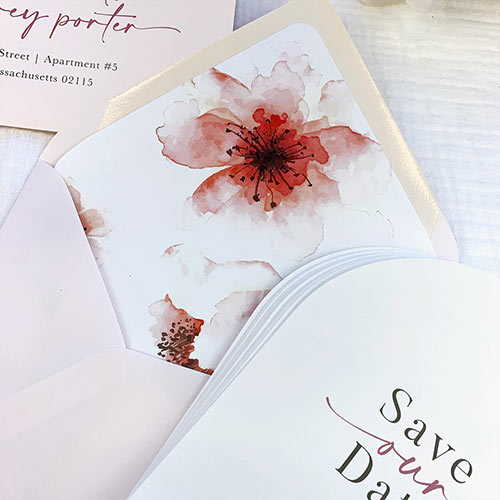 Pair with Matching Papers
All of our envelopes have matching cards and papers available so you can easily design your whole wedding suite.
Add a Custom Envelope Liner
To pull your whole wedding invitation ensemble together, envelope liner papers are available for our A7 euro flap envelopes and A2 and A7 straight flap envelopes. Order blank or custom printed with your design.
Shop Envelope Liner Paper