Pictured above: Curious Ice Silver, Aspire Petallics Silver Ore, Stardream Silver, Curious Galvanised, Curious Ionised.
Looking for that perfect silver paper card stock to give your invitation or creative project that extra sparkle? We know how difficult it can be to find just the right stock for your application, and with our ever growing collection we don't make it easy. Below find a comparison of our silver metallics.
Please enable JavaScript to see the video
Five different silver metallic papers are currently available at LCI Paper. They each have a double-sided finish, each shimmers, each shines, and on their own, each one looks like your average silver sheet - but when these sheets are compared side by side, you will see that each one is slightly different in hue.
So which one of these silvers is right for your stationery? Take a look at this video, then decide!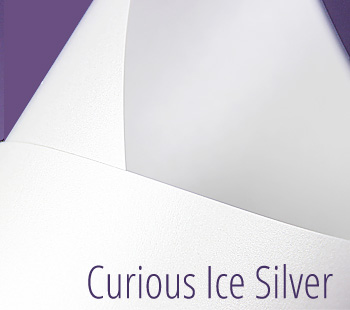 It's White, It's Silver, It's Curious Metallics Ice Silver
At first glance, Curious Ice Silver is more of a white metallic than a silver one, but take a closer look. As so appropriately implied by its name, Curious Ice Silver is a white metallic sheet that has a silver pearlescence & shimmer that shows its subtle silver sparkle in the right light.
The subtle sheen comes from tiny silver mica flecks in the papers' coating and makes this paper a great choice for incorporating just a tasteful dash of silver in your design.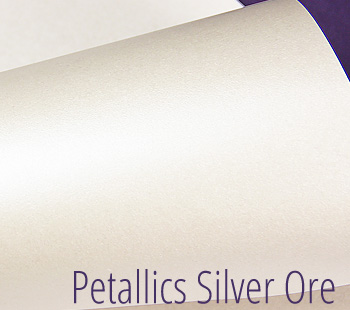 Oh So Soft on the Eyes. . . Aspire Petallics Silver Ore
Next we have our first and lightest shade of real silver, shall we say.
Looking at this paper by itself, it's a soft, light shade of silver, but when placed next to other silver sheets, a faint hue of color is easily discerned, making this sheet appear almost antiqued. This slight, secretive dash of color makes Silver Ore really soft on the eyes and truly sets it apart from its fully desaturated silvery counterparts. This warm silver matches perfectly with pinks, oranges and golds, for an exquisite color pair!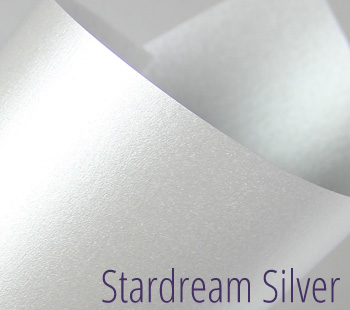 Stardream Silver - Your Classic "Go-To" Silver!
Slightly darker than Silver Ore and with no discernible hints of color whatsoever, Stardream Silver is what you think of when you think metallic silver! This silver cardstock paper resembles the polished precious metal of your favorite watch. Available in nearly all of our invitation products, you can't go wrong with this color.
It has shine, it has iridescence, and it has ultra modern style, making it your silver go-to! Use it for designs formal and casual, elegant and whimsical, and any time you just need a great silver paper - plain and simple!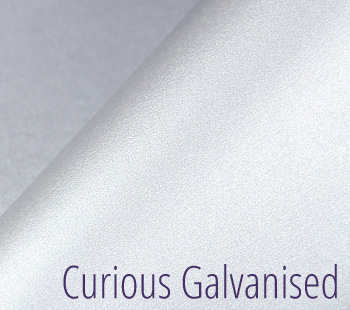 Curious Metallics Galvanised - Slightly Rough and Super Shimmery!
Curious Galvanised is a rich silver that shimmers like steel with cool hues. Galvanised looks great paired with whites, blues and greens. Lighter colors tend to make this silver look a bit darker, whereas darker colors lighten it up a bit!
Slightly rough to the touch and practically dripping with mica crystals, Galvanized is quite a sight, and makes for quite the creative project!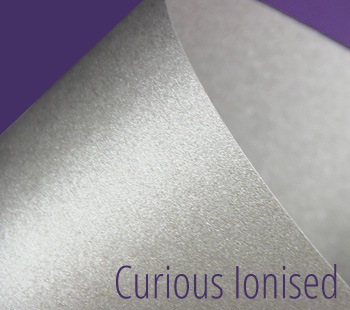 Last But Not Least. . . Sparkly, Charcoaly Curious Metallics Ionised
Finally, we have Curious Ionised. This is a more of a metallic charcoal than a metallic silver, but like its pal Galvanised, Ionised, a deep silver from Curious resembles a stormy sky with a glint of sparkle. It's dark, dramatic, and is sure to make wow-worthy designs! Consider using Ionised as a backing card for a white invitation. This dark silver truly shines when presented with a purple or gold secondary color.
- - - - - - - - -
See Snazzy Silvers for Yourself! Order Samples! Still can't decide which Silver is best for your creative design? We recommend you order some samples! This way, you can see, feel, and decide for yourself which one is best for your project.