Questions about Glitter Paper? We Have Answers.
People love our new MirriSPARKLE glitter paper, and it's easy to see why! Below, we answer the top five questions we've been getting about these sparkly sheets. Take a look, get informed, and get inspired to create something extraordinary with this glamorous new line!
Is the Glitter On Both Sides Of The Paper?
MirriSPARKLE is coated on one side only. The other side is matte white.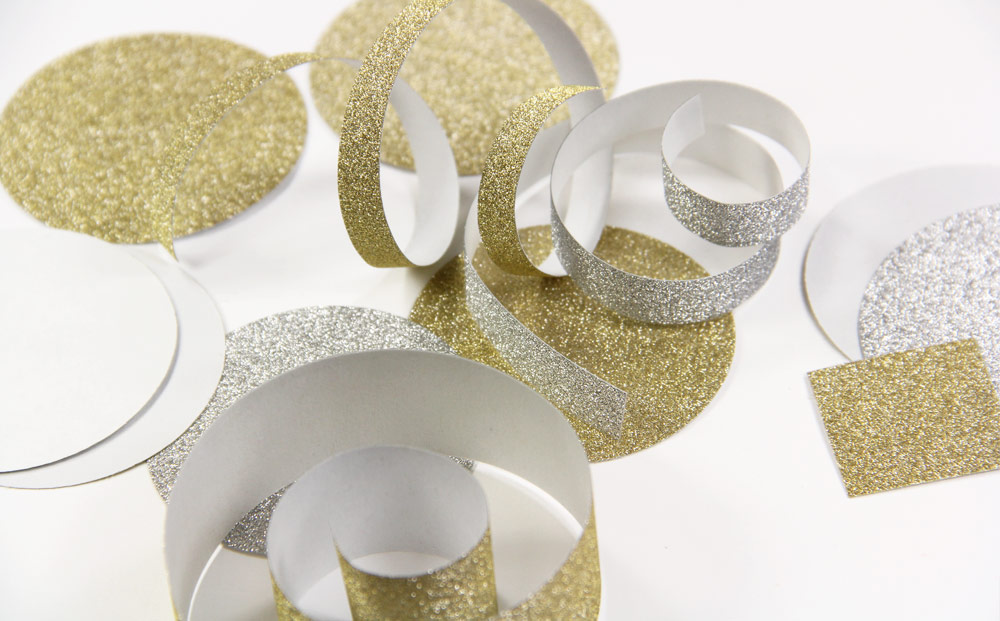 What is the Texture of MirriSPARKLE Like?
Unlike some other glitter papers that feel rough to the touch and shed glitter all over the place, MirriSPARKLE is quite smooth and flake free. This means you get all the sparkle without the mess and a polished, professional project.
Can I Print on MirriSPARKLE Paper?
MirriSPARKLE can not be printed with a laser or ink jet, but both the 6pt Glitter paper & 16pt Glitter card stock can be printed with conventional methods such as offset, foil stamping, embossing, engraving, and silk-screen. But with such glitz and glamour, who needs printing? Mirri is awesome as a decorative layer, as shown below on these glittery wedding invites.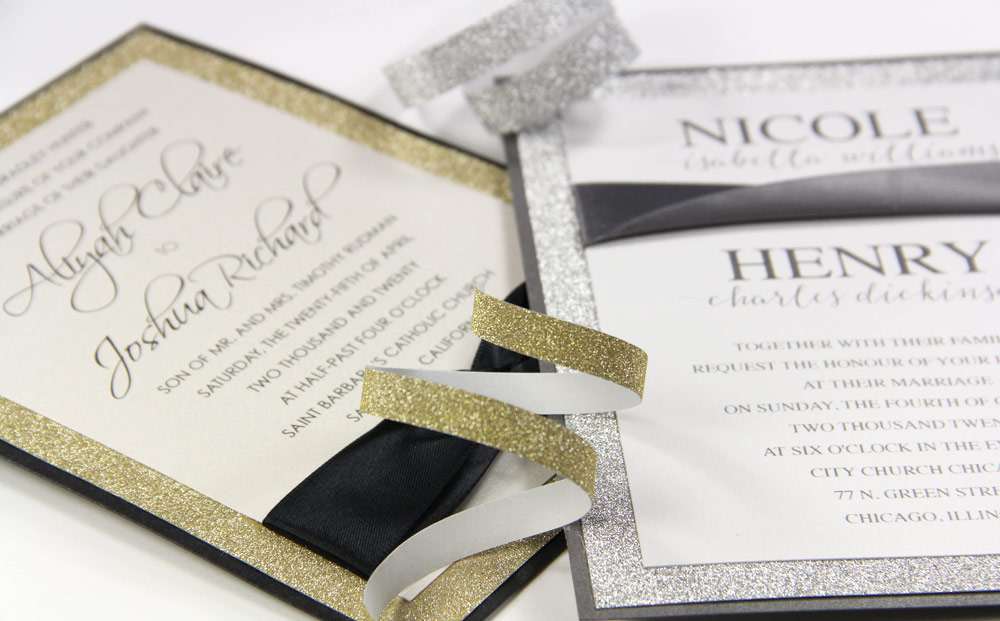 Is MirriSPARKLE Similar to Glitter Wrapping Paper?
Yes, MirriSPARKLE is similar to glitter wrapping paper in that you can wrap and embellish gifts with it. However, unlike most glitter wrapping papers, it won't cover the recipient's outfit in shimmer (though we admit that can be kind of fun).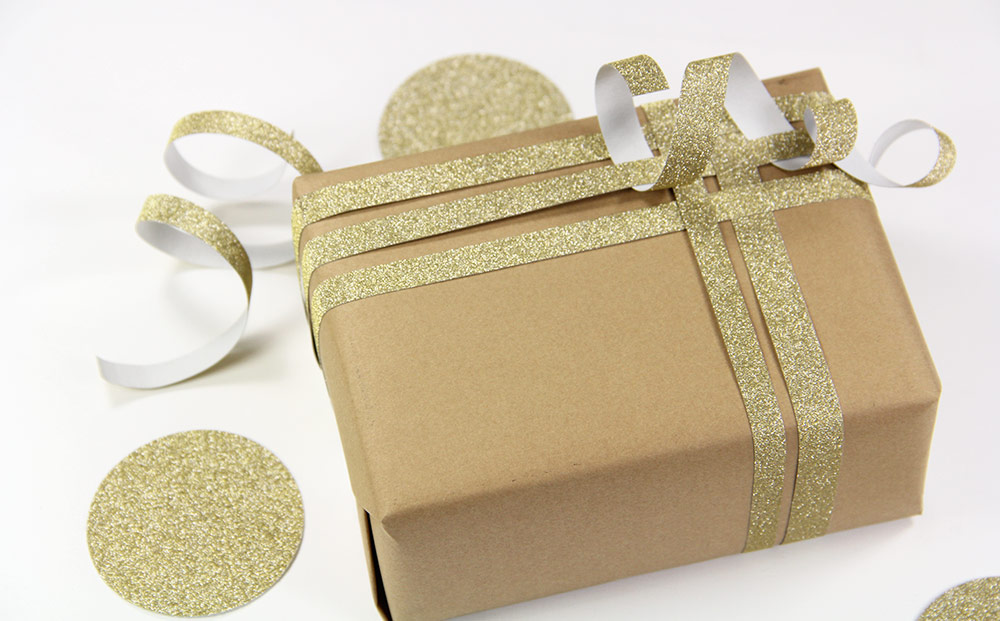 Do You Have Matching Glitter Envelopes?
We do not sell gold and silver glitter envelopes, but we do offer glitter envelope liners! You can line any of our square flap envelopes with our pre-cut envelope liner paper.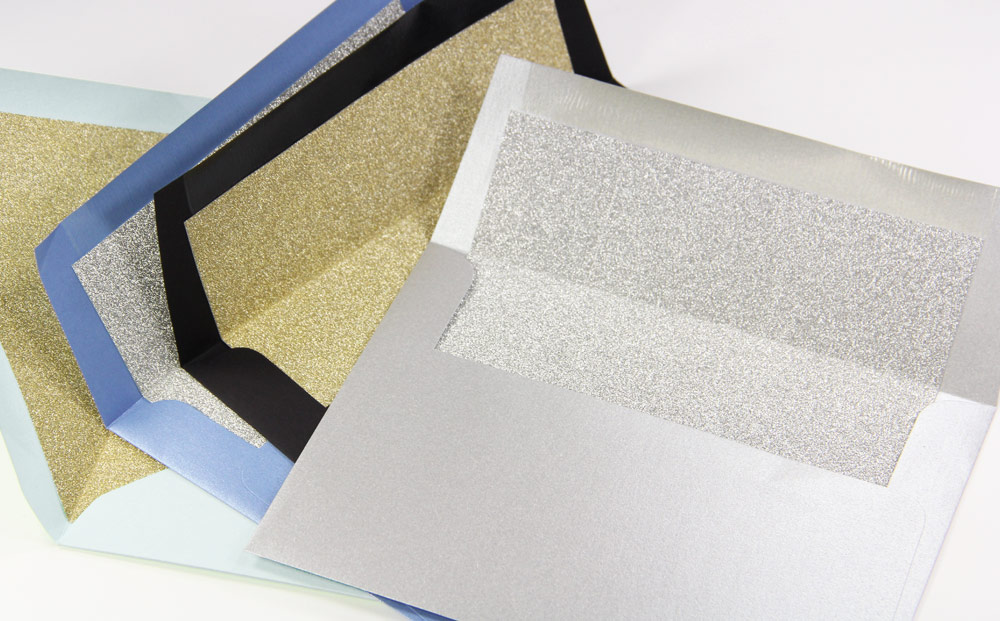 Does MirriSPARKLE flake?
Not a bit! Unlike glitter wrapping paper or some craft store glitter paper you may have come across, MirriSPARKLE does not leave any traces of glitter behind.
What is MirriSPARKLE used for?
What isn't it used for, should be the question! Mirri is often used for invitation layers and bands, envelope liners, scrapbooking, card making, decor (think circle garland, confetti, wall art), gift wrapping, packaging, and more.
Does glue hold on the sparkly side of MirriSPARKLE?
It sure does! Though this paper is coated in sparkles, its smooth surface allows glue to adhere so you can layer, decorate, and scrapbook as you please.
What is the best glue for MirriSPARKLE glitter paper?
Many glues and adhesives can be used with glitter paper, but we like ZipDry paper glue. Why? It doesn't wrinkle the paper, holds strong and dries super fast!