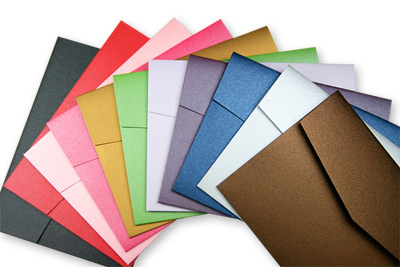 Presentation Matters
When you have more than just a single invitation card to send, simplify and organize with DIY-pocketfolds. Consider a them an inner envelope with a pocket that allows you to stylishly compile your invitation card, additional insert cards, and response items. It's a neat look, quite literally.
Color Adds Flare
Choose from over 20 glimmering metallic colors produced by Stardream and Aspire Petallics. Whatever the occasion, your invite will set the perfect tone and shine with style.
Beauty You Can See and Feel
Apparent to both the eye and touch, metallic DIY-pocketfolds are rich in color, finish, and quality. You'll love their beauty at first sight (and so will your guests)!
Sized Just Right
Choose from three sizes, 5" x 7", 6 1/4" x 6 1/4" and 5 1/8" x 7" to cover most invitation needs.
Complement Your Design with Matching Papers
Create a consistent design with matching papers and envelopes. We have an incredible array of colors, textures and finishes for you to choose from, so mix, match, and create the perfect invitation for your big event!