Do you want to print metallic envelopes?
Although most home printers are designed to print envelopes, not all consumer printers print with the same quality. To complicate matters more, the unique composition of the metallic envelope surface like those we offer at LCI makes them more challenging than printing matte finish envelopes. Here are some tips for printing metallic envelopes at home:
Should you laser print or ink jet print?
Through our own in house tests we find that laser printers generally produce the best, sharpest, and most well saturated text on metallic envelopes. Drying time is almost immediate when using the toner-based technology of a laser printer.
Conversely, ink jet printers spray wet ink onto the paper making extra drying time a necessity. In fact, up to 24 hours may be needed before the ink thoroughly dries to the surface of the paper. To prevent smudging it is important to refrain from handling the paper until it completely dries.
Answer questions first by ordering samples.
By ordering samples you will find answers to a few common questions. For example, will your printer print sharp text on the metallic envelope surface? After the envelope runs through your printer, is it unscathed? If inkjet printing, how long does the ink take to dry?
If you're happy with the print quality and the state of the envelope after testing, then your printer is an excellent candidate for printing metallic envelopes.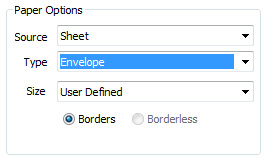 Metallic envelopes are thicker than everyday envelopes.
Since the metallic finish paper used to make our metallic envelopes is thicker than common matte finish envelopes, it's important to set the paper type in the print driver to Envelopes. The Envelope Setting will make it easier for your envelopes to travel through the printer. If your printer model is older, there may be a physical lever to switch to the Envelopes Setting.
We are here to answer your questions.
We hope these tips help to make printing metallic envelopes easier. Let us know if you have other questions or more helpful tips about printing metallic envelopes, at home in your printer; we would love to hear from you.