5 Envelopes and 5 Liners: Mix, Match and Make Fun Envelopes!
Our lined envelope kits include a colorful assortment of A7 euro flap envelopes and pre-cut liners for you to mix, match, and create your own lined envelopes with. They're perfect for card makers, letter writers, paper crafters, scrapbookers, or any creative person who loves sending fun and pretty snail mail!
What's in the Kit?
Please note that envelope colors/finishes and liners vary from kit to kit. We do not accept any customization or substitution requests on this item.

No Adhesive Included
The liners in this kit do not have any adhesive, so you can use the adhesive of your choice. We recommend using a glue or double sided tape that is designed specifically for paper, and be sure to use it sparingly!
Adhesive Tip: Dab only a very thin line of adhesive around the perimeter of the envelope flap only. Any more adhesive than this may cause wrinkling or bleed-through. We recommend testing one envelope and letting it dry completely before lining them all.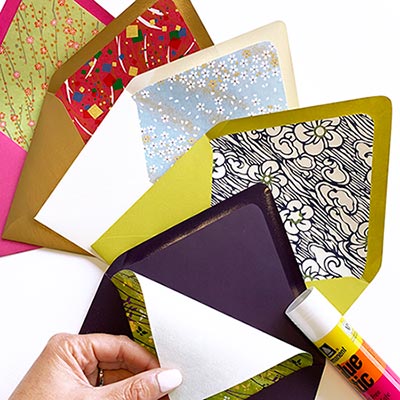 How Do I Line Envelopes?
To make it easy, these liners are designed to go all the way to the bottom of the envelope and sit right below the gum seal on the top flap. Below are instructions for lining your own envelopes:
Place the liner in the envelope and center it.
Place a thin line of adhesive around the top flap as described above.
Press the liner to the envelope flap and press firmly.
Close the envelope and press firmly.
Open the envelope and adjust the liner slightly if needed.
Let it dry.
What Cards Fit in these Envelopes?
These (A7) envelopes are 5 1/4 x 7 1/4 inches and can be paired with any flat or folding (A7) 5 1/8 x 7 cards.