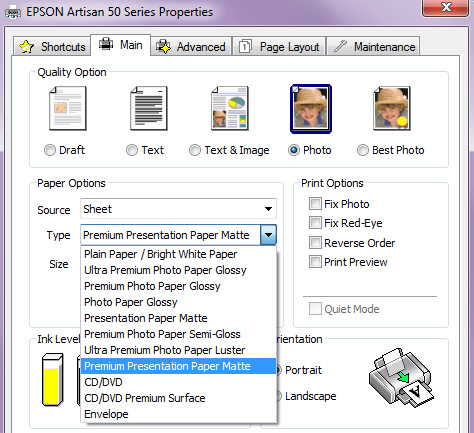 Our recent printer review of the Epson Artisan 50 Inkjet Printer generated lots of great customer feedback. One comment in particular caught our attention.
The thought is that paper type setting in the print driver of Epson printers, perhaps more than some other brands, can affect print quality.
Challenge: Re-Test Our Specialty Papers Using Recommended Paper Settings
We thought this was a worthy challenge, therefore we re-tested all the papers from our original Epson Artisan 50 review using settings recommended for each different paper type. The bottom line is, some papers showed no noticeable improvement, while others, like we've shown below, produced noticeable improvements worth highlighting.
When test results didn't improve to our satisfaction, we tried other paper type and quality combinations. On some papers, printing just never improved from the test results posted in our original review.
Here are the test results, although subtle, that showed the most tangible improvement:
---
30lb (113 gsm) Translucent – GMUND Colors Transparent Brand
Although the mill badges this paper as inkjet printable, we found that on these sheets, Epson's ink tended to bleed. So while the text looked great immediately after printing, a few minutes later the ink spread. We test printed on a number of sheets using different paper types and quality options in the print driver, but this pattern of delayed bleeding appeared in all of our tests. But even so, we saw an improvement in printing and less bleeding when we switched the paper type to the Premium Photo Paper Semi Gloss setting. For a closer look at the print results over the original test, click the print images below.
---
100lb (270 gsm) Felt Card Stock – LCI Paper Brand
With the new settings shown below, we noticed crisper text and more saturated black ink. It's an improvement many people printing, thick, heavy & textured card stock should be interested in. For a closer look at the print results over the original test, click the print images below.
---
What does this mean to you?
If you're willing to test the recommended or different paper settings, you may be able to achieve better results than you thought possible. It certainly worked for us in some cases! It is, however, trial and error.
More Printer Reviews
Want test results from more high quality inkjet printers? See our other in-depth printer reviews:
HP Envy 100 e-All-in-One Inkjet Printer Review – Does it print as great as it looks?
Epson Stylus Photo R1900 Ink Jet Printer Review
Canon Pixma iX7000 Large Format Ink Jet Printer Review