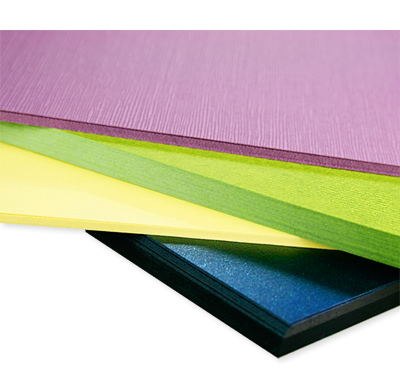 The Terms: Are Cover Stock & Card Stock the Same?
The terms cover stock and card stock are analogous and are frequently interchanged by both novices and industry professionals alike. They both refer to heavy weight paper, and for all intents and purposes, are the same thing – card stock, is cover stock, is thick or heavy paper – plain and simple.
However it should be noted that in technical terms, there are slight differences between cover stock and card stock:
Cover stock: is a specific term reserved for heavy weight paper of a decorative nature; found in an assortment of colors, finishes, textures, and coatings. Sticking with technicalities, cover stock is generally classified by paper basis weight, rather than caliper, or thickness.
Card stock: is a more general term, defined by heavy weight paper of a simple, generic variety. Card stock is generally classified by caliper.
Note: LCI Paper refers to all heavy weight sheets as card stock, classified by basis weight.
How is Card Stock Made?
To understand how card stock is formed, you must understand the materials and the process. Both are key to the quality of the final product that results.
Hardwood, Softwood & Fillers
Generally speaking, card stock is made up of a blend of hardwood and softwood fibers and fillers. Hardwood provides proper paper formation, softwood provides strength, fillers add to the opacity, brightness, and overall appearance of the card stock. The secret is in the sauce, so they say, and the final card stock that results is dependent on the quality and ratio of the fibers in the blend.
The Process
Before being formed into card stock, the fiber/filler blend is about 99% water – so how is this fibery soup formed into card stock? Here's the abbreviated version!
The fiber blend is dispersed from an opening at the bottom of the headbox – a storage container at the start of the paper-making machine
Blend flows onto a wire – a wide, flat, porous moving screen
Water drains from the bottom of the wire, while fibers form into a cohesive sheet above
Sheet is guided through a series of roller presses and heat dryers until it is a flat, uniform, dry sheet of card stock
Here's the full version: How is Paper Made?
Why are Some Stocks Thicker than Others?
Although most machine-made papers are manufactured in the same general fashion, there are several variances in the weights and thicknesses of these papers. Variances in weight are simply due to the amount of fiber that is dispersed onto the wire at the start of the paper making process. The opening at the bottom of the headbox is adjustable, allowing for different amounts of fiber to be dispersed. In a nutshell, the more fiber that is present at onset, the thicker the paper in the end.
In some cases, thick card stock is made by adhering two thinner sheets together, rather than placing twice the amount of fiber on the wire at onset.
Are all Card Stocks Created Equally?
Since most card stock is created in the same general fashion, is card stock generally all the same? Absolutely Not! Each mill uses different fibers, in different ratios, and in a slightly different fashion. What is the result of these many differences? Many different card stocks of many varying qualities that are in no way, created equally.
What Determines a Quality Card Stock?

If card stock is not created equally, what determines a quality card stock? Many people are under the misconception that the quality of a card stock is determined by its thickness, stiffness or weight. This couldn't be further from the truth. Depending on personal taste and what the paper will be used for, some prefer thick, heavy stock, some prefer a lighter, softer stock. Therefore, the quality of a card stock is determined by the fiber quality and manufacturing process, not by thickness.
If you are shopping card stock from LCI Paper, you can be assured any stock you choose is of utmost quality; coming only from renowned mills that produce paper with only the highest standards of beauty, quality, longevity, and environmentally conscious paper manufacturing in mind.