2022 Wedding Invite Trends that aren't Going Anywhere in 2023
The past year has been incredibly busy for the wedding industry. An influx of new weddings, combined with a backlog of postponed weddings, has caused a surge in stationery demand. Add in a paper shortage and both brides and designers are becoming more and more creative! We've seen lots of gorgeous and creative designs this year, and now that 2022 is more than halfway over, we wanted to share the most popular wedding invite trends we've seen so far (and we expect are here to stay).
---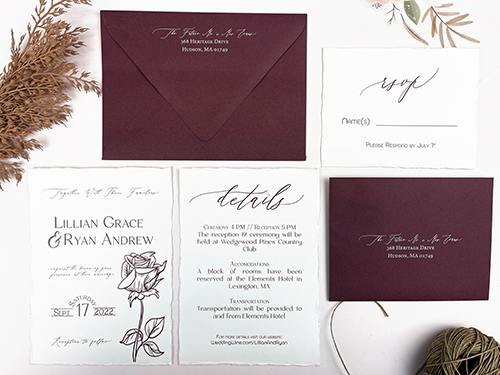 Deckled Edges
These antique feeling wedding invitations with soft, subtly torn edges are all anyone can talk about lately. Print at home with your own printer, or write on them with your favorite calligraphy pen. If you're looking to go with a more vintage style wedding, then deckle edge is the way to go.
As a disclaimer, we always recommend ordering a sample of this stationery to test print or test write on prior to ordering a full pack.
Products used in this example:
---
Sage Green Paired with Soft Neutrals
A little bit of gray mixed with a little bit of green, Sage is neutral, timeless, and just oh so beautiful! Sage can be used in many color palettes for any season. Below, we share some of our favorite sage wedding color combinations.
---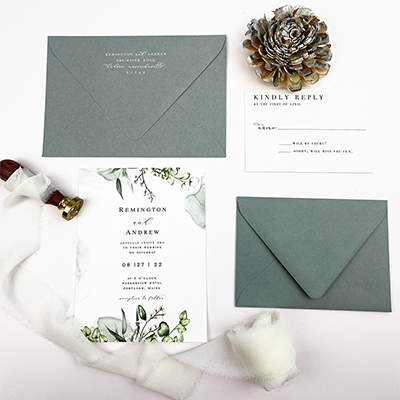 Sage + Sea Grass
This modern wedding suite with splashes of color creates a beautiful balance of green hues.
Products used in this example:
---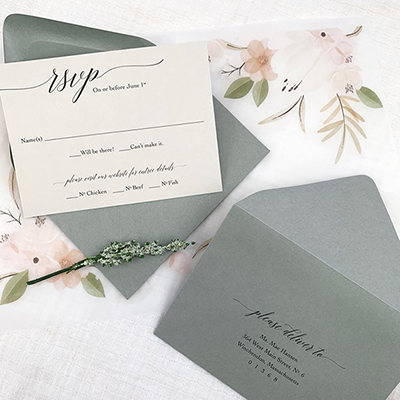 Sage + Chardonnay
Pairing this sage envelope with a chardonnay card creates a natural color scheme and brings out the subtle peach tones of chardonnay.
Products used in this example:
---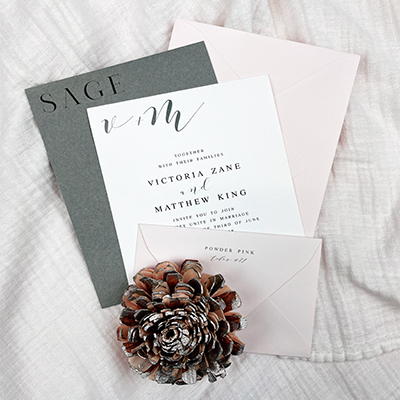 Sage + Powder Pink
Sage and powder pink are both soft and subtle. On its own, sage may appear more gray and powder pink more white. However, when these two are put together, they bring out the green and the pink tones in one another and look great.
Products used in this example:
---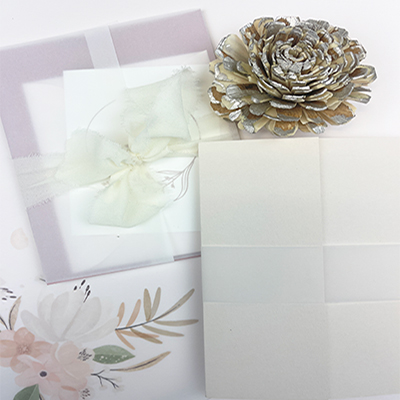 Vellum Wraps & Vellum Bands
Vellum wraps (or vellum jackets) and bands are a simple and stylish way to complete your wedding suite, organizing and decorating your invitations in a formal fashion. Secure your wrap or band with a wax seal or tie it off with a ribbon to create a sneak peak to your elegant wedding invitation.
Products used in this example:
---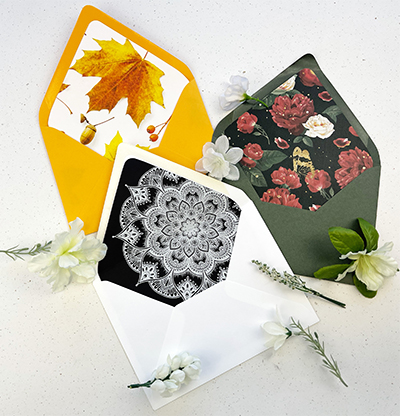 Envelope Liners
Envelope liners are pieces of thin paper that get attached to the inside of an envelope. Though not necessary, envelope liners are the perfect way to add a pop of color (or shimmer!) to your wedding suite. They also add an extra layer of protection during mailing.
Printed liners add even more more creativity. Include your personalized monogram or custom artwork to bring your whole invitation suite together.