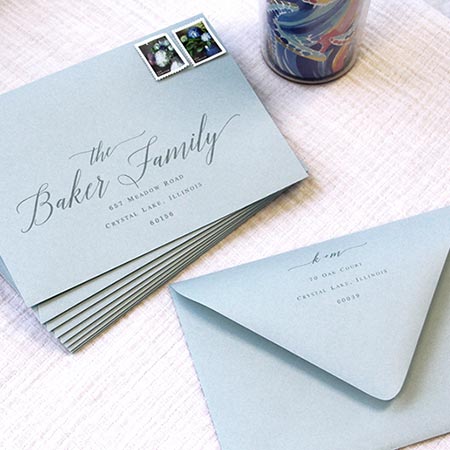 Super Important Invitation Tip:
Be Sure Envelopes are Tightly Sealed before Mailing!
You worked hard on your invites and you do not want them opening up in the mail. This can make for a sloppy appearance, undelivered invites and a big old hassle. To avoid this, you want to be sure your envelopes are tightly sealed before they hit the mailbox.
Lick and stick aside, what's the best way to quickly and effectively seal wedding envelopes?
To answer this question, we polled our professional, creative, stationery savvy instagram followers.
---
Top 5 Suggestions from the Paper Pros
We Asked…
Stationers, card makers, paper pros – how do you close moisten and seal envelopes to make sure they're good and stuck?
You Said…
1. Q-Tip, Bowl of Water & Press Firmly
A cleaner, more precise version of the old sponge and water trick, use a thin q-tip to moisten the gum/glue seal.
After closing, press firmly around the entire perimeter of the flap two or three times.
2. Paint Brush, Water & Water Soluble Adhesive
Similar to the q-tip but with an extra twist, use a paint brush, water and a dab of water soluble adhesive to seal those flaps. The paint brush holds more water so you are not constantly dipping and the extra dash of adhesive adds sealing security.
Be sure to use just enough water to moisten the glue, however. If you go overboard you may get wrinkled flaps.
3. Clear Glue Sticks
Forget the moisten and stick glue on the flap, just use your own glue!
Clear glue sticks and zipdry paper glue work well for this. Again, be sure to use just enough to seal the envelope. Any more could cause wrinkling.
4. Double Sided Tape Roller
Double sided tape/adhesive rollers make for great envelope sealers as well. However, this method is far easier with a straight flap envelope as opposed to an angled euro flap or baronial flap envelope.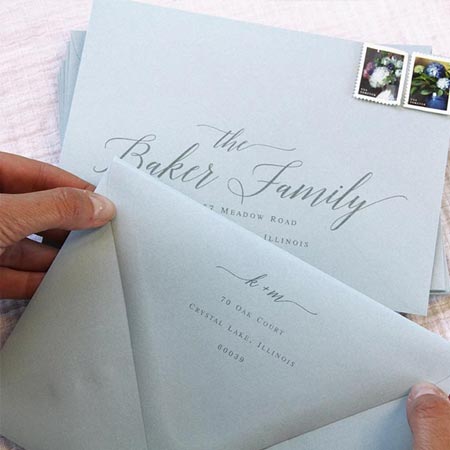 5. Heavy Compress (Stick 'em Under a Book)!
Whether you lick, brush, glue or tape – this final suggestion never hurts for good measure.
After envelopes are sealed, place them under something heavy while they dry. This will reduce any flap wrinkling and ensure your flaps are good and stuck!