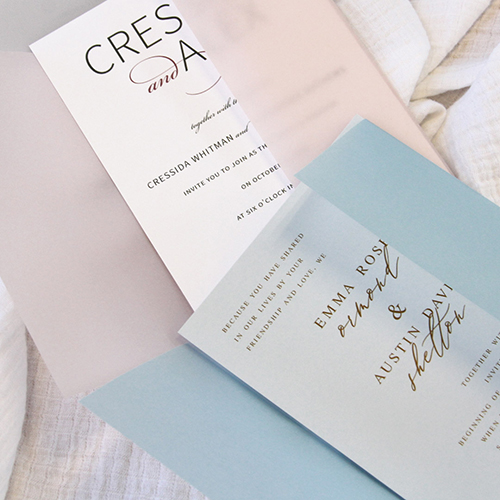 Vellum Jackets (wraps) are very popular these days so we get lots of questions about them!
Here are answers to the top questions brides and stationers most commonly ask us about making vellum invitation wraps.
Can Vellum be Cut to Make a Vellum Invitation Wrap?
Vellum can be cut to size to create a custom wrap. We offer a custom paper cutting service, so just name the size you need for your invites!
Can Vellum be Scored (Pre-Creased) so it's Easier to Accurately Fold the Vellum Wrap?
Due to its delicate, transparent nature we can not score vellum with our machinery. However, lightweight vellum can be folded without scoring and no cracks will appear along the fold lines.
If you would like to score vellum on by hand to ensure straight, accurate folds, a bone folder works great!
Can Vellum be Printed?
Want a design printed on your vellum wrap? Get in touch with us! We offer a vellum printing service and are happy to help. You supply the design, we print.
Which Weight Vellum is Best to Create a Vellum Wrap?
You can use light 29-30lb vellum or heavier 48-54lb vellum as a wrap, but lighter weight vellum is more common for this (and comes in lots of pretty colors)!