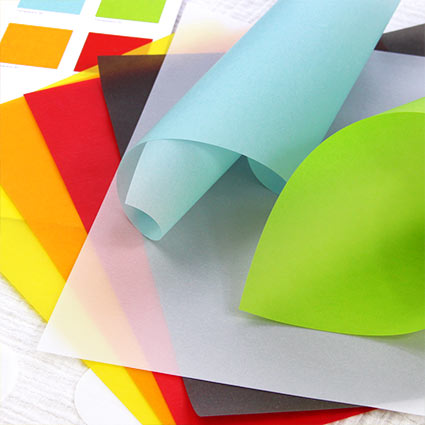 What is Vellum Paper?
First off, let's cut out any confusion: This article refers to modern, plant-based vellum, a paper that goes by many names. Besides vellum, it may be referred to as tracing paper, see-through paper, transparent paper and translucent paper.
Whatever you call it, it all refers to smooth, delicate paper you can see through. It comes in many colors, weights, brands and even textures. It's unique, versatile and has endless uses in the stationery, paper-craft, packaging and design world.
---
What is Vellum Made Of?
Short answer: Vellum is made of cellulose fibers (plants, trees).
Historically, vellum was made by stretching calf skin over a wooden frame and processing it in preparation for writing. Though animal-based vellum is still manufactured today, it is a very time consuming and expensive process, leaving modern vellum to be made by machine with cellulose fibers.
---
How is Vellum Paper Made?
Both translucent (see-through) and opaque (non see-through) papers are made with cellulose fibers. When air is trapped between the fibers, paper is opaque. When air is not present in the fibers, paper is translucent (vellum).
Vellum is created by beating and processing cellulose fibers until there is no air present, resulting in dense, moisture-rich sheets you can see though.
---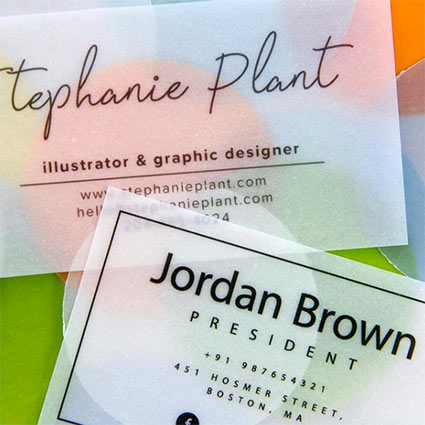 What Does Vellum Look & Feel Like?
Vellum paper looks like frosted glass. Shown here, it's not crystal clear, but certainly see-through.
Vellum has a super smooth, almost plastic-like finish. It's delicate yet durable, standing up to writing, printing, cutting, scoring and gluing.
(Heavyweight 54lb white translucent vellum shown here)
---
Is Vellum Paper the Same as Tracing Paper?
The quick answer is yes, vellum paper and tracing paper are essentially the same thing. They look and feel similar, are manufactured the same way and can be used for similar projects. Handed a sheet of translucent paper, a stationer may use the term vellum where a drafter may call it tracing paper.
The major difference? Not all vellum paper/tracing paper is created equally. For example, tracing paper sold in the children's craft section may not be suitable for invitations or scrapbooking, as it was likely not made with printing, cutting and longevity in mind.
---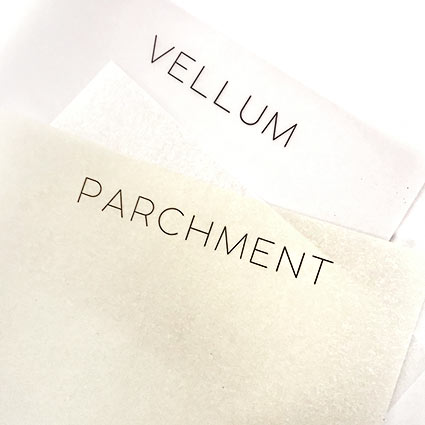 Is Vellum Paper the Same as Parchment Paper?
Our vellum and European parchment paper are quite different.
Though vellum and parchment are both translucent, parchment has a cloudy appearance that offers far less clarity than vellum.
Vellum is available in a variety of weights and colors. Parchment is available only in one weight (24lb) and two colors (white and ivory).
Parchment is slightly softer and more porous than vellum.
---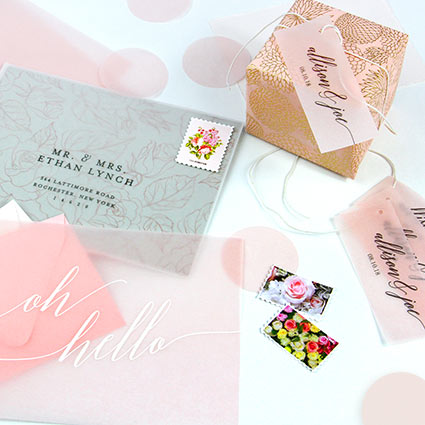 How Do You Use Vellum?
There are oh so many uses for vellum paper. Below are the most common:
Invitations with vellum overlays & inserts (for decorative or protective reasons)
Vellum wraps and gatefolds
Vellum wedding programs
Packaging materials
Marketing and promotional materials
Vellum paper crafts and cardmaking
Scrapbooking
And the list goes on…
Bottom line, vellum incorporates nicely into creative projects of all varieties and you are limited to only your creativity. No matter how you use vellum sheets, your project will be great!
(Pink vellum shown here)
---
Can Vellum go through a Printer?
Yes, you can print vellum at home! It can be run through laser and inkjet printers. However, it may be tricky to print due to its delicate nature and unique finish. We always recommend ordering samples to test on your home printer prior to purchase.
For more information and tips on printing vellum, please visit the following:
If you don't want to print your own vellum, we also offer vellum printing services. You send us your design, we print (in black, full color or white ink).
---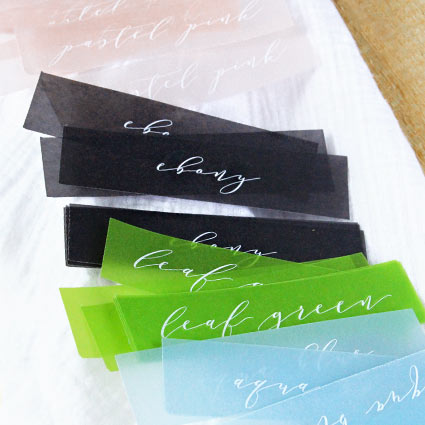 How Do I Cut Vellum?
Whether using a paper trimmer, industrial guillotine cutter or x-acto knife, we recommend cutting vellum with the sharpest blade possible for best results.
For more information, view our vellum cutting tips.
---
How Do You Keep Vellum from Curling?
Heat and moisture often cause the ends of vellum to curl. This is commonly seen after printing or in reaction to your touch while working with vellum.
Check out the following article to learn more about why vellum curls and how to keep those sheets flat!