Let Your Creativity Shine
Due to it's attractive glimmering surface, metallic paper can be used for a variety of creations. Metallic Paper has a diverse spectrum of colors and brands! Including Stardream, Aspire Petallics, and Gmund.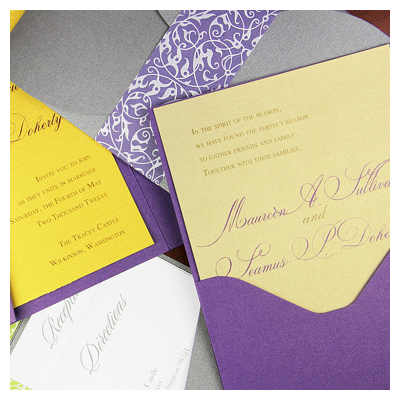 A Wide Selection of Shimmer & So Many Ways to Use Them!
Have you ever thought about how many different creations you can design just from a Metallic sheet of paper? Well, with our help now you will!
Belly Bands – Colorful bands add a spectacular look to any invite!
Decorative Layers – A classy and creative way to catch eyes on your creation!
Envelope Liners – Add a little glimmer to your invite, after all this is the first thing people will see!
Resume Papers – For a more professional & unique look.
Insert Sheets – Create a sparkling program for a special day!
Birthday Cards & Holiday Cards – Dazzle a special occasion with your card!
DIY Creations – Do It Yourself by mixing and matching Metallic and get your creative juices flowing!

Professional Printing on Metallic Surfaces for an Extra Stunning Look

Metallic paper is not recommended to use on home printers but the mica-infused finishes on both sides makes it easy for laser printers by HP, Canon, Epson, Lexmark, Brother, and others to print a stunning script.

Aspire Petallics offers the most compatible inkjet-friendly use.

Special Sizes & Weight

Metallic paper comes in 105lb Card Stock and standard size of 8 1/2 x 11 however we have many more sizes for your needs.

Other sizes

8 1/2 x 14
12 x 12
11 x 17
27.5 x 39.37
28 x 40