Your wedding invitations are finally finished and they look perfect. It's time to mail them off to your guests, but before you can do that you need to address them. The obvious question is, What pen should I use to address or write on wedding envelopes? You've come too far in the process to ruin your invitations by addressing them with the wrong pen. What you really need is some solid advice so that you can choose the best pen for the job.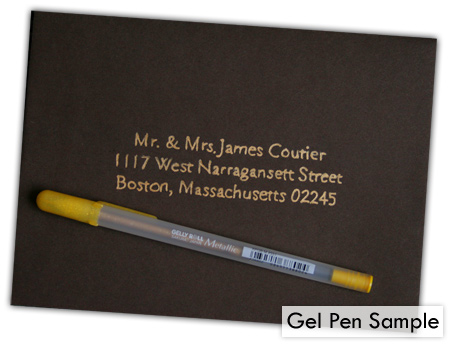 Look For A Pen To Address Your Envelopes
You want a pen that will work with you, not against you. When using Gel Pens, Gelly Roll pens in particular, we find ink flows far better than with a standard ballpoint pen. There's less resistance on the envelopes and less pressure we have to apply with our fingers as we write. It makes for a more comfortable writing experience. This is why gel pens are our top choice.
Pros:
Smooth flow makes writing easier
Opaque ink creates a bolder line
Can be found in light colors like white & pink – a great solution to contrast dark colored envelopes
Often better on non-absorbent metallic finish envelopes
Sparkling and glowing ink options available
Nontoxic ink produces less hazardous waste
Cons:
Ink is consumed faster than ballpoint pen
Slower to dry & easier to smudge
An Easier Writing Experience
So how exactly do gel pens make writing easier? Inside the pen, the pigment that determines the ink color is suspended in a water-based gel. The percentage of pigment is actually greater than in standard pens. The result is a thicker, bolder, opaque ink that feels smoother and is less resistant when writing.
---
You Don't Have to Be a Calligrapher to Write on Your Envelopes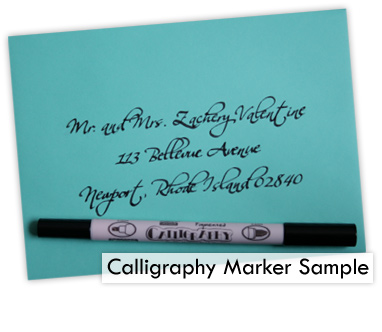 Not familiar with Calligraphy pens? Not a problem.
The angled tip of a Calligraphy Pen or Marker is designed for calligraphy handwriting, making it easier to write on your envelopes with style. You should give this pen strong consideration when you'd like to add the look of calligraphy to your own handwriting. We give calligraphy pens & markers an honorable mention.
Pros:
Special angled tip adds the look of calligraphy to your handwriting
Less drying time & smudge resistant
Produces bold lines with great saturation & opacity on matte finish envelopes
Metallic gold & silver pens available for great performance on metallic finish envelopes & even dark colored envelopes
Ink may be archival, water resistant & non-toxic
Cons:
Thicker lines may require writing larger text
Ink may appear translucent on non-matte envelope surfaces like metallic envelopes
---
What type of pen did you use for your wedding invitations? Would you recommend the same pen to someone else or would you offer another suggestion? Share your experience with us!