Wedding Programs To Hang On Your Guests' Chairs!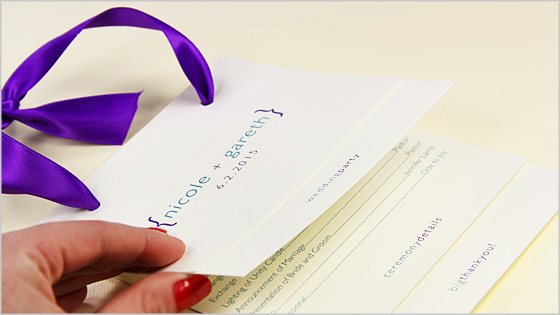 Easily make a tiered wedding program with a ribbon handle that hangs on your guests' chairs. Not only is this easy and practical for guests, but also adds to ceremony decor. We have put together a short tutorial on how to make this yourself.
This invitation program is made up of four pre-cut cards and some ribbon, and although there is a bit of trimming and punching involved, assembly is quite simple. Just choose your materials, download and customize the print templates, and follow the step-by-step instructions to chic handmade wedding programs.
Let's begin!
Materials To Customize Hanging Tiered Program Design
Single Cut Blank Cards
Ribbon, Twine, or String
Paper trimer or preferred cutting tool
Hole punch
Scissors
Download Templates
How it Comes Together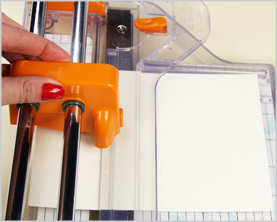 1. Trim Cards to Size
Using a paper trimmer or preferred cutting tool (we use a rotary trimmer here), trim your 5 1/8 x 7 cards to the following dimensions:
5 1/8 x 7 (leave this one alone)
5 1/8 x 6
5 1/8 x 5
5 1/8 x 4
2. Download + Customize Microsoft Word Print Templates
Download the zip file of print templates from above. The zip file of templates includes four separate Microsoft Word templates.
Templates are:
Set to the four dimensions listed above
In standard Arial font, in black
Next, customize for your wedding by changing wording, fonts, and colors. (Font shown in example is Gill Sans.)
Note about Margins:
Margins in the templates are set to allow printed piece to have 1/4 inch border at the bottom and to allow adequate room for the ribbon handle. Though they can be altered a bit, expanding them by a lot is not recommended.
3. Print Four Cards
Next, print your four customized cards. Be sure to set up the dimensions of each card in both your Word doc (under File > Page Setup) and in your print driver (location varies with printer).
4. Measure, Mark + Punch Holes
Now it is time to punch two symmetrically placed holes to run ribbon through to create a handle. We found that the easiest way to get accurate placement was to measure for distance, make a faint mark, then punch.
To Measure + Mark
You can punch holes where you see fit, but in the example piece, we measured, marked then punched:
3/4 inch down (from top)
1 1/4 inch in (from left and right)
on both sides of the program.
To Punch:
Make sure everything is nicely aligned, then punch on the mark you made through all four cards.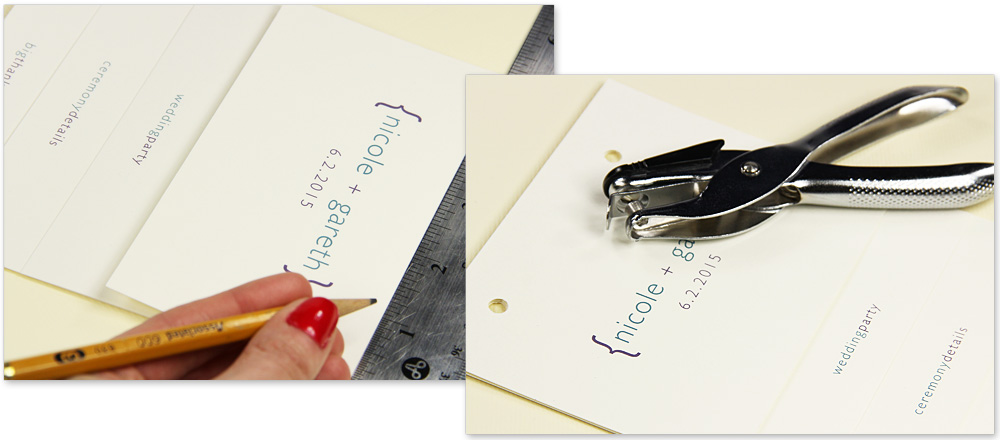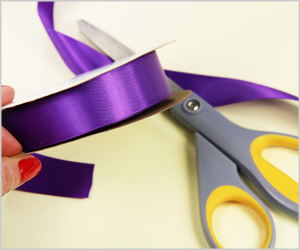 5. Cut Ribbon for Hanger
In the example piece, we used about 12 inches of ribbon to create the ribbon hanger, but the amount you use will vary with how low you want your programs to hang, and whether you want to tie a bow with the ribbon, or simply a knot like we did here.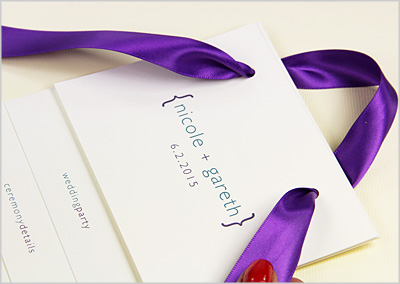 6. Thread Ribbon Through Holes
Thread ribbon through the two holes you just made, then tie at the top into a knot or bow.
Tip: If you are using wide 7/8 inch ribbon, it helps to twist the ends to get them through the small holes.
---