Translucent vellum paper – You know it. You've seen it. You want it in your invitations or programs, but you do not know which weight to choose. That's where we come in.
We offer vellum in a full spectrum of weights, and in this post, we describe them all and tell you what they are commonly used for so that you can decide which one is best for your creative design.
---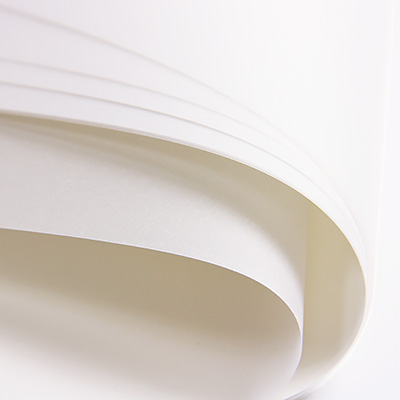 Light Weight Vellum – 17lb
The Light Weight Collection
Clear 17lb vellum would fall into the light weight vellum category:
What it Feels Like
17lb vellum is very thin, very delicate, and in day to day terms, is best compared to a high quality gift wrapping tissue in weight and flexibility.
Some Popular Uses
Due to its thin, light, highly translucent nature, 17lb vellum is great for the following:
Unprinted invitation and program overlays
Delicate invitation wraps
Invitation inserts, as a substitute for traditional invitation tissue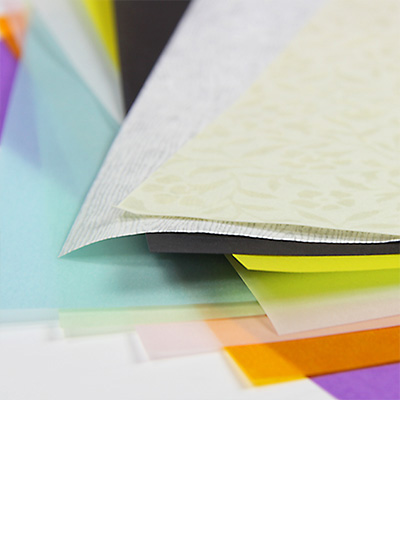 Medium Weight Vellum – 21-30lb
The Medium Weight Collection
This collection is our largest, consisting of medium weight vellums with weights between 21lb – 30lb:
What it Feels Like
Though they are all slightly different in weight and finish (in the wood grain and sukashi floral vellum cases), the thickness and malleability of medium weight, 20-30lb vellum is best compared to wax paper. It's light, flexible, and translucent, yet not so light and delicate that it is comparable to a tissue paper.
Some Popular Uses
Similar, but with a bit more substance than our lightweight vellum, medium weight vellum can be used for all the great things lightweight vellum can, but with the added flare of printing!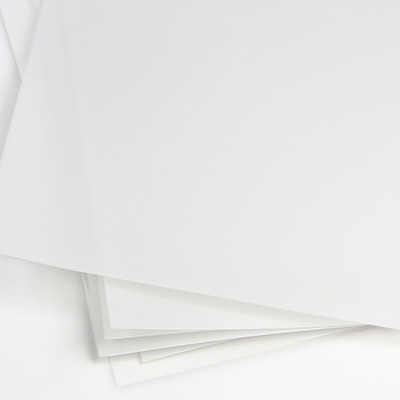 Heavy Weight Vellum – 48lb
The single vellum in our heavyweight vellum category is a clear 48lb, which equates to approximately a 65lb cover:
What it Feels Like
48lb vellum feels like a lightweight card stock. It is moderately heavy, rigid, and should be scored before folding to avoid cracking along the fold. Though it is not so thick that it can be used as a stand-alone invitation card, it does make for a sturdy backer, wrap, top layer, etc.
Some Popular Uses
Though not very well suited for use as a sheer overlay, heavyweight 48lb vellum has a lot of other great uses!
Program cover
Printed invitation top layer
Heavyweight vellum gate fold/wrap
Printed invitation inserts/supplements (think little direction cards, registry cards, additional info, etc.)
---
No Matter What Weight You Choose, Be Sure It's One You Can Print!
Now that you have a rundown on all the different vellum weights and have an idea of which one is right for your project – stop and think – am I printing on this vellum? If the answer is yes, stop and think again, can my printer print on this vellum?
Vellum can be a very tricky surface to print on, so once you know the general vicinity of weight you need, test vellums within that range to make sure you can print on it. Some things to look out for:
Light 17lb vellum is usually a no go with lasers (and sometimes ink jets) – so be careful!
Very light weight, delicate 17lb vellum can be crumpled by printers – particular laser printers! If this is the vellum weight you decided on and you want to attempt to print on it, proceed with caution, and be sure to test before purchase!
Some vellum weights/colors may not be seen by your printer!
Yes, that sounds strange, but it's true – due to the sheer and light weight nature of vellum paper, some printers can not detect certain weights and colors. The result? You'll keep getting a "please load paper" style message. Sometimes, by altering settings in your print driver (paper type or paper tray), you can get around this, but it is certainly something you want to be aware of before crunch time.
Ink may smudge & toner may not fuse to some weights of vellum
Whether it's that slippery surface or inability to be detected by your printer, sometimes, and with some weights, ink won't dry (ink jets) and toner won't fuse (lasers). Again, all we can suggest is test, test, test, and be sure that your printer can handle the weight of vellum you choose!
---
Some Creative Vellum Ideas
To get your creativity flowing, here are some of our favorite ways to use vellum in wedding stationery: