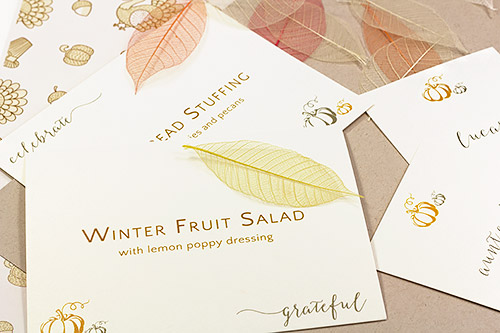 4 Steps to Custom Thanksgiving Table & Place Cards
Thanksgiving is three weeks away! There's still time to add a thoughtful, fun, and festive touch to your table with these free printable Thanksgiving cards.
Here, we use them as place cards and food label cards, but with a simple fall pumpkin design, they can be used for anything you'd like.
To use them, just download the print templates, customize, print on 8 1/2 x 11 card stock, then cut.
Learn more below.
1. Download the Printables
Download Thanksgiving Printables
For your convenience, we put all the print templates in one zip folder. Here's what's in it:
3 x 3 Place Card Template (in Microsoft Word & PDF formats)
4 1/4 x 5 1/2 Card Template (in Microsoft Word & PDF formats)
2. Customize Printables
If using Microsoft Word, customize by replacing the sample wording in the text box with your own wording, fonts, and colors.
If you do not have Word or prefer a different page layout or word processing program, place the PDF template in an 8 1/2 x 11 document and add text boxes of your own.
Please note, pumpkins and decorative words (thankful, grateful) are part of the design and can not be removed or edited.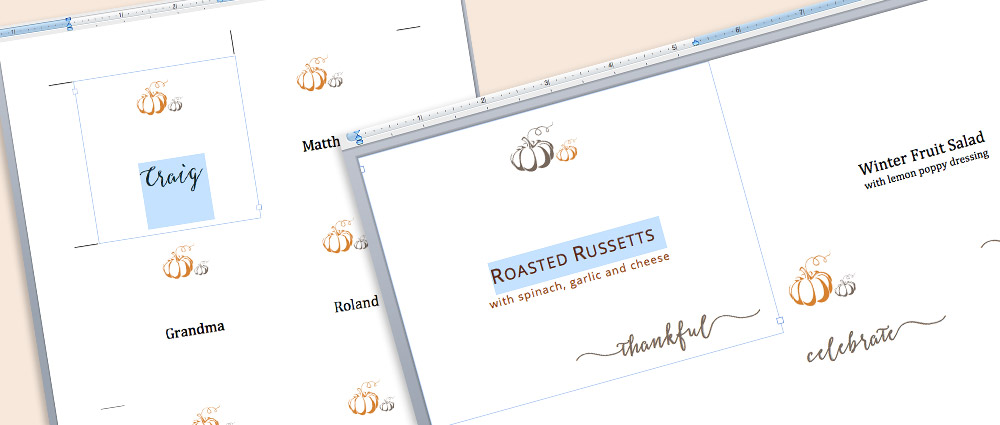 3. Print on 8 1/2 x 11 Card Stock
Print your cards on your favorite 8 1/2 x 11 card stock. Here we used Curious Metallics White Gold card stock, but with hundreds of options to choose from, you'll have no trouble finding one that suits your decor and personal taste.
4. Cut
Finally, grab your handy paper trimmer and cut!
For the 4 1/4 x 5 1/2 cards, simply cut the 8 1/2 x 11 sheet in quadrants using the measurement marks on your paper trimmer. See below.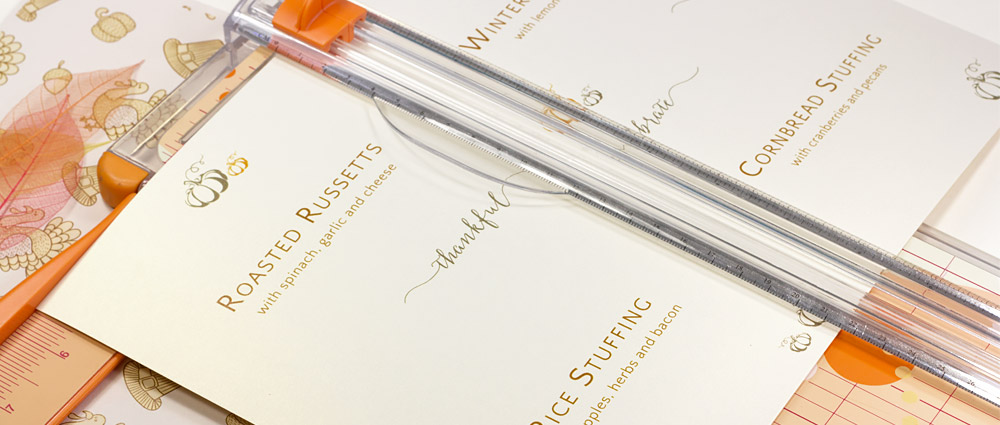 For the 3 x 3 place cards, use the crop marks as guidelines along with your paper trimmer's measurements.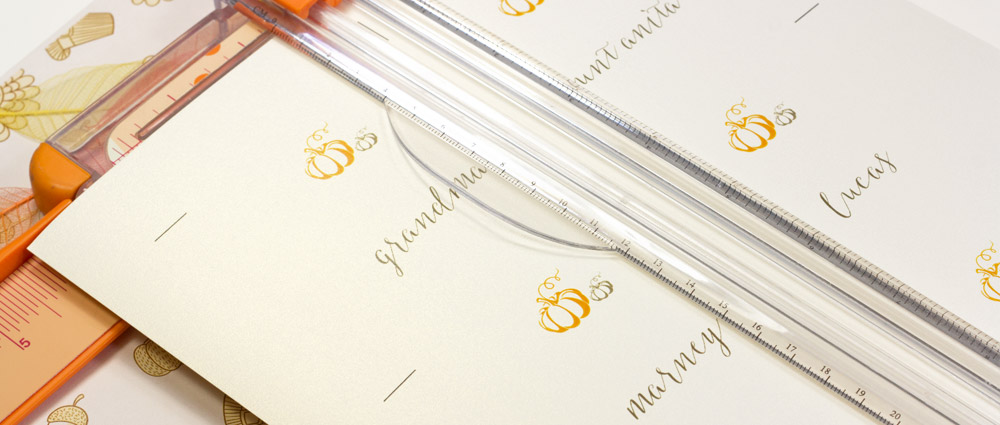 5. Admire