Textured paper is a popular choice for wedding invitations. It adds visual and tactile intrigue, dresses up otherwise simple designs, and adds that je ne sais quoi all wedding invitations should have.
Below, we list our top three textured invitation papers based on popularity, printability, and versatility. See them in some sample invitations, learn more about them, then shop textured papers for your invitations.
LCI Linen – Simple & Classic
What it Looks Like
LCI Linen has a very subtle woven, or cloth-like texture (see magnified view on right).
Why it's Great
Linen is simple, classic, and versatile. With it's subtle texture, it suits and enhances just about any design you can print on it. It is also laser and ink jet friendly, comes in two colors, three weights, and has matching envelopes. It's the whole package!
What's Shown Here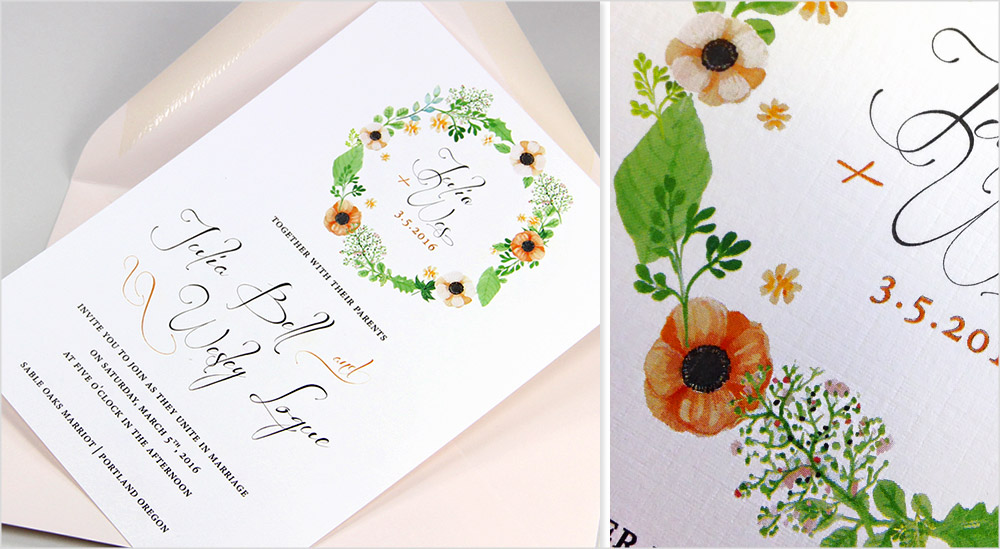 What it Looks Like
Gmund Felt has a clean, modern linear texture.
Why it's Great
Gmund Felt is a member of the Gmund Color System – a luxury paper system of 48 colors and 4 finishes that are designed to be mixed, matched, and made into exquisite designs. Felt has a distinct yet understated texture that subtly adds style to contemporary pieces. What's more, it is laser and ink jet friendly and is offered in nine classic colors, each with a matching matte finish envelope.
What's Shown Here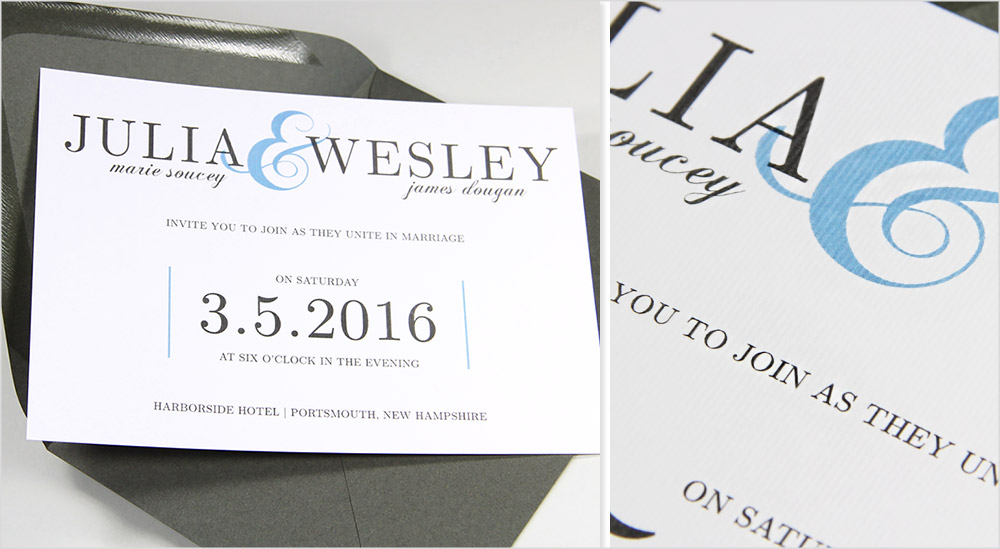 Odeon Felt – Soft & Sophisticated
What it Looks Like
Odeon Felt has an authentic felt finish characterized by a distinct, velvety texture. Unlike other sheets that are embossed with texture that mimics felt, Odeon's texture is still the real deal – created by pressing felt blankets into the sheets during manufacturing.
Why it's Great
Odeon comes in three classic colors, all extra heavy in weight for the most elegant of pieces. Matching envelopes are also available. Odeon is best printed with conventional methods such as letterpress, offset, and stamping, but can be printed with high end digital presses as well.
What's Shown Here