Clean, Classic, & Oh So Simple Wedding Program
Are you looking for a simple, perhaps last minute, wedding program idea? Clean, classic, and oh so easy to customize and assemble, this 6 1/4 inch square ribbon bound program may be for you. A combination of a pre-cut, pre-scored program cover; a pre-cut, perfectly sized insert sheet(s); and a ribbon adornment to pull it all together -both literally and decoratively- this wedding program is as easy as printing, punching, threading, and folding.
Use the materials list below to select your components, download the free templates to print your unique program wording, and follow the step-by-step instructions to a personalized, customized wedding program.
Materials To Customize This Program
6 1/4″ Square Blank Program Cover
Note: When selecting program cover, be sure to select Folder under Select Type.
Program Insert Sheets
Satin Ribbon
Instructions for Assembly
1. Download Program Printing Templates
From the Download Templates section above, download print templates for your program cover and insert sheets.
Templates are in Microsoft Word format, and are sized and formatted correctly for your convenience.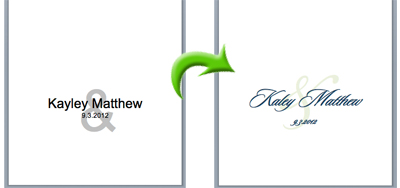 2. Customize Templates
Next, customize program and insert sheet templates to suit your event.
Change sample wording to your own wording
Add pages to insert sheet document, if necessary
Experiment with various fonts and colors
Add graphics or photos to your program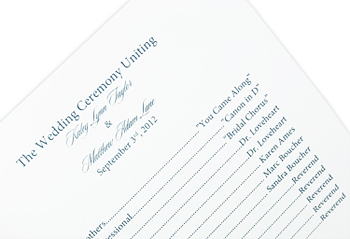 3. Print
After customizing, print program cover and insert sheet(s).
4. Place Insert Sheet(s) Inside Cover
Next, fold insert sheet(s) and place inside of the program cover.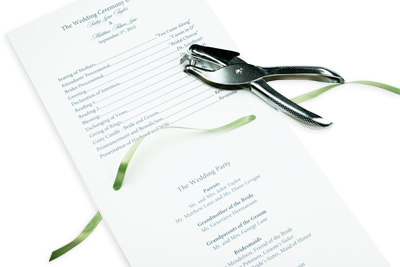 5. Punch Holes Through Program Cover and Insert Sheet(s)
Next, punch two symmetrical holes through your program cover and insert sheets. Before punching holes, flatten your program and hold your insert sheet(s) firmly in place. Be sure that the crease of your insert sheet(s) aligns with the crease of your program cover.
To ensure your holes are properly aligned, it is best to measure, then mark the location you want each hole to be punched.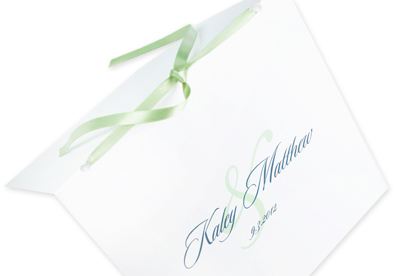 6. Thread Ribbon Through Holes
Thread ribbon through holes and tie into a knot or bow.
Helpful Tips & Tutorials