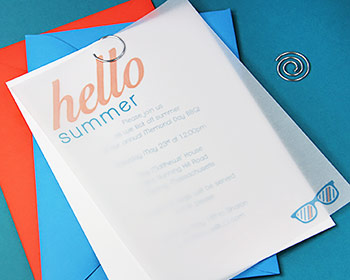 DIY Hello Summer Party Invites In 5 Steps
Summer is right around the corner! Invite guests to your "kicking off the season" bash with these fun and unique summer party homemade invites. The invitation consists of a pre-designed hello summer/sunglasses vellum overlay, a colorful backer card, and a decorative clip to hold it all together. Choose from four overlay options and hundreds of colorful cards and envelopes to make something truly unique.
Below you'll find free print templates, a materials list, and step-by-step assembly instructions. Let's get started.
What You'll Need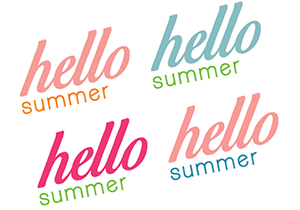 1. Download PDF & Word Print Templates
Begin by downloading the following templates:
*4 options included in folder. See right for colors combinations.
2. Customize Word Template
Open and customize the A7 invitation template using Microsoft Word. Change the sample text to fit your event, and edit the fonts and colors to suit your taste.
3. Print Your Cards & Vellum
Next, print your cards and vellum using your home printer. Be sure to set your document size in Word and in your print driver to 5.125 x 7 when printing your cards.
The vellum template is sized to a standard 8 1/2 x 11 so no custom document set up will be necessary.
Tips and Tricks for Printing Vellum
4. Cut Vellum to 5 1/8 x 7 Size
Using the crop marks are guidelines, cut two 5 1/8 x 7 vellum overlays from each sheet.
5. Attach Vellum to Cards with Clips
Place a spiral clip over the vellum and card to attach the two layers, and that's it!