You're seeing the first brand of specialty paper to truly capture the character of real wood–Savanna. Inspired by the African continent, Savanna is highlighted by authentic wood embossing in the colors of Tindalo, Bubinga, Limba, and Glowing Makassar.
We're thrilled to have the opportunity to show the amazing wood embossing up close on video.
What Can You Create With Savanna Woodgrain Paper?
What about nature-themed wedding invitations like these pocket folder ensembles? We designed the red square pocket fold using Savanna Limba for the invitation cards and RSVP cards while the Coco pocket fold features Tindalo.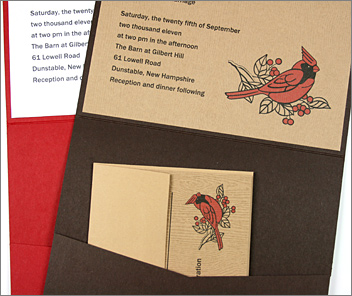 We created this layered wedding invitation using Woodgrain Glowing Makassar Paper as the backer and embellished with Japanese chiyogami paper and satin ribbon.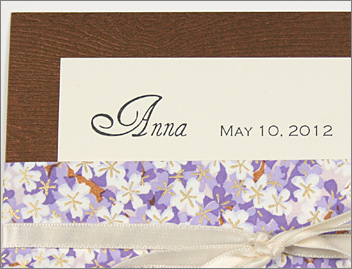 What about using woodgrain paper for business cards and brochures? Samples shown: Tindalo and Limba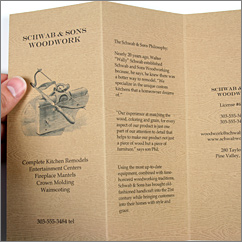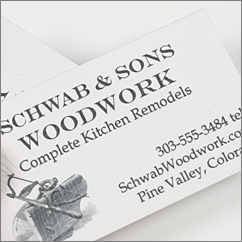 Printing on Savanna Papers
We designed the sample invitations and printed in house using an Epson Stylus R1900 Inkjet. If you are considering printing on the Savanna paper please keep in mind the paper thickness of 111lb and the wood embossed texture. Although this card stock is inkjet compatible it may not be suitable for all printers, therefore we strongly recommend ordering samples first to test print at home. Generally, inkjet printing quality will be sharper and more saturated with a better quality printer. Because of the thickness of the paper, we do not recommend laser printing.
For offset printing, use fully oxidative drying inks and allow a minimum 24 hours drying time.
Share Your Ideas & Designs
Do you have ideas for Savanna papers that you'd like to try? Have you seen other creative uses that you'd like to share with our customers? We'd love to see them and read about them.
About Wood Grain Papers
An exciting brand manufactured in the German village of Gmund, near Austria and the Bavarian Alps. As with all paper imported from the Gmund mill, these papers are chlorine free, pH neutral, fade resistant, and made with only sustainable raw materials. Without using any chemicals, the mill's ozone purification system cleans their waste water, turning it into drinking quality and returning it to nearby Lake Tegernsee.