Nothing Says Rustic Like Kraft + Twine (& It's Eco-Friendly Too!)
Nothing says rustic like kraft paper and twine, and nothing says eco-friendly like 100% recycled kraft paper and organic hemp twine, so we thought, "hey, we should combine these things and make a rustic-chic, eco-chic wedding program fan!" So we did just that, and in the tutorial below, we give you all the info you need to make your own.
Below you'll find free downloadable print templates, step-by-step assembly instructions, and a materials list so you can make this program fan using the cards and twine of your choice. Feel free to replicate what we did here, or to put your own personal spin on it – either way, it's going to be a great!
Materials To Customize Program Fan Design
Single Cut Blank Cards
8 Inch Wavy Wooden Fan Handle
Adhesive
Hemp Twine
Round Corner Punch
Download Templates
1. Download & Customize Word Templates
Begin by downloading the print templates from the above. The file is a compressed zip file which includes 2 print templates with the following specs:
Front and back side templates with sample wording as seen in example piece
Microsoft Word format
7 x 7 size
Standard font
Customize templates as you see fit – changing wording, colors, and fonts to complement your wedding theme.
How to Edit Text Boxes & Lines in Template
Text Boxes: Much of the text on the front side of the program is inside of text boxes. To edit, double click on the box until a blue outline appears (see below).
Lines: To edit the linear dividers (color, thickness, style), double click on the line to open a formatting gallery
The Fonts
The font on this program design are as followed:
Pompiere – "The Wedding Ceremony Uniting"
Gabriola – "Julia Lee/Nicholas Jensen"
Sexy Love Hearts 2 – (a dingbat font) – Heart with arrow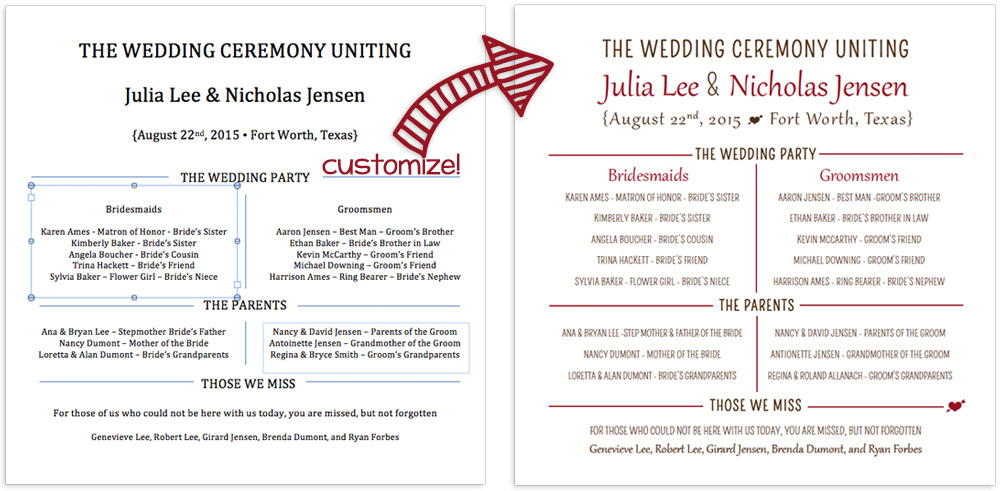 2. Print Cards
After customizing, print cards with your home printer.If you are using 80lb Desert Storm card stock like we did here, it is laser and ink jet friendly!

3.Punch Round Corners
Use your hand held round corner punch to round out the corners of your cards (you should be able to do two cards at once if using 80lb cards).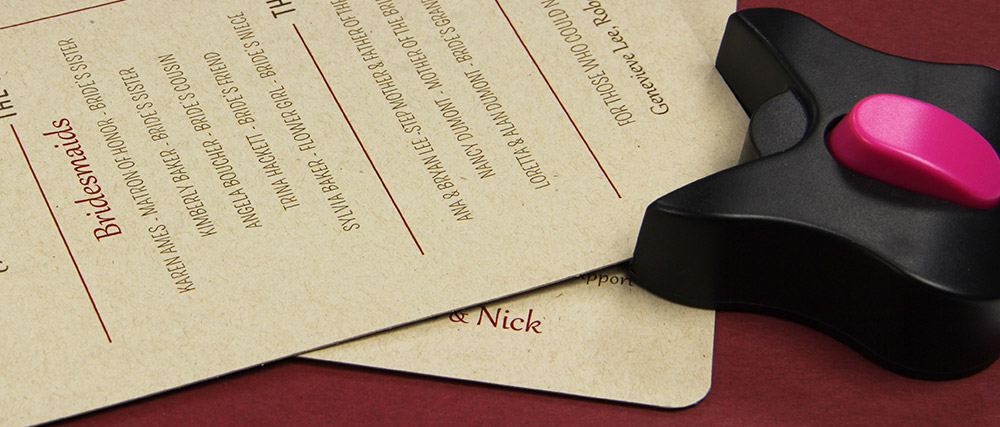 4. Glue Stick to Cards, Cards to Each Other
Next, assemble each program fan using your adhesive of choice.
Glue stick to back of one card
Trace perimeter of same card with glue
Cover other side of the stick with glue
Press back of other card firmly to glue covered card

5. Cut Approximately 3 Feet of Twine Per Program
On our program, we used about 3 feet (36 inches) of twine per fan, first doubling it up then tying into a knot with long tails. You may use more or less, depending on what you want your twine embellishment to look like.

6. Tie Twine Around Stick
Tie your twine embellishment around each stick – and you're done!