How to Order Return Address Printing
We offer return addressing on the back flaps of invitation envelopes as well as the front center of response envelopes. Here is how to order:
1. Select Printed Button
Once you find the envelopes you like, click on the "Printed" button. Doing so will bring up customization options.

2. Select Location
Next, select the location of your return address. You will choose "Front Center" for reply envelopes and "Back Flap" for invitation mailing envelopes.

3. Enter Address (or Send Us a PDF)
Type in your return address.
Note: If you are sending your own print ready art work, you can skip this step, but please be sure to select the "Custom Graphics/Custom Font" box.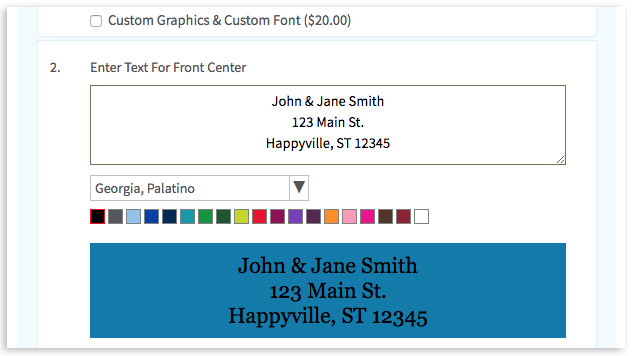 4. Choose Font and Color (or Send Us Your Font)
Select the font and color you want your return address to be in. Again, if you'd like to send us your own font, please check the custom box.

5. Approve Your Proof
If you order non-custom envelopes, you can view and approve your proof before you place your order by checking the box.
If sending custom artwork or fonts, you will receive a custom proof via email.
Once you approve, we print and ship your envelopes within five business days.
---
Return Address Printing FAQs
Do I have to have a name in my return address?
Though it is ok to have just a return address (no name) on invitation envelopes, we recommend adding a name to reply envelope return addresses to ensure their timely arrival back to you.
Can I get my return address printed in the upper left hand corner instead of the back flap?
Sure, we can do this for you, but as it overrides our automated proofing system you will have to select the custom graphics option.
Do my invitation and reply envelope return addresses have to match?
Typically people match their invitation and reply return addresses, but it isn't set in stone.
Why is the return address not centered top to bottom on the back flap?
We set your return address .5 inches from the top of the flap. We do this because our proofing is automated and this allows for four-line addresses to fit.
Why is the return address not centered top to bottom on the reply envelope?
Reply envelope addresses are printed slightly lower than center to allow room for the stamp.