Are DIY Invitations for You? Find Out Here.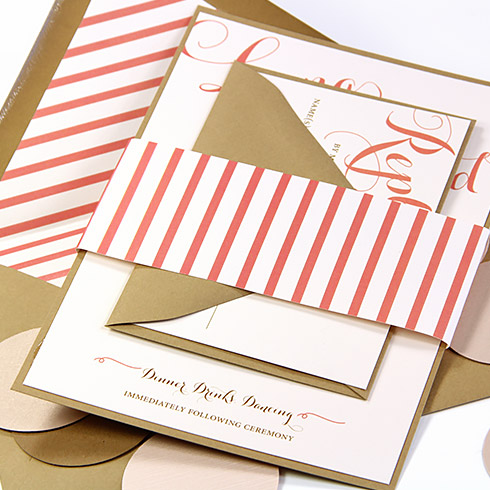 If you're planning a wedding, the thought of making your own invitations has probably crossed your mind. After all, DIY is quite popular these days and we've all heard the perks of savings and one of a kind invites.
But when it comes to deciding whether to make your own invitations, there's more to think about than the perks. As great as they are, DIY invitations are not for everyone.
Before you jump on board, read on and consider the whole picture. We'll help you determine if DIY is right for you, which just might save you a lot of frustration down the road.
Consider Savings (or Potential Lack of)
The most commonly cited reason for couples making their own wedding invitations is savings, and understandably so. Wedding budgets can get tight, and who wouldn't want to save hundreds on invitations and splurge elsewhere? But if your decision to DIY is based solely on savings, it is important to recognize that DIY does not always save.
Why Does DIY Usually Save?
Homemade invitations are typically more affordable than the ready-made variety because when you design, print, and assemble invitations on your own, you are eliminating the fees charged by professionals, leaving you to purchase just the materials needed for your design.
Why Does DIY Sometimes Not Save?
If you are making your own invitations, you are going to need the appropriate tools for the job – all the tools, not just the paper and envelopes. If your design requires you to purchase these tools – for example a higher quality printer, or special cutting, scoring, and embossing tools – costs can add up, and you may find your savings won't be considerable after all.
Compare Similar DIY and Ready-Made Designs.
Are Savings Significant?
To determine how much DIY will save you, you must fully evaluate all the costs involved in your design then compare them to the price of a similar ready-made invite.
Costs may include:
Materials – (paper, envelopes, embellishments)
Potential tools – (cutting/scoring tools, embossers, stamps, etc.)
Printing – (a new printer, ink/toner)
After adding it all up, are savings significant enough to be worth the time and effort of DIY? That's the key.
Consider Time (DIY Invites Take a Lot of It)
Time is money too, so they say, and DIY invitations take a lot of it. Before committing, ask yourself, do I have the time to balance work, wedding planning, friends, family, and DIY invitations?
If you're already a busy person, adding another project to your agenda may not be ideal. You don't want to complete your invitations in haste or stress. DIY is supposed to be fun!
Consider all that DIY Entails
So what is it about making your own invitations that takes so much time and effort, you ask?
Here's the answer, into the nitty gritty of DIY design – From gathering ideas to the final trip to the post office 6-8 weeks before the big day, you'll need to get through the following list:
Gather Design Ideas:
Even if you have a design in mind, it's still a good idea to browse forums, blogs, and social media for inspiration, ideas, and tips.
Experiment:
After gathering ideas, order samples and experiment with various specialty papers, envelopes, and embellishments to find just the right look.
Test Print:
Not all papers are compatible with all printers. It is recommended you order sample papers in various weights and finishes to see what your home printer is capable of.

Print:
Although the actual printing process should not take much time, it is important to leave room for error. Mistakes may happen – printers run out of ink, words smudge, paper misfeeds – so it is best to be prepared by keeping extra supplies and extra time on hand.
Assemble:
Invitation assembly is perhaps the longest part of the process. Depending on your design, you may need time to layer, wrap, embellish, etc. You will also need to arrange and stuff each individual ensemble into an envelope. Without help, you are unlikely to do this all in one sitting, so be sure to leave adequate time for this step.
Take a Trip to the Post Office:
After your invitations are complete, take one complete ensemble to the post office to determine what the proper postage will be. You don't want to risk your invitations coming back due to inadequate postage! Don't forget to stamp the RSVPs too!
Take another Trip to the Post Office:
After your invitations are all stamped, head to the post office again to put them in the mail. We recommend hand cancelling invitations to protect them from high speed machinery.
Consider Your Creative Ability
A major advantage of designing your own invitations is having complete creative control over your final product. Unlike pre-made invites that limit you to a select variety, DIY invitations limit you only to your imagination, budget, and creative ability.
Everyone has varying levels of money, time, and talent to put towards their invitations, and it is important to be realistic about your resources from the beginning.
Chances are, if you are putting a solid effort in, your invites will turn out great. However, if you're striving for a design that is out of your price or talent range, the invitation you imagine and the invitation that results may highly differ. This is the "champagne taste on a beer budget" phenomenon, and it's best you avoid it.
Have it all Covered? Then DIY is for You!
If you feel DIY will save you money and you have the time and resources to create the look you're after, then DIY is a good choice for you. Your invites will be great, and you'll have a great time making them!