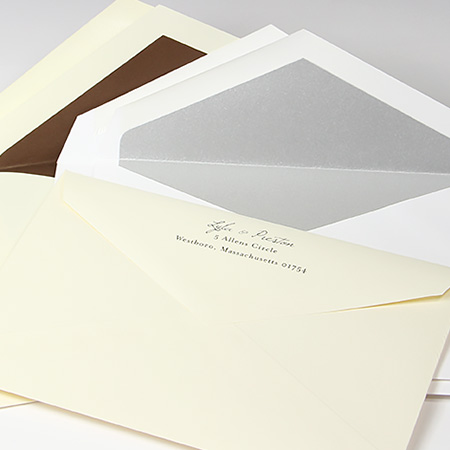 What are Double Wedding Invitation Envelopes?
Traditional double wedding envelope sets (inner and outer envelopes) consist of an outer mailing envelope and a slightly smaller inner envelope that houses the invitation ensemble.
This is an old wedding tradition that dates back to the 1800s. The thought behind it is that the outer envelope gets marked up during mailing while the inner envelope (and invitation) stays clean.
Learn more about it in this video:
What's a double wedding envelope?
What's The Right Way to Address Double Wedding Envelopes?
Traditionally, double wedding envelope sets are addressed as follows:
Outer Envelope – Back flap return address & formal guest address (Mr. & Mrs. Adam Jones)
Inner Envelope – Informal address plus guests and children (Sarah Jones & Guest)

Where Do I Print My Addresses?
You can choose to get printing on outer, inner, or both envelopes of your double envelope set. You will see the following print location options on the double envelope page:
Back flap – printed back flap return address on outer envelopes only
Outer Envelope Only – printed back flap and formal guest address on all outer envelopes
Inner and Outer Envelopes – back flap and formal address on outer envelopes, informal address on front center of inner envelopes
Where Do I Get The Double Wedding Envelope Addressing Template?
There are three ways to access the template that we need to address your double wedding envelopes.
1. Download addressing template here
2. Download template from product page
Under Step 2 of envelope printing options, you will see a "Click Here to Enter or Import Addresses" link. Here you will see the option to download the template. See below: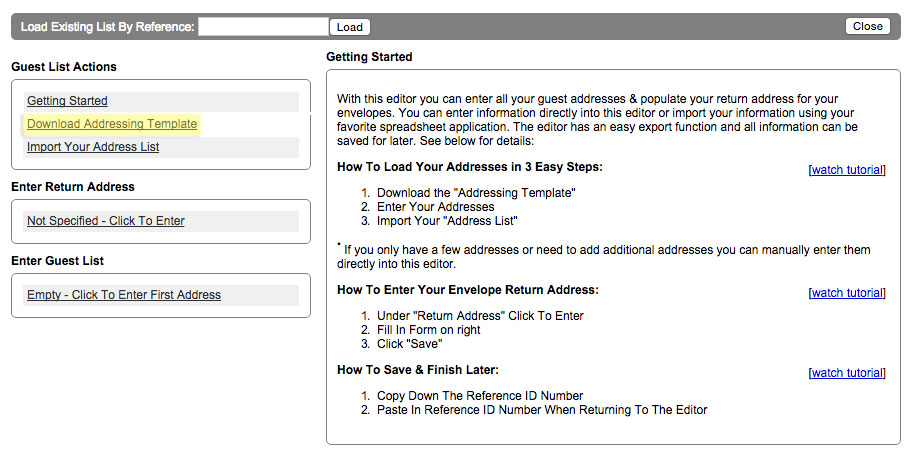 3. Type individual addresses on Product page
If you would prefer to not use a spreadsheet, you can type in your addresses individually and we will create a spreadsheet for you.
How Do I Fill In My Address Information?
The addressing template is just a standard spreadsheet with labeled/instructional headers. Each row on the spreadsheet will be associated with an individual envelope, and each column its own line on the envelope.
You will notice several line items in the spreadsheet template when you open it. The first two lines are instructional, the second two are sample addresses.
Do NOT delete the header lines (Name Line 1, for example)
Do DELETE the sample addresses (or they will get printed with your order)

After deleting the samples, carefully type in your addresses. Addresses will print exactly as listed on your spreadsheet.
Note: The "Country" column is used only for envelopes being mailed outside of the country. The "Zip Code" column is used only if you want zip codes on their own line. These columns can be deleted if not needed.

How Do I Upload My Guest Addresses
After you fill the template out, click "Import Your Address List".

Will I See a Proof Of My Envelopes Before Printing?
Certainly. If you select one of our fonts for your envelopes, you will get an on page proof to view and approve before placing your order. If you would like custom artwork or fonts, we will manually send you your proof to review before we print.