In this video we answer the common question can I print kraft paper cardstock at home? To answer this question, we put three colors of 80lb kraft card stock to the test – Desert Storm and Moonrock which have a smooth, matte finish, and Grocer Kraft which has a slightly roughened raw finish.
---
Inkjet or Laser?
We printed an invitation on each sheet using a high-end color laser printer and a Canon Pixma iX7000 large format inkjet printer – here's what we found. In general, both finishes of kraft card stock are laser and ink jet friendly, though laser printing produces sharper, crisper results. When comparing the results, you can see that both the laser and ink jet sheets have consistent, solid text. Even on the rougher, more porous raw finish, both ink and toner were dispersed evenly for a smooth, uniform look. However, the text printed with the laser was sharper than that of the inkjet. As you can see, it is not quite as sharp, and the ink appears
to have spread out and bled just a bit; a characteristic of wet ink jet printing on any smooth sheet.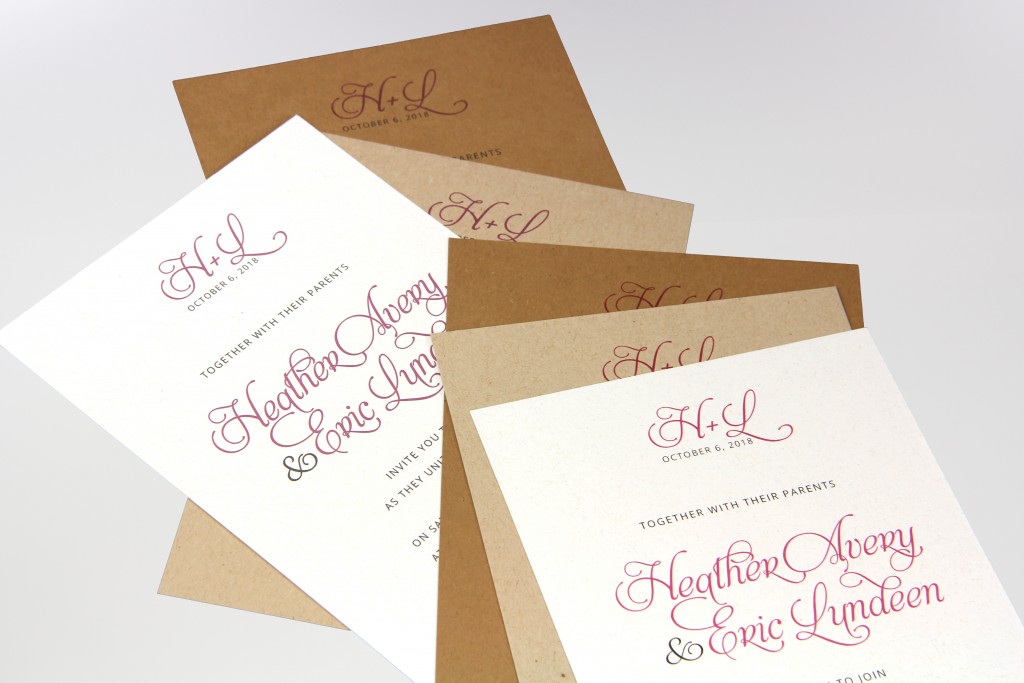 What We Found
In conclusion, our print test reveals that both inkjet & laser technology will produce good, acceptable results on our Environment Kraft Papers. However, for the sharpest print results we recommend you use a laser printer on these papers. Printer models & inks are not all manufactured the same, therefore we recommend ordering samples first to test print on your particular printer model.
What Weight Is Acceptable For Most Printers
Our print test papers were all 80lb /216GSM cardstocks, a typical, standard weight accepted by most printer models. At LCIPaper kraft stocks can also be purchased in 120lb /325GSM which is too heavy for many consumer grade home printers. If you have any more questions about printing on Environment Kraft paper then just give us a call and we'll be more than happy to help you out.