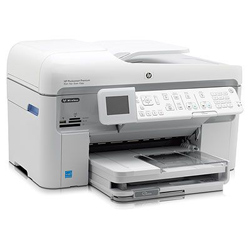 Mary in New York state ordered a card sample so she could test it in her printer. She wanted to make sure she could print her daughter's Bat Mitzvah cards from home.
As she was printing the card sample on her HP All-in-One printer model C309, she ran into trouble and called HP's tech support. We were surprised to hear that they told Mary that not only would this printer not accept a 6 1/4 x 6 1/4 square card, but no HP printer can print non-standard card sizes. Maybe something was lost in translation, because we know, that simply isn't true. HP printers can indeed accept non-standard paper sizes. The user simply needs to enter a custom document size within the print driver.
But Mary's story ends well. LCI Paper's Josh Birch was able to walk her through the process over the telephone and the card printed perfectly, giving Mary the confidence that she could now place her full order and print her daughter's Bat Mitzvah invitations with her HP printer. We'll let Mary tell you about her experience in her own words.
Click the following link to listen, or right click and "save as" to download and listen at another time:
LCI Paper Podcast #38 – Printing Odd Size Cards in an HP Printer
Here is a transcript of the interview:
Hello?
Hi, Mary?
Yes.
This is Kristen from LCI Paper.
Hi. Thank you for giving me a call back.
So Josh tells me you had a good customer service experience you wanted to talk about?
Yes, I very much did. I can tell you basically what happened. I called and ordered a sample of the Pochette Invitation Kit that you have which is the 6 1/4 x 6 1/4 square invitation. I started working on it today trying to get it so I could print it out and was having nothing but problems trying to get it to print out on my printer. So I contacted HP trying to get some technical support from them because I thought it was a printer error. How could they help me set up the printer so the printer would accept it? I literally spent 53 minutes on the phone with them on hold, waiting for them to figure it out. The first time and was disconnected. Then I called them back and spent another 46 minutes, and I refused to be put on hold again and I went through 2 tech support people. Both of them told me that #1, my year old printer would not accept an odd-shaped piece of paper. It would only take a legal or letter sized piece of paper. And #2, then I said,
Okay, I'll go buy a brand new HP printer. I want to do these invitations. What type of HP printer can you tell me to get?
And they were like
Oh, there are no HP printers.
Another 46 minutes down the drain where they just couldn't help me at all. And I have to tell you, my daughter's Bat Mitzvah is basically 3 months away and today is the day I was going to be working on her invitations. So I've been spending most of the morning working on this and it's 2 o'clock in the afternoon now. So you can tell I was getting a little frustrated.
One last thing I thought I could do was just contact your company and say
Is there something else I can do? Can you recommend a printer I could buy?
I was grabbing at straws. I called and got Linda on the phone and she said, Well let me have you talk with Josh. I swear to you, within 5 to 10 minutes, he had me walking through my program… I am not that computer literate. I really am not. I'm a 50 year old woman and I'm not that computer literate. And he had me walking through it, figuring out how my printer could accept the invitation. He had it all figured out and HP couldn't do the same thing. I mean it was just awesome. It was awesome that he did that immediately, and I'm not a computer person! He was so patient and he was like, Okay, well let's try this. And he didn't make me feel frustrated like HP, feeling like I'm going to go through the roof. And he was so cool to talk to.
Well good! I'm glad you were able to get your cards printed. How did they look?
They looked fantastic. I did a sample right when he was on the phone with me. I printed it out. So now all I have to do is order the full complement of cards and they'll be printed. Because I had just ordered the samples cards from you to make sure my printer could do it. And now I know I can do it so I'm good!
Very good. Now you can print anything, right? (laughter)
Yes, yes! Oh, like I say, it was a godsend.
Good. That's really what we aim to do, help people print at home and Josh is excellent. He's very patient, like you said, and very computer savvy. He can just walk anyone through anything.
It was amazing. It was amazing. So I thank you. I thank him. That is huge right there. Anybody who asks me anything about printing cards, your company will be recommended, period, hands down.
Going from such extreme frustration… I was really upset. It was like, "There goes my whole idea of my daughter's Bat Mitzvah. Everything was kind of centered around the colors that I had picked out, the card I had picked out, everything, and it was just going down the toilet and he resurrected it all. I'm serious. This was huge! (laughter)
That's quite a turnaround! (laughter)
You know, a lot was resting on his shoulders and he didn't even know it. (laughter)
Well great! Thank you so much for your kind words.
Thank you. Thank you very much. It was great. My whole afternoon was made. Thank you.
You're welcome. Have a good day, and have fun at your Bat Mitzvah.
Thank you so much. Thank you.
You're welcome. Bye bye.
Okay, bye.