You Can Print Invitations at Home!
Some of the most popular customer questions have to do with how to print your own invitations at home. Most people are perfectly comfortable printing 8 1/2 x 11 copy paper but feel anxious about printing on different sized sheets and card stock, like an invitation card.
We're here to assure you that printing invitations at home can actually be quite simple because most home printers are fully capable of printing different paper sizes. In this printing video, we'll clearly explain the 5 steps to printing invitation cards at home.
---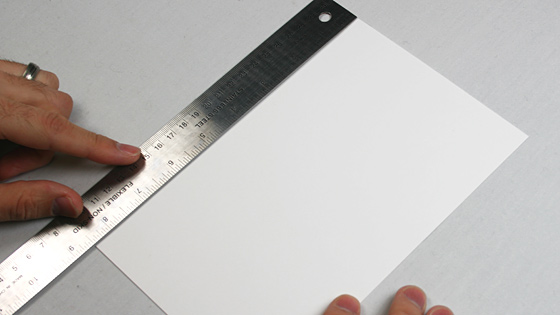 1 – Measure to Identify the Dimensions of Your Card
Start by using a ruler to measure the height and the width of the card you are printing.
You will need to know the dimensions of your card for two reasons:
to make a correctly sized print template
to enter into a custom size field in your print driver when you are ready to print
---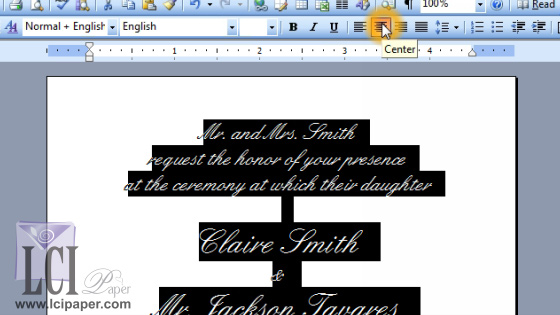 2 – Create a Printing Template Sized to the Dimensions of Your Card
Create your printing template using your favorite page layout or word processing program such as Microsoft Word.
Open up the program and create a new document
Locate the page set up area and a custom dimensions field
Enter the width and height of your card
The document on the screen now matches the measurements of your invitation card and you are ready to type in and format your wording.
Note: In the video learn tricks and shortcuts like using free, downloadable Microsoft Word printing templates.
---
3 – Load Card in Paper Tray & Adjust Plastic Guide(s)
When your invitation card document appears on screen how you would like it to print out, load a single card into the manual feed tray of your printer as a test.
Note: Depending on the make and model of your printer, and whether it is a laser or an ink jet, the location of your tray will vary.
Adjust the plastic guides so that the card fits securely in the tray.
---
4 – In Printer Driver, Change Paper Size from 8 1/2 x 11 to Your Card Size
In this step, you will be communicating to your print driver that you are printing on a custom sized card, not a standard 8 1/2 x 11 sheet of copy paper.
Every print driver is different, but just poke around the properties of your print driver until you find a place to enter custom dimensions.
In most cases, this will be under a menu labeled something along the lines of paper size, paper handling, or quality and media.
---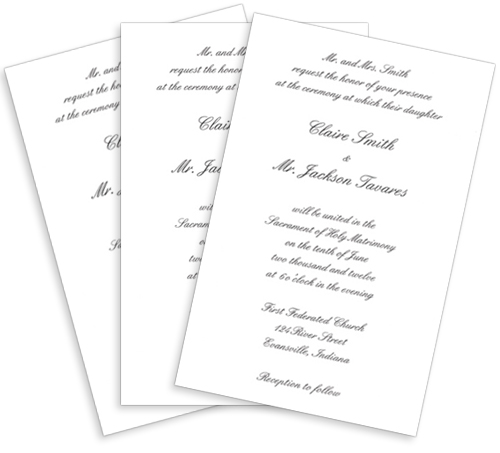 5 – Print One Card as a Test
If your test print was successful, you can print the entire run.
We recommend loading no more than 20 cards into your printer at a time. When that batch has printed, the printer will pause and you can load another batch.
Now Go and Have Fun Printing!
After you try this method, it will become second nature. You'll find that you are able to print a wide variety of card sizes and in many cases, depending on your printer, those cards can be as small as a response card and as large as a tri-fold invitation. Enjoy the new skill you've learned!
Hear What People Say About This Tutorial!
I was struggling to find an inexpensive way to do my own programs, this really helps a great deal and even though it should be me and my bridesmaid doing them, it has been an enjoyable experience for me and my fiancé. This website is a lifesaver indeed. This will make our day even that more special.
Thank you so much I was finally able to print out my daughters sweet 16 invitations after 3days of wasting paper and ink. I purchased my invites elsewhere and they were no help at all. I know where to go next time.