Simply Print Multiple Cards Per Sheet – Convenient Time Saver!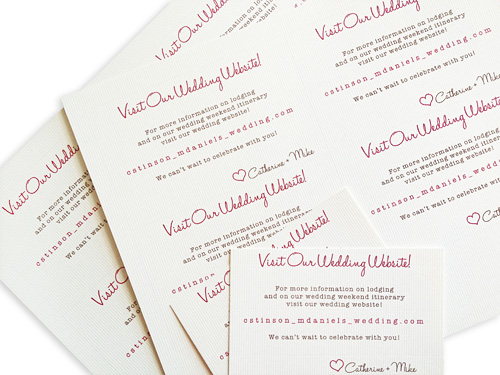 Microsoft Word's table feature can come in quite handy if you are designing and printing your own wedding stationery. Once you are familiar with designing and formatting tables in Word, you can easily place multiple cards of any size on one standard, printable 8 1/2 x 11 sheet of paper, which has all kinds of great benefits!
Save time – print multiple cards at once
No custom paper size issues – every printer knows and loves an 8 1/2 x 11
Print little cards or thin strips (favor tags or personalized belly bands) – no card is too small!
Print bleeds (text or designs that go right to the edge of the paper where the printer normally can't reach)
Below, we'll teach you how to insert and format Microsoft Word tables so you too can do all kinds of cool things with your DIY wedding stationery!
Note: The instructions and screen shots below were created using a Mac OS X version 10.7.4 and Microsoft Word for Mac 2011. Although your computer and version of Word may differ, the main components of inserting and formatting tables are similar throughout all versions of Word.
For our example piece, we will create a table of four 3 x 5 inch cards to be used as additional information cards in an invitation ensemble.
---
1. Determine Table Size –
How Many Cards Will Fit on one 8 1/2 x 11 Sheet?
Begin by determining the size of the cards you need and how many will fit on one 8 1/2 x 11 sheet.
In this case, we can fit four 3 x 5 inch cards on one 8 1/2 x 11 sheet. We will be making a table that is two 5″ columns wide and two 3″ rows rows high.
See right.
2. Open and Set Up a New Word Document
Next, open up a new Word document and set the margins and page layout.
Note: Word defaults to an 8 1/2 x 11 inch document. If your are printing on a different size paper, you will need to enter those dimensions within Page Setup
Set Landscape or Portrait Mode
Change the orientation of your document to accommodate your table/cards. Do this by clicking Under File > Page Setup, then selecting Landscape or Portrait mode.
Since we will be orienting the text on our cards horizontally, we will need to change our 8 1/2 x 11 page to Landscape instead of portrait.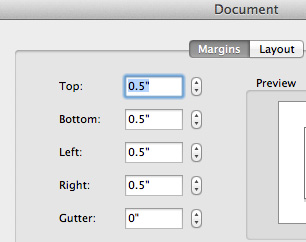 Change Margins to Accommodate Table
Figure out how much space will remain on the length and width of your 8 1/2 x 11 sheet after inserting your table. This will tell what to enter for page margins to accommodate your table.
Under File > Page Setup enter your margins.
In this case, we have 1 inch remaining on the 11 inch side of the paper (two 5 inch columns = 10 inches) and 2 1/2 inches remaining on the 8 1/2 inch side of the paper (two 3 inch rows = 6 inches).
To fit our table, we will enter .5 inch margins all around.
3. Insert Table
Now that your page is set up to accommodate your table, you are ready to insert the table.
Click Table (in the top menu) > Insert > Table. This brings up the Insert Table menu.
Enter the number of columns and rows in your table, in this case, 2 x 2. Then click OK. This will place a simple 2 x 2 table in your document.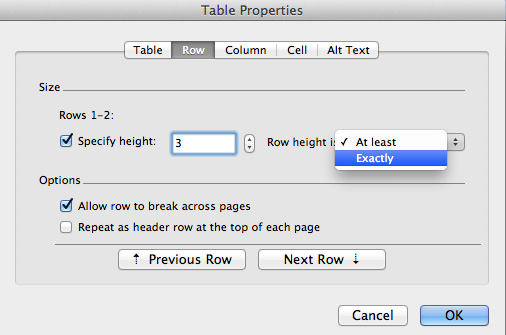 4. Enter Column & Row Dimensions
Enter your column and row dimensions to match the dimensions of your cards by using the Table Properties menu. You can get to this menu two ways:
Right click the plus sign next to the table and click
Click Table > Table Properties using the top menu
To Enter Dimensions:
In the Table Properties menu:
Click Row
Check off Specify Height
Type in height of row (in this case 3 inches)
Select Exactly
Click Next Row and repeat
Repeat for Column, entering 5 inches at the width.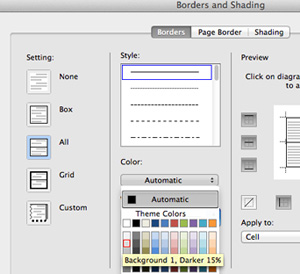 5. Set Appearance of Table Borders for Print
In the same Table Properties menu, click Borders and Shading to change the appearance of the borders around your table.
Note: As table borders will be visible on your printed cards, we recommend you set them to print very lightly or not at all (by selecting "none").
In the Borders and Shading option, notice you can change the weight of the lines, as well as the color.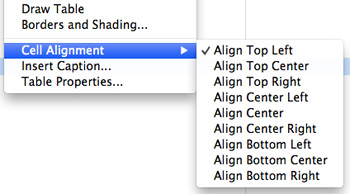 6. Set Text Alignment
Next, right click on the table and select Cell Alignment to set the alignment of the text you will enter in each table in the next step.
See right.
7. Format 1 Table Cell for Print, Copy & Paste the Rest!
In one of your tables, type and format the text you wish to print out on your cards.
Once it looks good to you, copy and paste the entire design into the other tables.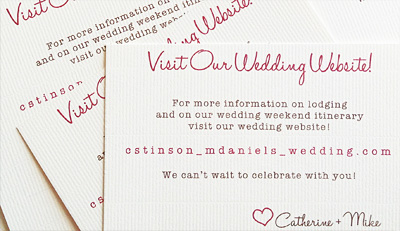 8. Print and Cut!
Pop an 8 1/2 x 11 sheet of paper into your printer, and print – no print driver set up necessary!
After printing, cut along the faint guidelines to yield each individual card/strip/tag, whatever you made using tables, and you're done!
---
Popular 8 1/2 x 11 Card Stock & Paper! or Shop All 8 1/2 x 11