Ink Jet Printing Best for Wood Grain Textured Envelopes
Many of our customers want to print on heavily textured wood grain envelopes at home but aren't sure which kind of printer to use for sharp, crisp text – a laser, or an ink jet.
To answer this question, we test printed wood grain envelopes on two different high end laser printers and on two different ink jet printers – an HP Envy 100 e-All-in-One and a large format Canon Pixma iX7000.
See the detailed results of our tests in this video and find out why ink jet printers are best for printing textured wood grain papers.
---
Laser Printer Results
Neither laser printers yielded favorable results on wood grain envelopes. Although one printer produced slightly more favorable results than the other, both lasers produced envelopes with:
Toner flaking and piquing
White space in grooves of texture where toner couldn't be fused
Shabby looking printing overall – not sharp, crisp, or clear
Ink Jet Printer Results – Sharp!
Our results with the Canon & HP ink jets were significantly better than those from the lasers. From both ink jets:
Ink was within all the grooves of the texture – no white space!
Text was crisp, sharp, and clear
Note:
As all printers are manufactured differently, the HP produced darker text than the Canon. Actual results with your printer may vary.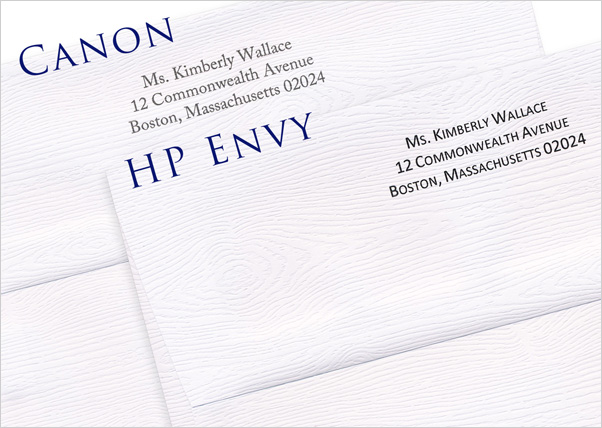 Printing on Dark Brown Bubinga Envelopes
Although it didn't pop as much as on the bright white Limba Envelopes, we were able to print black text on dark brown Bubinga envelopes using the HP Envy. The Canon was unable to print text dark enough to be easily seen.
Why do Ink Jets Print Wood Grain Better than Lasers?
Ink Jets Spray Wet Ink onto Paper
Ink jets print by spraying wet ink onto the paper; ink that can easily get into the grooves of heavily textured papers like wood grain. This results in crisp, sharp text.
Lasers Lay & Fuse Toner on Paper
Lasers lay and fuse toner onto paper, and therefore toner can not get into the deep grooves of the wood grain paper – this results in piquing toner and lots of white space.