We'll walk you through the steps of creating a printing template (or using ours), customizing your text, and finally, printing out a finished response card.
Shop A1 Cards In Over 100 Colors
In this example, we'll print our Radiant White A1 RSVP Folder using a computer running Windows 7, Microsoft Office Word 2003, and connected to an Epson inkjet printer. Your setup may vary, but these basic steps will still apply.
Getting Started
One of the easiest ways to start the process of printing blank cards is to set up a custom document size in Microsoft Word. If you don't have Word, try an alternative program like OpenOffice.org Writer.
To save time, you can download our free printing template using the download link on the product page, then jump to Step 3. If the template for your particular response card or folder is not available, click "Ask us a question" to request it.
1. Set Paper Size
Unfolded, our a1 fold cards measure 7″ high by 4 7/8″ wide, so we'll create a new document with these dimensions. In Word, click:
File > Page Setup
Click the Paper tab.
Enter the response card dimensions as shown: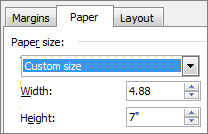 2. Set Margins
Click the Margins tab and enter the following values:

In this case, the top margin is a non-printable area on the top half of the card–the panel that will be folding behind the printed panel. The value of 4 inches is calculated by adding the upper panel's dimension, 3 1/2 inches, with the 1/2 inch bottom panel margin. See below for a visual:
3. Customize Your Wording
Type the text to be printed on your response cards.
Customize the look by changing fonts to suit the mood of the event. We'll use the English font:

When you're satisfied with your template, you can move on.
4. Access the Printer Driver & Set Custom Dimensions
Click File > Print
Choose your printer and click the Properties button
Your printer driver opens. Look for the area to change the paper size. Every printer has it's own driver software, so your printer driver will look different than what is shown in the screen shots below.
Change paper size from 8 1/2 x 11 to User Defined or Custom as shown below: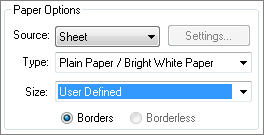 Enter the response folder's dimensions, 7 x 4 7/8, using the units that your print driver requires.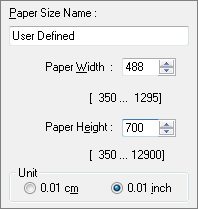 5. Load Respond Card into Printer Tray
Inkjet printer example: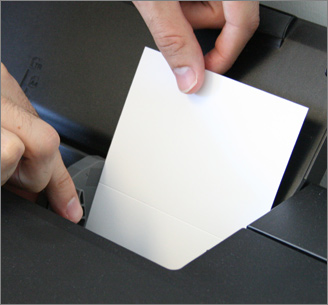 Laser printer example: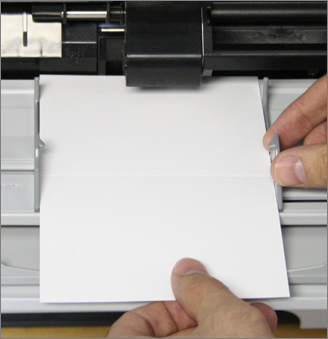 Instead of using an actual response card as a test, we recommend cutting a piece of copy paper to the size of the card. After printing your test, if the text is properly aligned, you can go ahead and run a test on the actual response card.
6. Print a Test!