Assembling Your Wedding Invitations – How it all Goes Together
So, you've got all your wedding invitations together with your new double envelopes, response cards, and any other information or enclosures you'll be sending to your guests. Now how do you put it all together?
What follows are some brief guidelines to help you construct a traditional wedding invitation mailing ensemble. These are merely generally accepted methods — feel free to deviate from them if you want.
Some Tips Before You Begin
It can be helpful to clear out a large space to work in and and to set up all your materials (envelopes, invitations, tissue, response items, stamps, etc.) beforehand to reduce confusion.
Make sure you have the correct amounts of invitations and envelopes.
Pre-stamp your response envelopes
You may want to invest in a small bottle of envelope sealer or glue to save your tongue some troubles. Alternately, you can use a moist sponge.
---
1. Gather & Assemble Your Invitation Materials
Gather all your wedding invitations, folding them if necessary. Depending on the type of invitation you're using, the traditional order of insertions can vary.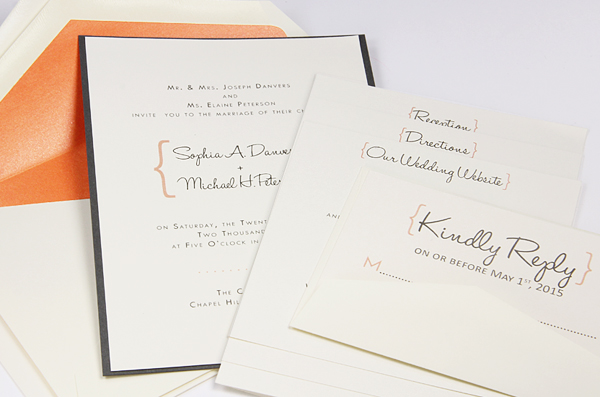 Flat and Single Fold Cards –
Additional Materials on Top
Generally, if your invitation is a no-fold (single card) or single-fold (like a book), your insertions such as protective wedding tissue and response cards go on top.
Multiple Fold Cards –
Additional Materials Inside of First Fold
If your invitation has multiple folds, then the insertions should be placed within the first fold.
What Order Does it Go In?
Typically, additional insert cards such as directions, reception, and reply cards go in size order from largest to smallest – largest right on top of the invitation card, next largest card on top of that, reply card on top of everything.
What About the Tissue?
If you're using protective tissue, it should always be placed directly over the printed words on the invitation.
Learn More about Wedding Tissue & Ways to Use It
---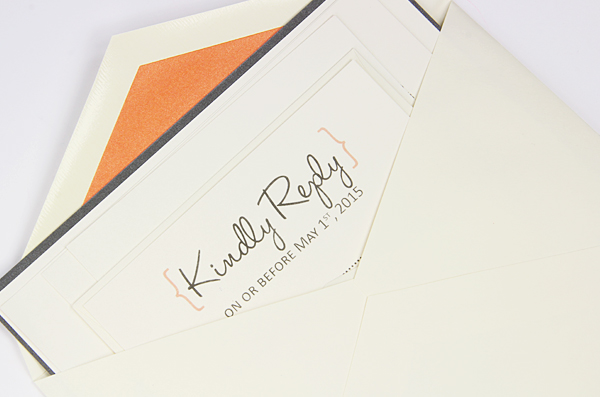 2. Place Complete Invitation Ensemble Inside of Inner Envelope
Your invitation, response card/envelope, and enclosures may now be placed, printed side up within your inner mailing envelope (slide them in so that the flap of the inner wedding envelope opens away from you).
The inner envelope from the double set is traditionally left unsealed for courtesy.
---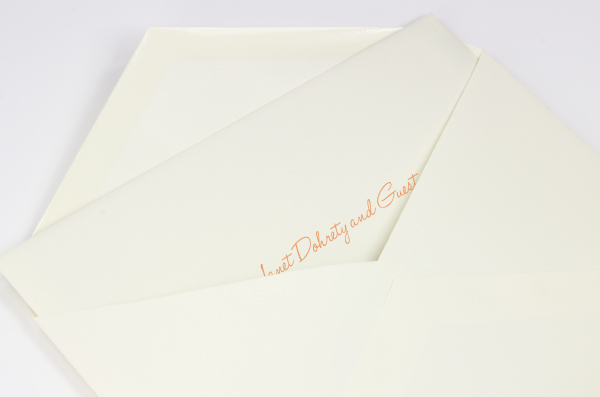 3. Place Inner Envelope Inside of Outer Envelope, Address Side Out
Now, flip the loaded envelope so the guest's name is facing out.
Slide the completed inner envelope into the outer mailing envelope, seal it, and you're done!
---
Professional Looking Invitation Complete!
The reason for this whole elaborate process is to ensure that your guests are greeted with a professional-looking invitation, and so that all the information is presented in a logical manner. A little preparation and work will go a long way toward helping make your special day all the more manageable and enjoyable.