Decorative Pearlized Papers vs. Standard Pearlized Papers
The term pearlized paper may be used to describe any specialty paper card stock that has a shiny, light reflecting, and thus pearlescent, finish. LCI has two types of pearlized papers, standard and decorative.
Standard Pearlized Papers: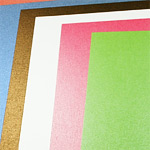 Standard pearlized papers, such as those of the Aspire Petallics and Stardream Paper lines, have shiny, reflective, metallic finishes. They are uniform in color and have no pattern or design present other than the subtle sparkle of their mica coated finishes. They are available in both card stock and text weight sheets, both of which are significantly heavier than any of the decorative pearlized papers. While these papers may be referred to as pearlized, at LCI, we most commonly refer to them as metallic specialty papers.
Decorative Pearlized Papers: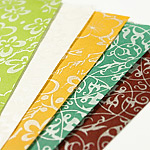 Decorative pearlized papers, or Japanese pearlized papers, are authentic Japanese imports. They get their pearlescent title from the patterns that are silk screened onto colorful base sheets using light catching metallic inks. These colorfully dyed base sheets are very light weight, and are luxuriously soft and smooth to the touch, resulting in an exquisite decorative paper.
Brief History of Japanese Decorative Pearlized Papers
For over fourteen hundred years, the manufacturing of Japanese paper has remained a family affair, governed by the principles of great care, quality, and respect for the environment. In both appearance and caliber, these long standing traditions resonate throughout Japanese papers, placing them in a superior category of their own.
Our decorative pearlized papers are silkscreened in a family owned studio in Japan that produced paper by hand for several generations. Over the past few decades, there has been a domestic drop in the market for handmade papers, and as a result, the family had to give up the long tradition of handmade paper. However, the same care in production that was essential to making fine even paper by hand, is employed in the process of creating the pearlized gems you see here.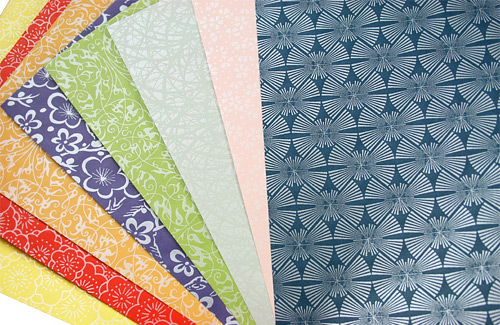 What Can I Do With Decorative Pearlized Papers?
Decorative pearlized paper is malleable yet durable, and is available in over thirty colors and patterns, making the creative possibilities for this paper endless! Its vivid pearlescent allure makes it irresistible for wrapping, scrap book pages, origami, invitation layers, wraps, and even for printing.
Invitation Wraps
Create a sense of intrigue by wrapping your invitation in a slightly transparent sheet of pearlized paper.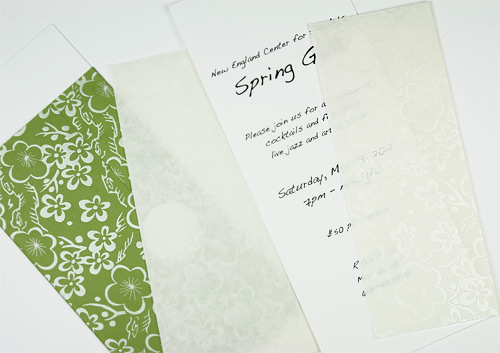 Invitation Layers
Add tasteful decorative layers to your invitation with colorful pearlized paper. Try it as an underlay or a border, centered or off centered, or any way you choose to create the look that is right for you.
You can use lighter colors and more subtle patterns as printable invitation layers, creating a striking presentation. However, while this paper is laser and inkjet compatible, it is more commonly used for decorative purposes.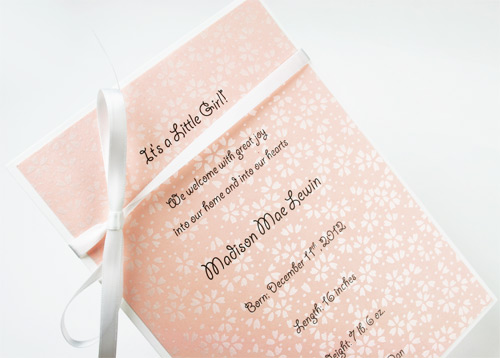 The light weight yet durable nature of this paper makes it ideal for lining you own envelopes. With so many colors and patterns to choose from, you are bound to find a color that complements your invitations!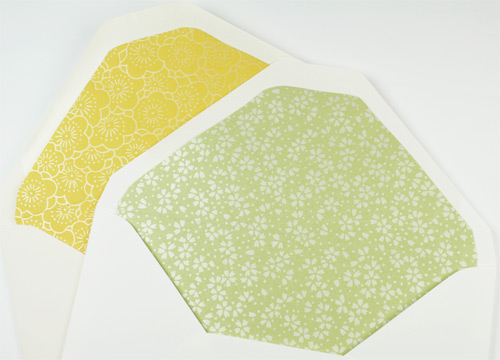 Or, Create Layers & Matching Envelope Liners!
With decorative pearlized paper, you are limited only by your imagination!