Don't Let Bulky Invites Open Up In Route! Be Sure Those Envelopes are Sealed!
Jill, a recent visitor to our site is making a two-layer wedding invitation with additional information & enclosure cards and wants to know if her wedding envelopes will securely seal with all of these cards inside.
In her question, Jill points out that paper thickness, number of enclosures & embellishments can all affect how your envelopes seal. The fact is, the more you put into an envelope, the more the sides bow, making the envelope more difficult to seal, and to keep sealed, during the mailing process.
In this video, we answer Jill's question and discuss different invitation styles that require extra care and attention when sealing your envelopes. If you don't want your wedding invitations opening up in route to your guests, watch this video!
---
Our Test Invitation Ensemble – Does It All Fit?
To thoroughly answer Jill's question, we created a similar invitation design using thick, heavyweight, 100lb card stock:
5 1/2 x 8 1/2 (A9) invitation backer cards
5 x 7 printed top layer
4 1/4 x 5 1/2 (A2) additional information card
3 5/8 x 5 1/8 (A1) response envelope
3 1/2 x 5 7/8 (A1) response card
Did it all fit inside of a 5 3/4 x 8 3/4 (A9) envelope? Yes it did!
Even with four 100lb cards and a response envelope, we had no trouble fitting the full invitation ensemble into the envelope, and no trouble sealing the envelope tightly.
---
Wedding Envelopes are Made to Withstand All the Extra "Stuff"
But Do Take Extra Care in Sealing Certain Invitation Styles
By nature, wedding invitation ensembles are going to contain all sorts of extra "stuff" – invitation, reception, direction, and response cards; inner envelopes, response envelopes, tissues, embellishments – the list goes on.
Luckily, high quality wedding envelopes are meant to withstand the thickness of the average invitation, and in most cases, your envelopes will seal just fine. However, there are certain styles of invitations in which you want to take extra care in sealing your envelopes to ensure they don't open in route:
Anything with a Pocket, or with a Fold. Period
Pocket cards, pocket folds or gate folds, – if your invitation is inside of anything with a pocket or a fold, make sure to seal tightly before mailing. Typically, this style of invitation consists of several layers of thick, heavy weight card stock wrapped around multiple invitation components, making for a bulky invitation mailing.
While wedding envelopes are made to accommodate the extra bulk of pocket style designs, the added thickness puts more pressure on the seams and flap of your envelopes, making them more difficult to seal. Take extra care, and make sure your pocket invitation envelopes are securely sealed before you send them off!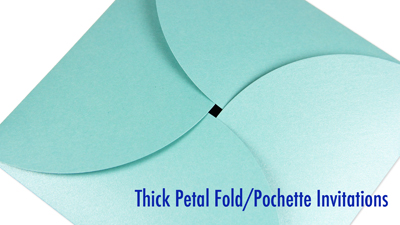 You have to take extra precaution with heavyweight pochette, or petal fold invitations for the same reason.
After wrapping four thick card stock petals around your invitation, reception, direction, and response cards, you will have a pretty hefty invitation, so triple check that gum seal!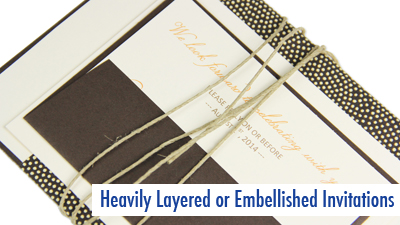 Heavily Embellished or Layered Invitations
Invitations with layers or embellishments, such as the one shown here, also require extra attention in envelope sealing. If your design is heavily wrapped in ribbon, twine, bands, or other decorative layers, the added dimension is likely to interfere with your envelope flaps.
Check out these other helpful articles on invitation mailing!
10 Ways to Save on Mailing Your Wedding Invitations
What Size Wedding Invitation Should I Make to Save on Postage?
The Best Way to Protect Your Wedding Invitations – Request Hand Cancelling
What experiences have you had mailing bulky invitations? Let us know your story by adding a comment below!