Make Quality Invitations With Your Printer & The Right Paper
In an article Paper Thickness and Weight…for birth announcements and other baby stationery, Tinyprints implies that home printing is inappropriate for important announcement cards.
Screenshot of the beginning of the article:

Our Impressions:
We offer wedding quality cardstock paper for do-it-yourself home card printing, so while we agree that the feel of the paper and the quality of the paper should reflect the theme and tone of the event, we disagree with certain points made in article.
Tinyprints implies:
Inkjet printing is not suitable for important announcements or invitations
Someone who would print at home would not use high quality paper
Heavy, thick paper equals better quality paper
---
Our responses to each of the 3 points:
1. Inkjet printing at home is appropriate for special events.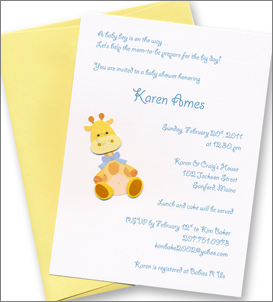 You can achieve great printing results on quality, thick, heavy cardstock using an inkjet printer.
And yes, you can save some money too!
Inkjet printing is often an absolutely viable alternative to professionally designed, store-bought, and third-party printed cards.
Many inkjet printers approach laser quality text printing, can print on thick card stock, and are versatile enough to print photo lab quality photos and graphics. A good inkjet printer in the home will allow you to tackle all kinds of printing projects.
Example: Inkjet Printed Baby Shower Invitations
Store bought animal sticker
The invitation wording was printed with a Canon Pixma iX7000 inkjet printer.
Our total price including all the items and shipping was $1.05 per invitation.
---
2. DIYers can produce elegant, stylish printed cards using premium paper.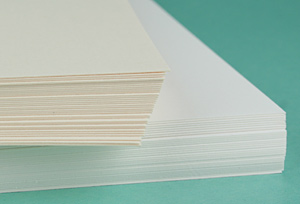 You do not need to sacrifice paper quality just because you're printing your own announcements. Now, more than ever, heavy, luxurious paper is just a few clicks away.
We source our card stock from mills around the world that produce highly regarded and sought after brands including Stardream and our own LCI brand of premium, smooth finish matte paper in weights up to 200 lb cover. Most of the aforementioned brands are available in weights and finishes that can be printed at home on either laser, inkjet, or both types of printers.
Our papers are in stock and ready for same day shipping so you can have them fast.
But not only do we make the card stock available to you, we show you how to use it and produce your own elegant invitations. We offer step by step printing tutorials and videos, downloadable printing templates, and everything else you need to print invitations at home.
---
3. There's more to quality paper than thickness & weight.
Finally, can weight and thickness prove that a certain paper is really better quality? We think there's a lot more to it. But for the definitive answer, we went to Mike Barry of Monadnock Paper in Bennington, NH–the oldest continuously operating paper mill in the United States. Mike states,
The weight of the paper does not indicate the quality of the paper.
You can have a beautifully made grade of paper with a basis weight of 80 lb cover and a poorly made and designed grade of paper that weighs 110 lb.
The most important difference is the quality of the paper making itself: How well formed is the sheet? What quality of fiber was used and what was the blend (hardwood to softwood ratio)? Too much filler will weaken the sheet and make it feel limp. And of course, the card stock must be able to fold properly, without cracking.
The better formation of the paper, the higher quality of the card stock.
Differences in quality of fiber, blend of fiber, and of course, the quality of the paper making can all make a large difference.
---
Read the Full Article & Give Us Your Take
After reading the complete Tinyprints article, sound off and tell us what you think!
Are you considering making your own invitations or announcements?
Let us help you decide if Do It Yourself cards are right for you. Read our Pros and Cons of DIY (Do it Yourself) Wedding Invitations article.