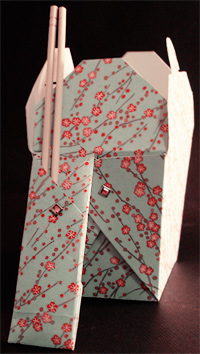 Recently, Melissa Bock of New York submitted this photo of her Chinese Take Out Box and Chopstick holder that she created for a Graphic Design class. Using a heavy weight Bristol paper, Japanese chiyogami paper, spray adhesive, and decorative brads, Melissa created a beautiful design that is unlike any we have featured before. As we always enjoy learning more about the great things customers are doing with our paper, Melissa was kind enough to tell us more about her unique Share Your Creativity submission.
Read her interview
Melissa, you mentioned that your submission was created for a graphic design class. Are you a student, or are you just taking this class for fun?
I am actually a student, at the Academy of Art University. I am enrolled in their Graphic Design program, and it is amazing. I have been working in corporate America for most of my adult life, but knew that I wanted to do something else. It took me a long time to decide what I wanted to be when I grew up, and once I really realized that it is possible to make a living out of being creative, I knew that I had to go back to school and learn how to make it happen! The class that this was designed for is called Materials, Tools, and Comping Techniques, and it is really hands on. It has helped me develop and refine a lot of design skills I had never really had before. I am learning so much, and it is a lot of fun, too!
Awesome! Good for you! Now from viewing the photo and description you emailed to us, it seems this took a lot of artistic and creative talent. Are you a creative person in general?
Thank you! I really enjoyed this project, and I had a great time photographing it when it was all done. I have always been a creative person, though I tended towards music (I played flute and was involved in school choirs) and creative writing. I did, though, do tee shirt designs for a while when I was about 16, and I think that is when I really developed my love for visual arts. I have worked on all kinds of things, mostly personal projects, such as books and cards, photography, even a bit of web design! I love getting my hands dirty and learning new skills, and incorporating everything into new projects. At the moment, in addition to a few projects for school, I am working on a website for my father's construction business, and a logo for a friend of mine who is a small business owner. (No wonder I feel like I'm always working!!)
That's great; you certainly sound busy! Will you tell me a bit about the process of assembling the take out box?
Sure thing! To make the box, I started with a 1 quart take-out container from a local Chinese restaurant. I disassembled it, and that was my template. I had never really done much in the way of papercraft before, but even so, this was pretty easy. I just traced the container out onto a heavyweight Bristol paper, and used a pushpin to mark out the interior corners and lines that could not be traced (for example, the corners and lines that make up the base of the container). I used a bone folder to score and define my folds. I used a repositionable spray mount on the back, laid out my Chiyogami on top of that, and used a roller burnisher to make it smooth. Then I used an Excel hobby knife to cut out the shape. Once that was done, I creased my folds down, punched holes in the side flaps, and secured them with these pretty jeweled brads. I think the box itself took, start to finish, about 40 minutes.
What about the chopstick holder? It is made from just chiyogami, correct?
The majority of the holder is made from the chiyogami, yes, and I created it by following along a video demonstration I'd found on YouTube. It took a few tries to get the folds right, but it was so cool to see how some well placed folds can turn a square of paper into something lovely! When I was happy with the overall piece, though, I felt that I wanted to give it a little bit more rigidity, and I wanted the inside of the chopstick holder to have the same pattern as the outside. So I made an insert out of the Bristol paper, with a bit of the chiyogami spray mounted to one side. I spray mounted that into place inside the holder, cut the edges flush, and that was that!
Wow! Well you really did an awesome job with this. In your email to us, you mentioned you found chiyogami paper to be quite durable, despite its delicate appearance. It is certainly beautiful paper, but just out of curiosity, out of so many Japanese papers, how did you decide on the Chiyogami?
That was really kind of a happy accident! I saw the Japanese papers on the website, and knew I wanted to use one of them – they were all so beautiful – but I couldn't choose which one! I decided to order sample sheets (a GREAT option to offer, by the way) of several of the Japanese papers – the chiyogami, Japanese linen card stock, and the Japanese pearlized papers. But once I got into my project and realized the size of the unfolded box, I knew I would need larger than the 8.5 x 11 sheets I had ordered. The chiyogami was the only paper I'd ordered in the 18 x 24 size, so that is s what I went with. I'm honestly really glad that's how it worked out, too, because I couldn't have been happier with the look of the paper, the way it fit into my design, and how pleasant it was to work with!
Thank you for sharing your great design with us Melissa, and providing some creative inspiration for all!
Follow us on social media and share your creative designs and projects! Tag us on Instagram @LCIPaper for a chance to be featured!