For 15 years, Becky Nunn has been creatively working with metals–mainly pewter–starting with a seal and wax line and expanding into gifts, desk accessories, and stationery embellishments. Her current focus is jewelry that you can see at her web site. You may want to have the Nunn Design site open on your screen while you listen to our discussion about her jewelry and the beautiful invitation embellishments that she supplies us.
Click the following link to listen, or right click and "save as" to download and listen at another time:
LCI Paper Podcast #36 – Becky Nunn Interview
Here is a transcript of the interview: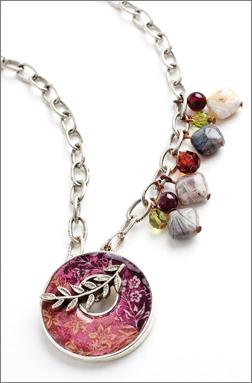 When were you first called to work with metals and how long ago was that?
I first started working with metals about 15 years ago when I had a company that dealt primarily in stationery products in the gift industry. And at that time we developed a line of seals and wax. That's a technique where you melt hot wax down onto an envelope and then you press a metal design down into it. I started to work with pewter at that time mostly because it's very cost effective to set up production runs that are very small quantities. They set up processes very inexpensive so you can do a lot of different varieties of design. We launched a seal and wax line at that time.
Then as we started to get more into manufacturing and pewter, we developed other products that went throughout the whole gift line including embellishments that went on top of the journals and photobooks and desk accessories such as letter openers and paper weights and such. So that's my first calling for pewter.
Is that one of your favorite metals to work with?
I like pewter. I think I would like just about any type of metal, to be honest. It really comes down to what is affordable to work with. Right now, sterling and 24 carat gold is outrageously expensive and it's just untouchable for my marketplace as far as being able to manufacture in it. Also, I'm constantly looking at where we can be competitive in the marketplace and compliance is a very big issue right now with import coming in from China. So I know that it's a very strong area for us to be, from a marketing standpoint and a business standpoint.
I'm not sure I understand about compliance and the metals.
Well, compliance issues have really risen in the last couple of years due to a lot of imports coming in from other countries. Compliance issues make sure that the lead content and nickel content and cadmium content of the metals are of standards to keep it safe for consumers, children especially with the lead content of metals.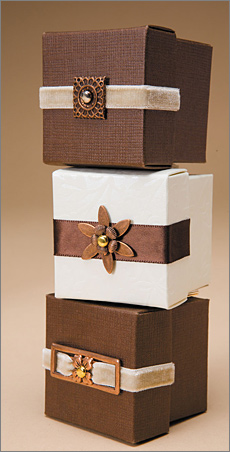 Ok. People can see your creations at NunnDesign.com. Your necklaces, bracelets, earrings, and rings I really found stunning. What inspires you to create a new design?
Well, first of all, I want to say that a lot of the reasons why you probably find the items stunning is because of the artisans that were using or use our product. The product line itself is pretty straightforward and we've really designed it to be a blank canvas to allow artisans' work to speak. So it's very simple. It's very elegant. It's very classic. And that leads into so many different types of artisans to be able to use including glass artists, fabric artists, polymer clay artists, people who do a lot with photography, painters—they can paint little miniatures to reproduce them and make pieces that are off of their own artwork. So although the line looks stunning, I really have to put the credit where credit's due. It's really on the end user who makes it that way.
Ok.
What was your question? (laughter)
What inspires you to create a new design?
The numbers. (laughter) I'm very clear that we run a business and I'm constantly analyzing the market to see where there is a need for products and then develop products and test them and watch them and get feedback. I have quite a focus group that I'm involved with of retailers that purchase our products, artisans that purchase our products. I'm just getting feedback on what's working and what's not working. When I know that we've gotten a product, the question I'm always looking to hear is, "When is it available?" They don't ask me anything else. They don't ask me, "Well how is this going to be done?" or "How much is this going to cost?" It's "When is it going to be available?" And that's when I know I've hit on something that is going to be a good seller for us, that the marketplace hasn't been over-saturated in, and that it's innovative. So I'd say that the things that really, really inspired me to design products is just really looking at the innovation that we can bring to the marketplace.
You told me in our pre-interview, if I can bring it to a more personal level, sometimes you dream about designs. And you wake up and you actually have a sketchbook and a journal. Can you tell me more about that?
Sure. There isn't a time where my mind's not working and I'm constantly thinking about things and my favorite thing to do is just spend hours and hours "uploading" is what I call it. I just put tons and tons of information into my brain. That might be by just looking at books and magazines. It might be surfing the web. I like to shop a lot. I'm not a consumer myself but I love to shop to look and I love to junk. I love to go to flea markets and antique stores. So I tend to upload a ton of information into my head and then it just kind of just sits in there. It kind of all just shuffles around and I patiently wait for the inspiration to come. Sometimes I'm not so patient, but it happens at all times. It happens in the middle of the night. It happens in the middle of giving my daughter a bath. It just happens, and that for me is the process of creativity which I have really embraced and know how creativity works in my own life and in my own brain and in my own soul.
I'm constantly creating and so I carry around just a little notepad and I'm constantly pulling it out and I have several different notepads for different reasons. There's little inexpensive things that you can buy, 99 cents for a simple little notepad. It doesn't have to be any particular type. I write down and sketch and draw and record and just kind of compile all of my ideas. I take those journals pretty seriously. I go through them a couple times a year and really look for common threads, my own personal challenges that I want more support on maybe, or if it's just ideas that I've come up with, I wait until I see them come up several times and then I gather all that data. I'm very analytical as you can tell as well as creative. That's what the inspiration is around the products.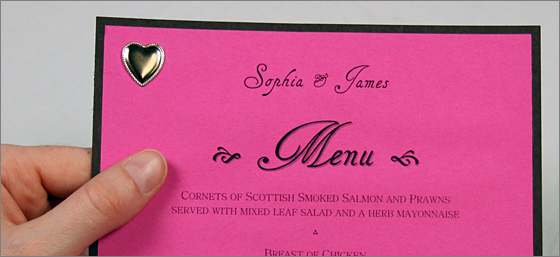 Cool. And you also told me you're not opposed to approaching a random stranger who might have on something particularly unique.
Constantly. I'm just very, very into, right now, jewelry, and if I'm walking down an aisle to the airplane and something catches my eye and the airline stewardess is coming by and I'm often asking, "Can I see that?" People really like to show their treasures or things that have meaning to them. They've adorned their body with it so they're typically attached to it or it has some sentimental meaning. I learn a ton about product lines, artisans' works, from just total random places.
Let's talk about the Metallic Brads that we carry. What inspired you to select the Daisy, the two different Moroccan Flowers, and the Snowflake?
Again, it's really based off of what the marketplace needs and how a product can be crossed-merchandised or crossed-marketed. So for example, if you are specific in the sense that you have a flower, but it is elegant and classic enough that it can go across the board and be on a very elegant invitation, it could be on a very funky, fun, a loud, colorful… So I tend to design with all of these considerations in mind and select things that can be cross-merchandised also outside of just the invitation. It could go onto a party favor box. It could go onto a candle. It could go onto any kind of packaging. It could go onto a wedding album. So I myself am a very, very thrifty person and I like to buy things that I can use in many different places and so I tend to design, and as a business owner, select products around those criteria.
Gotcha. The metallic embellishments without posts like wedding rings, sand dollar, starfish, and the heart… Do you get a sense of how people are using these?
They use them in the same way. The whole beginning of our product line was really established when we went into the scrapbooking market. People were attaching the different types of embellishments and brads into their scrapbooking pages. And at that time, it wasn't as urgent or as important that it be adhered with any particular type of medium. But as I started to move more into the stationery business and brought the same concept to adding embellishments to paper products to the New York Stationery Show, I knew that the items had to be in compliance with all kinds of postal regulations. They had to be able to be mailed through the mail. And so one of the glues that I really like to adhere my embellishments with is Bond 527 Cement. What I have found just in my years of testing that it has a very fine applicator tip that makes it easy to attach the small pieces to paper with the glue and it also is so incredibly strong that you literally have to rip it off of the paper and it will take the paper with it. So if you properly adhere it to the invitation, it will go through the postal mail and be adhered to packaging and you wouldn't have to worry an item arriving at its final destination with somebody that you invited to your wedding and have all of the pieces fall apart. That would be just really embarrassing.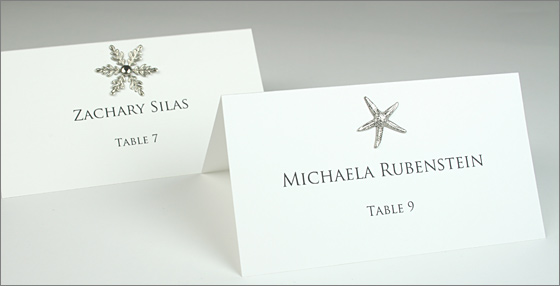 The products that we're producing for LCI and the products that we produce in our Nunn Design product line are all products that we are manufacturing in the United States when it is possible. For example, the metal embellishments are brass. They're stamped through several different processes and then they are plated and so all of those steps are done in the United States, the same with our jewelry components. All of the products are produced in the United States. When I say, "when it's possible," there's a lot of manufacturing that unfortunately has been lost out of this country and is no longer cost effective for the United States for produce. So a lot of that manufacturing has died. For example, some of the pieces that we have involve glass. Glass has been prominently imported from other countries, even when US manufacturing was really strong, and so when we cannot produce in the United States in a cost-effective manner we do process outside of the United States.
How important is it for you and how important should it be to consumers to buy American manufactured products?
I think it's important to buy products that are of good quality more so than it is that it's a US made product. It just so happens that I feel that US made products are typically better quality so anyway… I for myself have found over the years that I'm wanting to purchase less and less of stuff but more and more of quality items that are meant to last. And I think that we are so price-conscious and we're so driven by pricing that sometimes we don't take into consideration that that item might not last for a long time and so for myself, it's one of the reasons why I like to buy US made products. I like to buy items that are of very good quality. And personally, as I've learned more and more about manufacturing in the United States and I've gotten to build relationships, collaborative relationships with other manufacturers in the United States, I see how important it is for those relationships to stay in the United States. That money that we all are generating, I know the families that it feeds. I know the people that I'm supporting and for me, it's not just about making a product, it's about the collaborative relationships behind the product.
What is it like attending and vending at trade shows like the Craft & Hobby Association events and what kind of feedback do you get?
It's very fun selling. I really, really enjoy selling. It's also a lot of work setting up the booth, planning for the trade shows, booking it all out, making all of the arrangements, that's hard work. But once the show lights come up and customers start coming in, it's very exciting because we're creative people and we're creating creative products and we're inspiring and nurturing other artisans to do work and we also are inspiring and nurturing shop owners and store owners and distributors. Education is a very big part of what we do.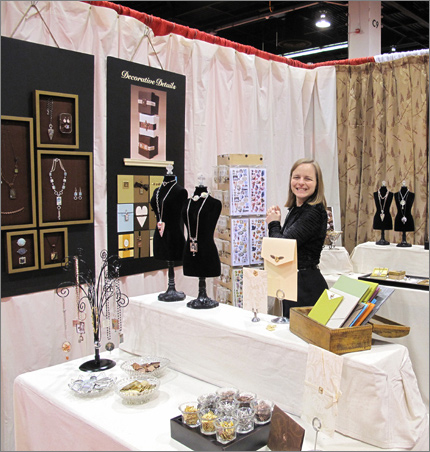 It's very fun to get feedback, see people get excited. People tend to really, really enjoy our products. They're unique and we have a reputation in the marketplace of being very innovative. And so that part is really fun to know that we've done a lot of work and conceptually have come up with a lot of really interesting ideas and it's nice to be validated.
My favorite story is in regards to last July. I was attending the Craft & Hobby Association in Rosemont, Illinois, outside of Chicago and I was a couple booths down visiting with another vendor and the vendor said, "Oh, are you from that booth over there?" And I said, "Yes, my company is Nunn Design" and I introduced myself. And he said, "Well, I have to tell you that your booth has been really packed and so I saw somebody leaving your booth and they came by mine and I said, 'What do they do down there?' and the woman turned around and looked and then she said, 'Oh that's Nunn Design. If you want quality, you go there.'" That felt pretty good.
It must have. Where and when is your next appearance where people can come out to meet you and see what Nunn design is up to?
(Laughter) Appearance… Well, we can be seen on the web at NunnDesign.com which you had mentioned. We have a wonderful gallery and a technique center that's full of inspiration. We also have how to videos online that you can watch so that you can purchase the products and have great results.
Our next coming show season doesn't start until the end of January. So I'll be attending the Craft & Hobby Association (in Los Angeles) and then a couple shows in the Tuscon area that we'll be attending. And then after that I will be teaching at a couple different venues. Then we do the Bead & Button show. It's in Milwaukee and then the Craft & Hobby Association again in July.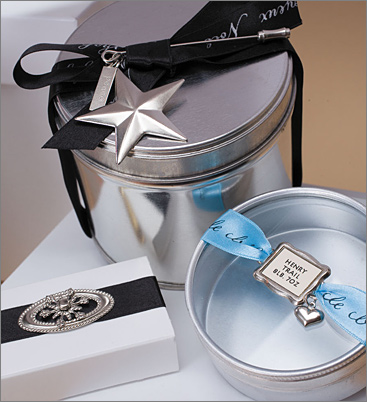 You mentioned photographers, artists, scrapbookers… What other professionals, individuals, groups, do you see coming to Nunn Design and being interested in what you might have to offer?
I think that the products that we offer are designed so that they could attract somebody who is just interested. They're curious. They're interested. Maybe they didn't have a lot of encouragement growing up that somebody was saying, "Oh you're the creative one in the family." But they've always had that yearning. They'd always had that feeling like, "I kind of feel a little jealous of so and so because they get to do those sorts of things." Well, jealousy is a really good indicator that there's something there that you want and there's a need that you're not fulfilling within yourself and I tend to really look at jealousy as a roadmap for me to identify for myself what it is that I want more of or need more of. It's my little gage. "Oh, I'm jealous! Neat! I need to do that!"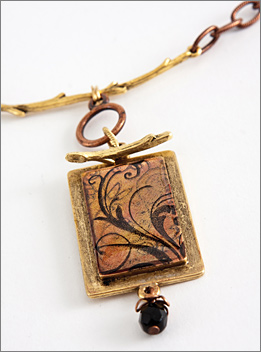 So I feel that the line that we have developed is safe enough for that beginning person who might not have any experience whatsoever in crafts or any experience whatsoever in jewelry to be able to get started, have the support around them to get started, and then have great results. And then once they have great results they go out and show people and people give them encouragement. And so it gives them more and more permission to go on and on and on in their creative process. This is just a stepping stone. It appeals to people who might not have any experience and it appeals to people who have a lot of experience because they might be doing all kinds of creative things, but they haven't necessarily turned it into a wearable art form. And that's what the Patera line, which is Latin for "ornamental amulet" is all about, creating wearable art.
Becky, I thank you so much for your time today and I wish you all the success and please get in touch with me again. Well, I got in touch with you I guess…
(laughter)
But get in touch with me if there's anything you'd like to announce. We'd love to talk to you again.
Thank you very much Josh, I appreciate your time.
—
If you have any questions about Becky Nunn's work, post a comment and we'll make sure she sees it. Or if you'd like to share a creative piece where you've used the Decorative Metals Brads that we carry, tell us about it!