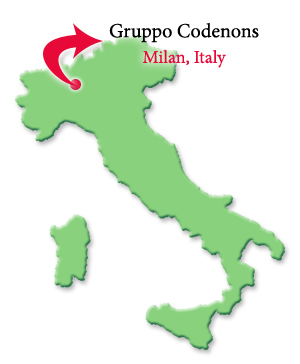 Headquartered in Milan, Italy, Gruppo Cordenons is a fourth generation family paper mill that has a long standing reputation for manufacturing high quality, premium paper since 1630. With eight distinguished lines and an impressive environmental charter, Gruppo's papers are well known favorites among creative hobbyists and professionals alike.
Learn more about Gruppo Cordenons and their fine paper products below.
– – – – –
Where to Find Gruppo Cordenons
Gruppo Cordenons has two manufacturing mills in Italy.
Milan, Italy – Headquarter Mill
Valsugana, Italy
Cordenons' United States sales and distribution headquarters is located in
Cordenons has two large United States warehouses located in
Santa Fe, California
Neenah, Wisconsin
Gruppo Cordenons Environmental Charter
With an impressive environmental charter, you can be sure that any paper from Gruppo Cordenons is responsibly manufactured, and is as beautiful as it is eco-friendly.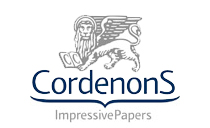 Gruppo Cordenons is Forest Stewardship Council (FSC) certified.
Cordenons is a Charter member of the "Trust the Forest" program – UNESCO's project to permanently protect approximately 10,000 acres of African forest from deforestation and illegal logging.
Cordenons uses paper pulp only from responsibly-managed forests – All products are recyclable, using more than 80% of cellulose from ISO 14001 or FSC-certified companies
100% of Cordenons' mill energy needs are met from clean-burning natural gas
All products are manufactured in an Elemental Chlorine-Free (ECF) environment.
All products are certified heavy metal free
Most products are acid free, pH neutral, archival in quality, and utilize ECF/TCF pulp.
Many products are made with alternative paper fibers such as cotton, wool, and post consumer recycled content
Gruppo Cordenons Fine Paper Lines
Gruppo Cordenons' has eight distinguished lines of paper, briefly outlined below.
Stardream: With a pearlescent, dual sided metallic finish that has never been replicated by any mill in the world, Stardream is specifically designed for those wishing to add an "astral effect" to their work. Available in a myriad of shimmering colors
Boutique: A high end line of papers manufactured with clothing and fashion in mind
So…Silk

– Featuring a silky finish and a bright, iridescent color palette, So…Silk is designed to dress your creative project in the luxury and elegance of silk.

So…Jeans

– A felt marked paper that looks like your favorite worn in pair of jeans, So…Jeans is a line of paper that truly replicates the look and feel of denim.

So…Wool

– Made with actual cotton and wool fibers, So…Wool has a distinct appearance reminiscent of your favorite cozy wool sweater.
Canaletto – Offered in one creamy color and four weights, the Canaletto line is the definition of simple elegance. Made with long cotton fibers and featuring a subtle texture, this paper is soft to the eye and touch.
Astrosilver– Astrosilver is a mica coated cover weight paper offered in eight embossed finishes. The embossed patters in combinations with the shimmering mica coated finish makes this a fun and unique line.
Dali Dore – This line features an eye catching golden sparkle which enhances a felt finished, linear textured paper; a truly brilliant line
Malmero Perle – Malmero Perle features a more subtle silver sparkle infused into vividly colored, matte finish wove paper.
Plike – Plike, referring to "plastic-like" features a coated finish reminiscent of plastic or paint. This paper features a smooth tactile sensation.
Bakri – Made of a 50/50 blend of wool and cotton, Bakri is a paper with a rich look, feel, and texture.
Note: Gruppo Cordenons manufactures 28.3 x 40.2 inch parent sheets.
– – – – –
For More Information on Gruppo Cordenons
For more detailed information in Gruppo Cordenons and their fine papers, visit the Gruppo Cordenons website, or read LCI's interview with Mike Santillo of Gruppo Cordenons, Inc.