Marlborough, Massachusetts – LCI Paper Company adds Gmund's 100% recycled letterpress collection, Heidi to it's already extensive letterpress paper collection. Inspired by the Heidelberg Press & authentic letterpress craftsmanship, Heidi is a pure, unrefined collection with a striking simplicity that speaks for itself.

Heidi is made with raw post-consumer materials, giving each sheet a natural, roughened finish and its own characteristics. Slight variances in color, surface and inclusions make each sheet distinctive and unique. Heidi is offered in 4 colors (Used White, Faded Grey, Soft Kraft and Dull Black) & two weights, 330GSM & 530GSM, all offering superb printability.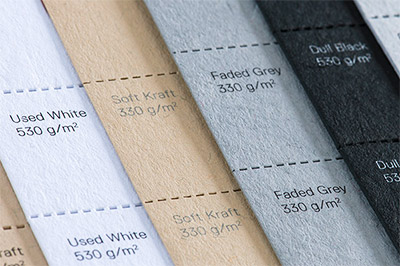 "We are very excited to have added this collection to our letterpress line," says Larry Chase, Owner and CEO of LCI. "When customers experience this paper, they will immediately appreciate its natural, pure, qualities – its unrefined finish, its unique character, its superior craftsmanship and unpretentious design that can add so much to their printed pieces."
Since 1995, LCI has been the leading expert in specialty paper. LCI's services include: bespoke customer designs, personalized envelope addressing, same day shipping (on selected orders), and thousands upon thousands of paper options to suit every occasion. LCI's clientele run the gamut from large, prestigious organizations to home-based businesses. For decades LCI has been the trusted source for wedding paper and envelopes, and remains one of the highest ranked companies of its kind for customer satisfaction.
Please contact LCI Paper at 508-281-5088 with inquiries and requests for further information.