Layered Z-Fold: Printing Problems Solved!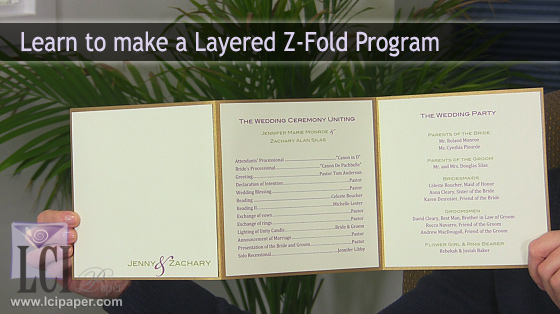 DIY z-fold programs are chic, modern, and just plain look cool; but let's face it – due to their oversized width and often heavy weight and unique finish, z-folds are not always the easiest things to print at home.
If you have your heart set on making your own z-fold program but your printer simply won't have it, don't fret; we have your solution – a Layered Z-Fold Program. By printing on individual, printer friendly cards first and layering them on after, your problem is solved, and in the tutorial below, we'll teach you just how to do it.
Read on to find all the tools you need to make your own layered z-fold program – a materials list, printing templates, and step-by-step assembly instructions. Just choose a z-fold, choose printer friendly cards, customize, print, adhere, admire. It really is that simple!
Materials To Customize This Program
Z-Fold Card Stock – 6 1/4 Square
Printable Cards – 6 Square
Additional Tools
Adhesive To Adhere Printed Cards to Z-Fold Card
Instructions for Assembly
1. Download 3 Printing Templates
Start by downloading the three printing templates from the Download Templates block above. Templates are in Microsoft Word format, are sized correctly and as listed, and include sample wording in a standard font.
2. Customize Templates
Next, customize the Word templates to include your personal preferences and event details.
What fonts are pictured on this program?
BlairMdITC TT-Medium (Front names & headings)
Bickham Script Pro Regular (Script ampersand)
Cambria (Plain text)
---
---
3. Print
After customizing the three templates, print.
Not familiar with printing 6×6 paper?
Check out this instructional video. It will tell you all you need to know about printing custom sized documents with your home computer and printer: Printing Invitations at Home with Your Computer & Printer
4. Adhere Cards to Z-Fold
Adhere your three printed cards to the three panels of the z-fold using the adhesive of your choice.
5. Fold & Embellish, If You Choose
Fold the z-fold along the pre-scored lines and secure with invitation ribbon or paper invitation bands, if you wish.