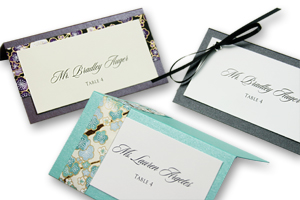 In this article, you will learn how to print and assemble your own contemporary layered place cards like the ones shown here using any combination of paper you choose.
To make this project convenient for you, this article includes step by step instructions and downloadable Word templates.
Note: The instructions and templates included in the following article work best with our 4 1/2 x 2 1/2 inch place cards.
1 – Choose a Pre Scored Single Place Card
Begin by choosing a blank place card. Since you will not have to worry about printing on this card, you can choose one of any color or finish.
2 – Choose 8 1/2 x 11 Paper for Printable Top Layer
Next, choose 8 1/2 x 11 paper for the top layer of your place cards. Because you will be printing on this paper, be sure to choose one that is a weight, finish, and texture that your printer can handle.
You will be printing on both sides of the 8 1/2 x 11 sheets
Name and table number text on one side
Cutting guidelines on the reverse
Note: Guidelines are printed on the reverse side of the paper to eliminate any line traces that may remain after cutting. You will be downloading a separate Word document for each side.
3 – Download & Print Cutting Guidelines
Click on the following link to download your cutting guidelines:
The cutting guideline document will look like the following: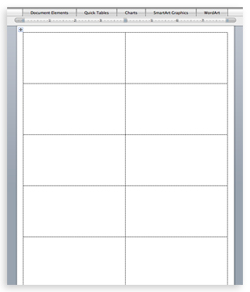 Simply load your 8 1/2 x 11 paper into your printer, and print the document as is. No custom document set up is necessary as this is a standard 8 1/2 x 11 sized document.
4- Download Word Template for Name & Table Number Text
Next, download the Word template for entering guests' names and table numbers:
Download Place Card Word Template
Upon opening, the document will look like this: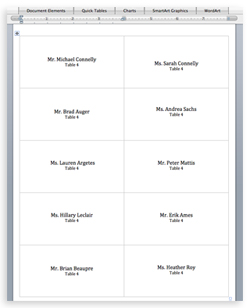 Note: Although this document has lines in it, they are there for visual purposes only. They will not print out onto your paper.
5 – Customize Place Card Wording, Then Print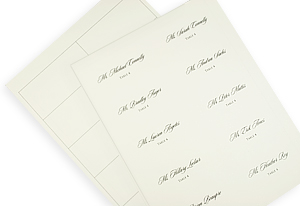 Experiment with various fonts, font sizes, layouts, and graphics to customize your place cards.
After your place card design is complete, you will be ready to print. Remember, you will be printing on the opposite side of your previously printed cutting guidelines.
Important Printing Note: For the cutting guidelines and text to align correctly, you must reload your paper in the correct position. If you are unfamiliar with how your printer feeds paper, it is recommended you test a sample sheet prior to printing all of your place cards.
6 – Cut Along Guidelines to Yield Individual Top Layers
Cut along the printed guidelines to yield individual place card layers.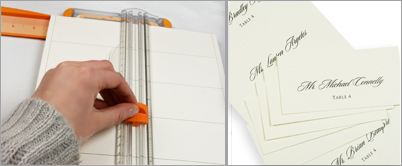 7 – Assemble Place Cards
Adhere printed layers to place cards with double sided tape or glue, whichever you prefer.
Create a simple design like this, or add some decorative flare. You can find some decorative suggestions below.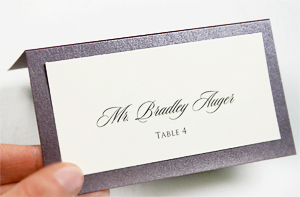 Layer In A Chiyogami Strip
Here's How We Did It
A Stardream Ruby place card was paired with printable ecru paper. Before adhering the Ecru top layer, the card was embellished with a 1 1/2 x 9 inch band of Purple Plum Bough Chiyogami (Yuzen) Paper, and secured in the back with double sided tape.

Here's How We Did It
A Stardream Lagoon place card was paired with printable Radiant White paper. A 7/8 x 7 inch strip of Blue Flower Tree Chiyogami was then adhered to the insides of the place card with double sided tape. Last, the printed white layer was placed below the chiyogami strip and secured to the card.
Note: This design requires the text in the Word template to be placed off-center.
Embellish with Ribbon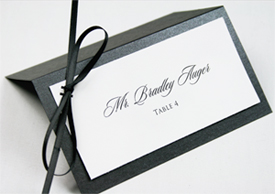 This design is a combination of a Stardream Onyx place card, white top layer, and black satin invitation-ribbon. A ribbon stitch punch was used to create the holes in which the ribbon was tied through.