Print, Cut & Glue Your Way to Professional Looking Layered Wedding Invitations
We just love our new Gmund Color lined envelopes, so in this tutorial, we teach you how to make simple 5×7 layered invitations to fit inside of them. Just choose your papers, customize the template, cut, and glue it all together.
The template is fully customizable and we have lots of colorful papers for you to mix and match, so the sky is the limit! Use for weddings, Bar Mitzvahs, anniversaries, parties, and more.
---
What You'll Need
1. Download Free Template
Begin by downloading the print template using the link below. Template has the following features:
Microsoft Word format
Standard font (so all can open)
Convenient 8 1/2 x 11 size (run through any printer)
Consists of (2) 4.3 x 6.5 tables
Subtle borders to cut along after printing
2. Customize Template
Customize the template to include the wording, fonts, and colors of your choice.
Fonts shown here are Open Sans and Lavanderia.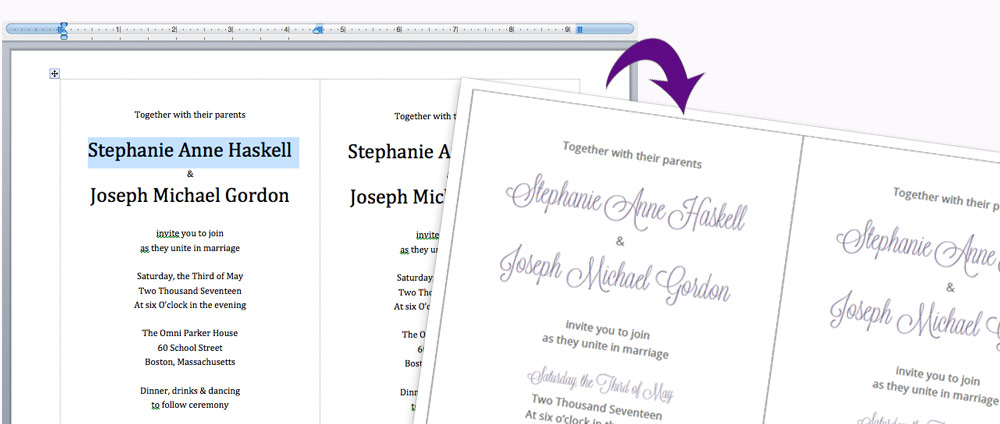 3. Print
Print cards using your home printer. So long as you chose a paper weight and finish that is compatible with your home printer, this part should be a breeze, as 8 1/2 x 11 is the standard size your printer knows and loves.
4. Cut Along Subtle Lines
Next, cut along those light gray lines to yield two 4.3 x 6.5 inch top layers.
We use a rotary trimmer here, but you can use any cutting tool you prefer.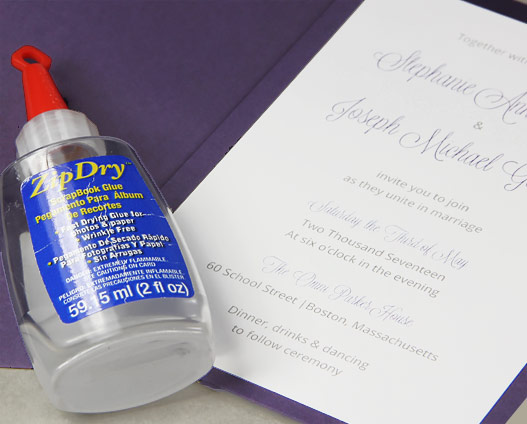 5. Adhere Layers
Using your paper adhesive of choice, adhere 4.63 x 6.5 printed layers to 5.125 x 7 backer layers, making sure everything is centered and even.
---