In addition to offering hundreds of fine papers and digital card and envelope printing, LCI Paper recently added laser cutting to its list of services. This technology is modern, really fun, and as we've learned, comes with a lot of questions!
Below are answers to the most common laser cut paper questions we get. If you have more, contact LCI Paper and we'll answer them for you!
---
Paper can be Laser Cut? How does that Work?
Though it seems like it could be a fire hazard… yes, you can cut paper with a laser (and it's perfectly safe). Where traditional die cutting uses a sharp die to cut paper into a custom shape, laser cutting is electronic, using a digital file and a laser beam to cut paper into a custom shape – no die needed.
You can also score, perforate, kiss-cut, and engrave paper with a laser. How cool it that?
---
What are the Benefits of Laser Cut Paper?
Laser cut paper has lots of benefits, especially when it comes to smaller budgets, one-offs or prototypes, or custom cut designs that need to be completed yesterday.
Save money – no need to pay for a costly die (all you need is a digital outline)
Save time – no need to wait for the die to be made
Get finer detail – lasers are able to cut super intricate detail into paper that other forms of die cutting are not
Create any shape, fast – so long as you can digitally mock it up, a laser can most likely cut it out of paper.
All this savings and versatility makes laser cut paper popular with stationery, packaging, and branding designers alike.
---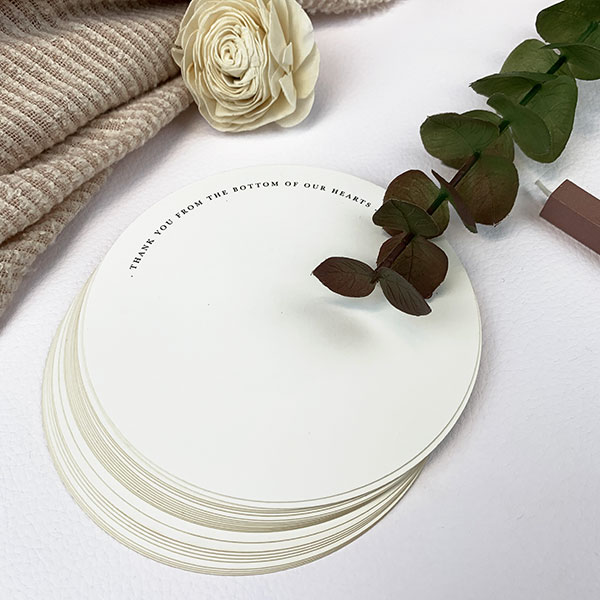 Are there Brown Edges on Laser Cut Paper?
We won't sugarcoat it. Yes, sometimes laser cut paper has discolored (brown, burnt) edges. Due to the fact that lasers technically cut the paper by burning it, it's inevitable, though subtle.
We've seen it, we've done a lot of research on it, and here is our full and honest take on it:
Discolored edges on laser cut paper is a thing.
It is most noticeable on light colored paper
It is most noticeable when laser cut papers are stacked.
Adjusting settings on the laser cutter reduces edge discoloration, and LCI Paper customizes settings for each order for clean cuts with minimal discoloration.
Shown right, a stack of white laser cut circle cards.
---
What Laser Cut Invitation Papers does LCI Stock?
We laser cut the following invitation papers on demand, which you can order blank or custom printed from our website.
More laser cut card and paper shapes are regularly being added. If you have a request, let us know!
---
What Paper is Best for Laser Cutting?
Any! We have done lots of research and learned that we can successfully laser cut paper and cardstock thick and thin, matte and metallic, smooth and textured… you get the picture!
---
Does LCI offer a Custom Laser Paper Cutting Service?
We can laser cut most of our papers and envelopes, large and small, so if you need a special shape, please contact us. We'd love to hear more about the specs of your design and work with you on a custom quote.
---
Can You Laser Cut Vellum Paper?
We hear this one a lot, and the answer is, maybe. Due to its delicate nature, some designs work better than others on translucent vellum. Again, please contact us with the details of your design. If it's something we can laser cut on vellum for you, we will do it!