Laser Cut Side Wave Cards are Now Available!
The newest addition to LCI Paper's laser cut invitation paper collection is… side waves! Also referred to as wavy edge cards, scallop edge cards, or wavy cardstock, these fun and unique cards are flat on three edges and wavy on one edge. Available in matte and metallic finish, two sizes, and over sixty colors, all blank or custom printed, the creative design possibilities are endless!
Learn more about LCI's side wave cards below, get some creative invitation inspiration, then head to the site to find your favorite laser cut side wave cards!
---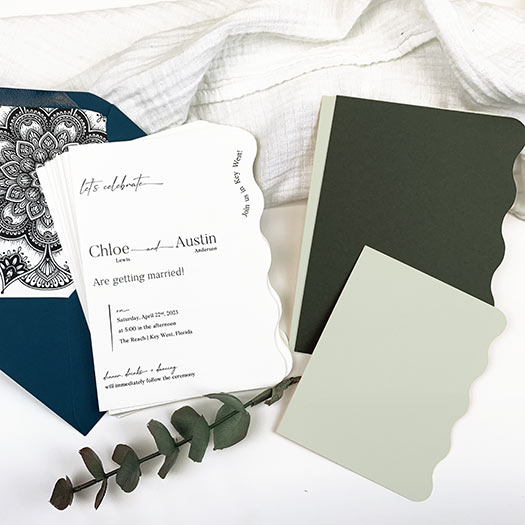 Printing Wavy Edge Cards at Home
Can you print side wave cards at home? The answer is maybe, since they do have a substantial flat edge to feed through the printer.
However, not all printing equipment is able to handle small card sizes, thick paper, and custom cut edges. As with any of our pre-cut cards (laser cut or not), we recommend ordering a sample to test print at home or to bring to your printer prior to purchasing a full pack.
If you do want to try printing side wave shape cards, we recommend the following tips:
Shaped Cards Home Printing Tips
Consult your printer manual to be sure it can print heavy card stock and custom sizes.
Set the custom paper size in your print driver prior to printing (5.5 x 4.25 for A2s, 7 x 5 for A7s)
Feed the cards into your printer flat (non-wavy) edge first (the 5.5 inch flat side for A2s or the 7 inch flat side for A7s)*
*Depending on your design, you may have to rotate your file for it to print correctly on your cards.
---
Ordering Printed Wavy Edge Cards from LCI Paper
If you'd rather not print at home, LCI Paper offers printing services on side wave cards, as well as on all of their invitation cards and envelopes. Send your design as a PDF and get it printed in black, full color, or even white on dark card stock.
Now that that's covered – onto the fun part – side wave stationery ideas!
---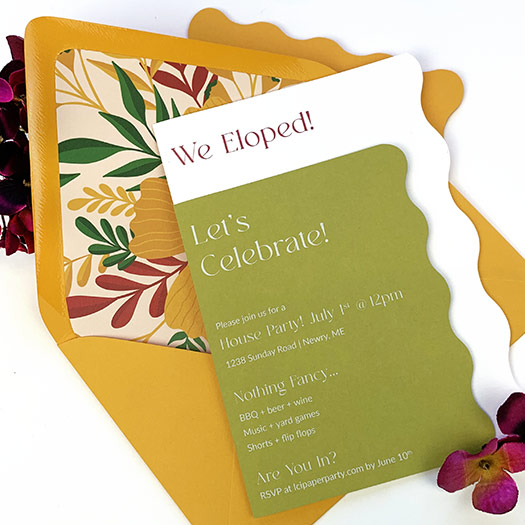 Wavy Edge Invitation Ideas – Stack them Up!
Offered in two popular sizes and in a rainbow of colors perfect for pairing, side wave cards look great stacked. Shown here, an A7 wavy invite card is paired with a smaller A2 wavy reception card for a clean, modern, and unique look.
Papers Shown in this Invite Suite
---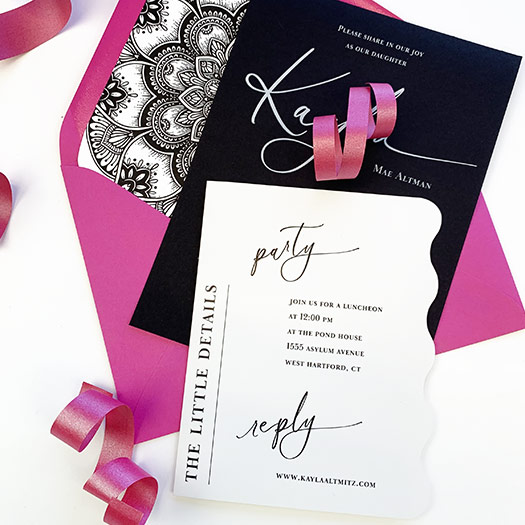 Wavy Edge Invitation Ideas – Mix & Match Shapes
LCI Paper offers thousands of invitation cards in a huge variety of colors, finishes, shapes, and sizes. If multiple wavy cards in your invite is too much for you, mix and match with classic rectangles, arch shaped cards, circle cards, and more.
Papers Shown in this Invite Suite
---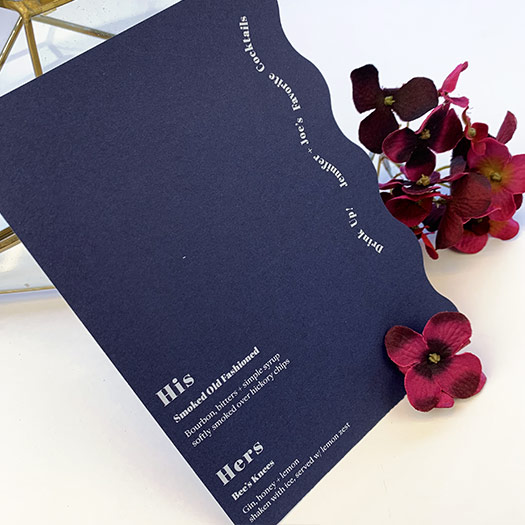 Make Wavy Edge Menus
No matter the shape, laser cut cards make for fun menus!
Shown here is a modern wedding cocktail menu made with:
An A7 midnight blue side wave card printed in white with a modern, minimalist design.
---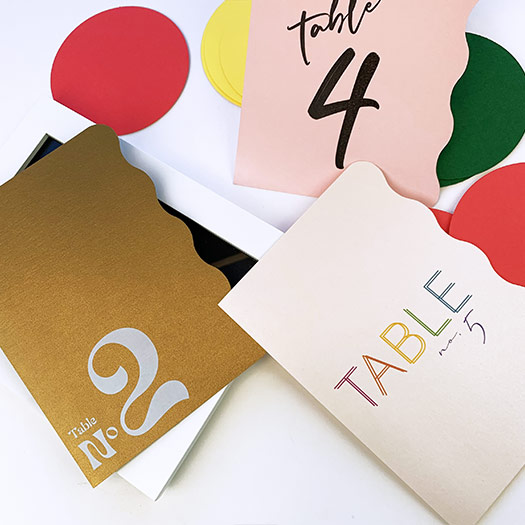 Make Wavy Edge Table Number Cards
Similar to the menu above, table numbers printed on shaped cards are always eye-catching and unique.
Side Wave Cards Shown Here:
What will you design with LCI Paper's new wavy cards? Please share a photo and tag @LCI Paper on Instagram!