Kraft Paper Envelopes, Kraft Cards & Glitter Paper – Opposites Attract!
In the spirit of Valentine's Day, we're sharing our current love – the unexpected, contrasting combination of rustic kraft and glamorous glitter papers. See some examples below. You'll see what we mean… (and you might just fall in love too).
Shop MirriSPARLE Glitter Papers
Glitter Envelope Liners – Simple on the Outside, Sparkle on the Inside
Such fun to open, these simple, natural euro flap Matt Beach Sand (Color 12) envelopes are hand lined with MirriSPARKLE silver and gold glitter papers.
Like the look? Download our euro flap liner templates to make your own!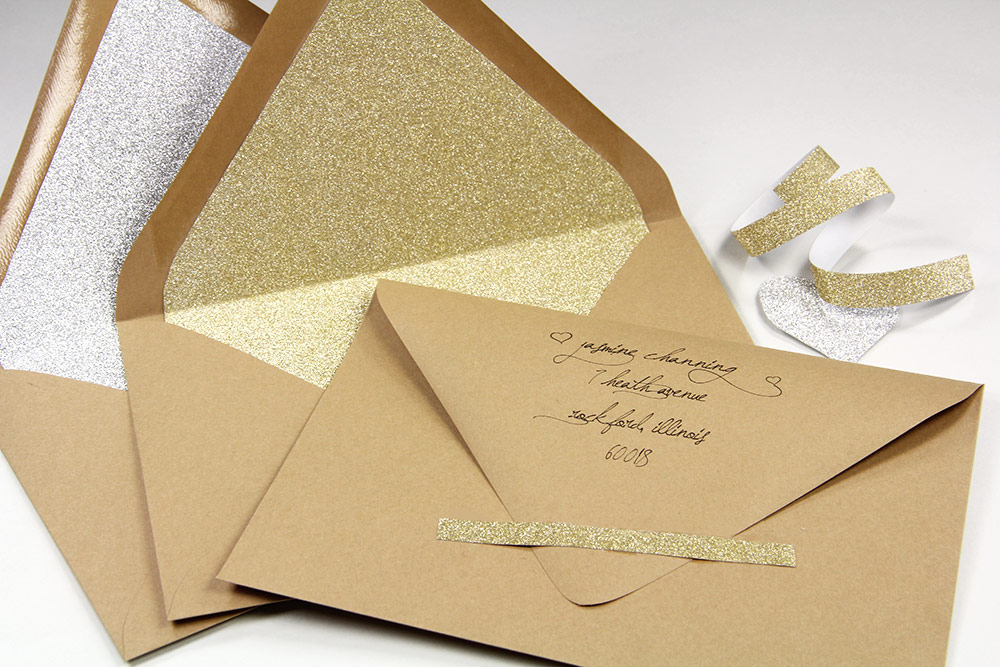 Glitter Mat – Add a Little Sparkle to Your Framed Art
Below, MirriSPARKLE is used as a mat behind this love print, printed on Gmund Heidi soft kraft and faded gray card stocks. This accent would work great for photos too, adding sparkle and drawing the eye.
Kraft & Glitter Paper Wrapped Present
What girl/woman wouldn't want to open this gift?
How we did it:
Wrapped a box in kraft paper (yes, the stuff we ship our packages in)
Cut our own hearts from folded MirriSPARKLE (grade school style)
Cut thin strips of MirriSPARKLE using a paper trimmer
Curled one around a pen (it holds quite well)
Taped in the back!