LCI Paper is a fine paper and envelope supplier for professional stationers and do-it-yourselfers alike, and we love sharing the work of our creative customers! Today we have the pleasure of featuring the talented Meryl Miller, owner of Jubilee Paper. Meryl creates exquisitely detailed, highly personalized custom wedding stationery, each design tailored to reflect her clients' big day. Below, learn more about Jubilee Paper, the gorgeous invitation suite shown here, and why Meryl chose to create it using LCI's paper and printing services.
About Meryl
Let's start with some introductions, shall we? I'm Meryl, and I design custom wedding invitations at Jubilee Paper. I love working with LCI Paper for my digital printing needs, and I'm excited to share with you this invitation suite that I created using their paper!
Jubilee Paper is a custom wedding stationery design studio based in Brooklyn, NY. Every invitation suite I create is completely unique and designed with one couple in mind. This means that I'm able to give my clients deeply personal, one-of-a-kind invitations that they can cherish for a lifetime. In addition to wedding invitations, Jubilee Paper also produces other wedding paper goods like menus, place cards, and signage (and more!).
I'm passionate about giving my clients a beautiful, personal, and visually cohesive wedding experience from their save the dates all the way through to the last dance at their reception. If you're interested in having custom wedding invitations designed just for you, check out my website! I'd love to work with you.
---
How Jubilee Paper Began
I launched Jubilee Paper at the beginning of 2019 just after designing my own wedding invitations. I believe that life's biggest moments deserve to be celebrated well, and I love helping couples celebrate their marriages with wedding stationery that reflects the importance of their big day. As I tell my couples, you're choosing to commit yourself to the person you love, forever—some celebration is in order!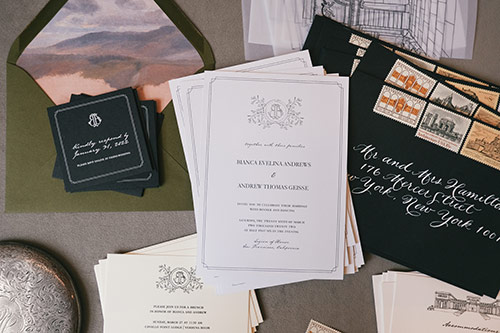 Color and Design
As a designer, something I love to include in all of my work is color. I find that even just a little color goes a long way to bring energy to an invitation suite. Take the suite featured here, for example. It's mostly neutral, but adding in that olive inner envelope gives it so much more presence and interest.
In fact, color is what drew me to LCI Paper! They have such a beautiful range of sophisticated colors that I come back to time and time again.
I love that I have so many options, that I can get all of my envelope and card printing done in one place, and that LCI is dedicated to excellent quality and customer service. As a paper professional, LCI is my go-to printing partner for all of my digital printing needs.
More about these Museum Inspired Invitations
Let's dig into the stunning details of this invitation suite a bit more. This couple got married in San Francisco at the Legion of Honor Museum, an awe-inspiring venue with marble statues and grand columns. They wanted their invitations to feel elegant and to reflect the classic architecture of the venue, so we started with a timeless color palette of black, white, and cream. LCI had the perfect range of papers for the four cards I designed. I chose fluorescent white, wedding white, wedding cream, and ebony.* All of the cards were printed with classic black ink, except for the black RSVP card which was printed in white ink.
All listed colors are part of the Gmund Colors luxury paper system.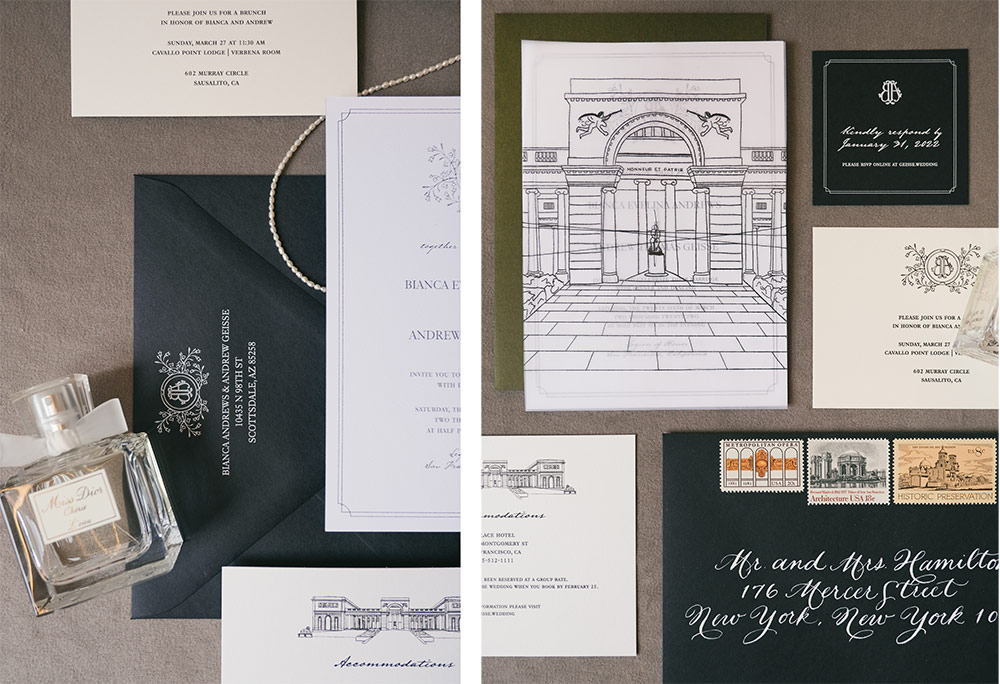 Custom Illustration on Printed on Vellum Overlays
I included both a zoomed out and close up illustration of the wedding venue to give wedding guests a sense of place (illustration by my friend and fellow wedding vendor Nicole of Macaron & White). LCI Paper was able to print these show-stopping vellum overlays, which really take the suite to the next level.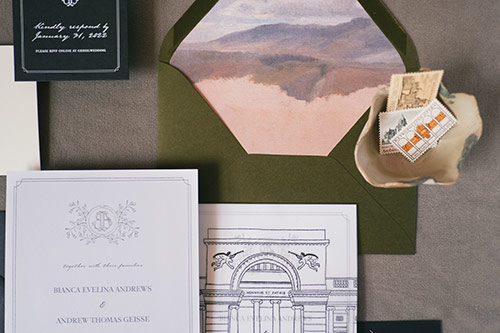 A Vintage Custom Envelope Liner
My favorite unexpected detail is the olive inner envelope which is lined with a vintage painting from the San Francisco area. I chose forest green for the envelopes and could not be happier with how rich the color looked next to the blacks, whites, and creams! The envelope liner, also printed by LCI, was a perfect fit and the painting brought in some romance and soul.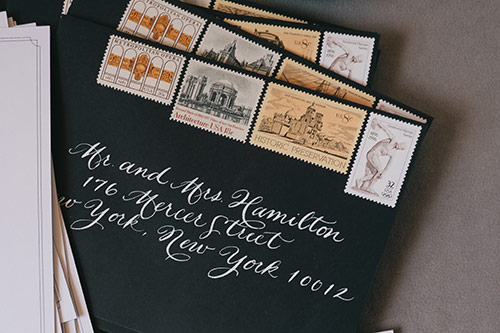 A Hand Lettered Envelope to Tie it Together
Lastly, the ebony black outer envelope was the perfect touch of drama to hold everything together. LCI printed the return address on the back flap in white ink, and then Calligraphy by Cristine hand addressed each envelope in beautiful calligraphy. The invitations were mailed with a curated collection of vintage stamps, which I carefully selected to match both the colors and the overall vibe of the invitation suite.
---
See More Custom Invites by Jubilee Paper
If you're interested in seeing more custom invitations by Jubilee Paper, you can check out my portfolio or follow me on Instagram @jubileepaper. If you'd like to learn more about creating custom wedding invitations of your own, don't hesitate to reach out! I'd love to hear more about your vision.
Thanks so much to LCI Paper for making these designs a reality!
---
Thank You, Meryl!
Thank you, Meryl, for sharing your beautiful work with us and for your kind words about LCI Paper! Please keep the gorgeous invitation inspiration coming.
Share Your Stationery
We enjoy seeing and sharing designs from all of our customers! Please share photos or videos of stationery you've made using our paper by tagging @LCIPaper on Instagram, Facebook, or TikTok.