LCI Paper's Naomi teaches us more about Japanese Chiyogami paper in this bilingual video. Speaking first in English, then in her native tongue, Japanese, Naomi discusses the tradition behind Chiyogami, how it is made, and all of its rich, beautiful qualities.
Chiyogami – What does it mean?
Learn the derivation of the word Chiyogami through the three Japanese symbols that make the word up.
The Japanese symbol for Chi means 1000
The symbol for Yo means different, or differences
Last, the symbol for Gami means papers
The meaning 1000 different papers makes perfect sense when you consider the thousands of beautiful patterns found on chiyogami.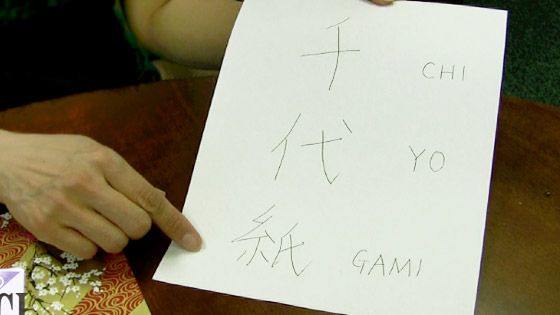 Chiyogami is delicate, yet durable
Despite its delicate appearance, Chiyogami is quite durable. It is also holds up very well to cutting, folding, and pasting, making it ideal for creating layers for invitations, scrap book pages, envelope liners, or any creative project that comes to mind. The delicate yet durable nature of Chiyogami also makes it great for origami, Naomi shows us.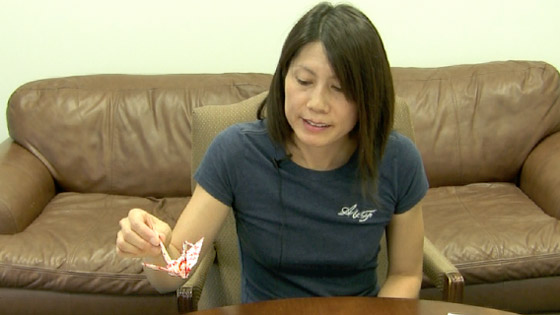 Beautiful Chiyogami patterns stem from rich tradition
The paper that we know as Chiyogami actually comes from the blending of two Japanese traditions: woodblock printed Japanese papers, Chiyogami, and a specific style of kimono fabric patterns, Yuzen. The word Yuzen originally referred to a style of highly elaborate designs, incorporating a lot of gold, which were printed onto cloth for kimonos.
Traditional Chiyogami designs represent beauty, good fortune and long life
Silk screened by hand in Japan
All of the Chiyogami papers we carry are made by small, family run Japanese paper studios that still silk screen the paper by hand. This is a laborious process, with each pattern requiring a separate screen that needs to be hand registered for each color layer. Viewing some of the intricate patterns above, just imagine the time, labor, and care that goes into each sheet. It is no wonder this paper is so exquisite!